Neil Warnock lamented missed chances as Cardiff drew with ten-man Huddersfield
Last Updated: 25/08/18 6:31pm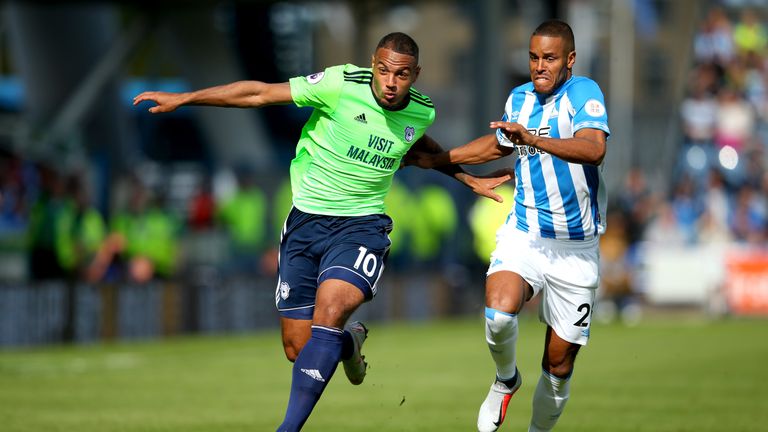 Neil Warnock admitted that missed chances cost Cardiff as their wait to score a Premier League goal extended to three matches following a 0-0 stalemate with Huddersfield.
After an even first half, Cardiff took control of proceedings in the second, particularly after Jonathan Hogg was sent off for Huddersfield just past the hour mark after clashing with Harry Arter.
Danny Ward, Sean Morrison and Bobby Reid all had good opportunities to score late on but ultimately Cardiff had to settle for a point.
"I'm disappointed we haven't got the three points but away from home I suppose you've got to be happy with a point," Warnock said post-match.
"I think in the first half we were a bit nervous and you could tell it was a must-win for Huddersfield after the difficult start that they've had but we had a good shape and I just didn't think we had enough movement up front.
"At half-time, we changed a couple of things and I thought against 11 men we were a lot better, against ten we handled it quite well and should've scored a couple of goals really but that's been our season so far.
"We had good chances and we also had a load of opportunities to make a better pass in the box which we've been working on but it's difficult at this level, the top players create stuff out of nothing."
Hogg's sending off certainly had a big impact on the game as Cardiff dominated the final third of the game with an extra man advantage.
The Huddersfield captain was sent off after appearing to headbutt Arter inside his own penalty area, although Warnock defended him and suggested he was unfortunate to be dismissed.
"When you watch it I don't think Hogg had any intention to do it. I think from where the linesman was from it probably looked like a head-butt," he said.
Cardiff have now drawn successive games 0-0 and while their return of two points from three games isn't disastrous, they now face a challenging run of fixtures against three of the top six.
While Warnock grimaced when asked about Cardiff's upcoming games, he stated that the fans and players would be looking forward to testing themselves against the world's best.
"The fans are going to enjoy this season, they'll turn out in force. It will be a great atmosphere against Arsenal and then we've got Chelsea and Manchester City.
"They are the kind of games you only dream about so I'm, sure the lads will be looking forward to that."