Bent wants Villa stay
Aston Villa striker Darren Bent has insisted he wants to remain at the club despite speculation surrounding his future.
Last Updated: 16/05/12 12:38pm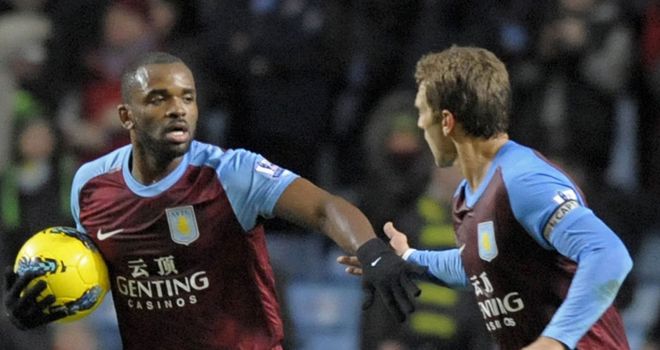 Aston Villa striker Darren Bent insists he wants to stay at the club despite speculation surrounding his future.
The 28-year-old has scored 10 goals for Villa in the Premier League this season, despite suffering a number of injuries.
Liverpool have been one of the clubs linked with the former Tottenham man as they aim to improve their goal-scoring form for next season.
Aston Villa suffered a disappointing campaign, finishing just above the relegation zone which ultimately cost Alex McLeish his job.
Bent did not play for the final two months of the season and revealed that he has been surprised by his side's plight this year.
He told the Birmingham Mail: "People have asked if I was mis-sold the dream when I signed and if I'm honest I didn't think Ashley Young and Stewart Downing would leave in the same summer.
"But I signed for Aston Villa because I wanted to be here and I still do.
Transition
''I was linked with a transfer out of here all through January and I didn't want that then and I don't want that now.
"It's not been a great season but this is a massive club and we've got to make sure it is a blip that doesn't happen again.
"It is still a time of transition and we need to do our best to get behind the new manager."
Meanwhile, Bent admitted that he was not surprised to see McLeish leave the club after Saturday's 2-0 defeat to Norwich.
He added: "The manager wouldn't admit it, I'm sure, but maybe it's a bit of a relief to him after the fans' reaction. Aston Villa fans aren't used to seeing this football club in this position and you can understand why they have got frustrated.
"When they see us down there in the table they will get annoyed and obviously the Birmingham thing didn't help either. But it's all about results and Aston Villa and relegation shouldn't even be in the same sentence."