Liverpool boss Brendan Rodgers to reward Suso with new contract
Liverpool boss Brendan Rodgers has revealed they plan to offer starlet Suso a new deal.
Last Updated: 02/10/12 9:21am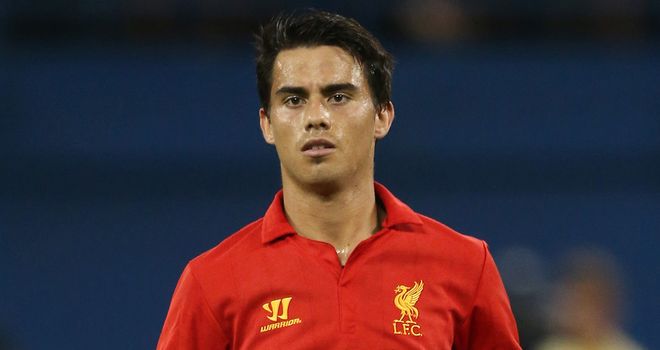 Suso made his first Premier League start of the season in last weekend's win over Norwich after making his debut in last month's Europa League victory over Young Boys.
The Spanish schemer, who joined Liverpool in 2009 from Cadiz, was linked with a move away from Anfield in the summer before he made his breakthrough into the first-team in recent weeks.
Suso's current contract expires at the end of the season and Rodgers is keen to tie him down to a new deal having been impressed by the Spaniard.
"He's in the last year of his contract, and it's something we will look at," said Rodgers. "We did have a couple of offers for Suso in the summer, but I always said I didn't want him to go.
"I felt we had a very good young player so let's keep him here and we will see where he is in a couple of years. We had offers for him to go abroad but he was keen to stay, he understood he was going to get a chance here.
"He is tactically very good, strong technically with the ball. He makes things happen. I love that type of player. Talent finds space. He is a real talent.
"He is in the reckoning and he is a good kid as well. I have noticed a big progression in him from the pre-season tour of America - I have seen a real difference in the last couple of months and he has got a good appetite for the game.
"He is on the same page in terms of the tactical idea for the team. If his fight matches his talent we will have a very good player."