Liverpool chief Ian Ayre defends striker Luis Suarez over diving accusations
Liverpool managing director Ian Ayre insists Luis Suarez does not have to change the way he plays.
Last Updated: 12/10/12 6:46am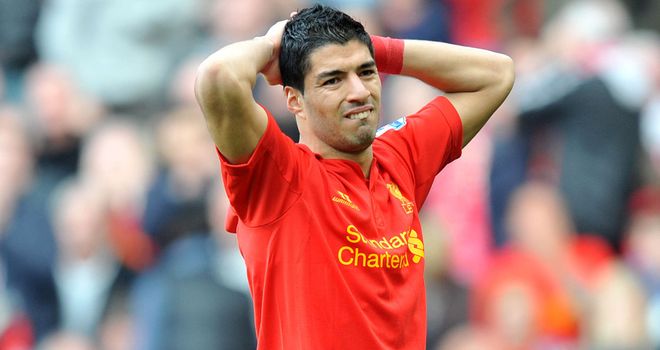 Suarez has come in for criticism after being accused by Stoke boss Tony Pulis last weekend of going to ground too easily during Liverpool's goalless draw with the Potters at Anfield.
Pulis called for Suarez to be banned for three games following the incident and FIFA have since waded into the debate, with vice-president Jim Boyce calling on the Football Association to take action after seeing simulation become 'a cancer within the game'.
Ayre believes Suarez is being unfairly treated and feels the Uruguay international's reputation is going against him.
"I think it's reputation because of what happened last season," Ayre told Sky Sports News.
"Now everything Luis Suarez does is in the spotlight, but if we are going to treat people because of something they do on the pitch then we should treat everybody equally.
"I am not saying that anyone in particular is targeting him, what I am saying is if there is going to be a debate, whether it's a media debate or other, then it has been to be a fair one about everybody and not about Luis Suarez which seems to be the case."
Target
Ayre believes Suarez is being unfairly singled out and does not want the criticism to affect the Reds forward.
"I am not surprised by the reaction because we all feel he is a bit of target," added Ayre.
"If you look from the start of this season or perhaps the end of last season through to last weekend I think it is fair to say Luis hasn't had the luck of the draw really in terms of decisions.
"It was proven on your channel and others that on many occasions that he was denied what he should have been given.
"I just feel his style of play, the way he kind of nips in and out he's just a target for tackles and defenders if you like.
"What I would say he has not had the rub of the green in terms of decisions but hopefully that changes as the season goes on.
"The most important thing is it doesn't affect Luis, he just turns it on each week and puts himself out there and he will keep going and that is what we need from him."