David Moyes tells press: Wayne Rooney staying at Manchester United
Wayne Rooney is "not for sale" and will remain a Manchester United player, according to David Moyes.
Last Updated: 05/07/13 5:35pm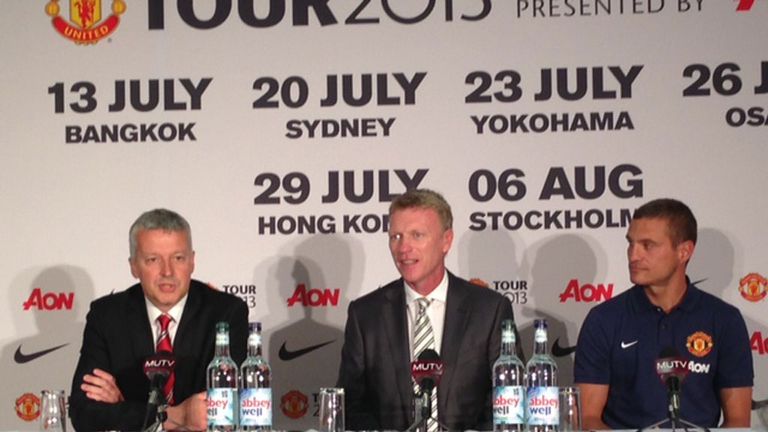 The new United manager faced the media at his first press conference since replacing Sir Alex Ferguson and immediately sought to put an end to speculation linking Rooney with a summer move.
The England striker's future was thrown into doubt towards the end of last season when Sir Alex Ferguson claimed he had requested a transfer for the second time in three years.
But United have consistently said they will not sell, and Moyes could not have been clearer as he fielded questions on Rooney in Old Trafford's Europa Suite.
He said: "Wayne Rooney is not for sale. He's a Manchester United player and will remain a Manchester United player.
"I've had several meetings with Wayne, he's training brilliantly well, he's come back in good shape and I really look forward to working with him."
Pressed on whether Rooney has made it clear he now wants to stay at Old Trafford, Moyes would not answer the question directly.
Instead, he said: "We've spoken several times and I'm saying: 'whatever happened before is gone Wayne, we're working together now.
"And I see a glint in his eye now. He looks happy, as if he is saying 'I'm going to knuckle down and get myself right'. I can only say I've been impressed with how he's done."
Asked again whether Rooney had "categorically" committed himself to staying, Moyes said: "I can tell you categorically Wayne Rooney is training fantastically well."
Rooney's unease last season reportedly stemmed from being asked to play out of position following Robin van Persie's arrival.
But Moyes left no one in doubt he wants the 27-year-old - currently fourth in United's all-time list of goalscorers - back among the goals, challenging him to score the 53 which would see him surpass Sir Bobby Charlton's club record of 249.
He said: "We're looking to see how we can get Wayne Rooney the goals to challenge the likes of Bobby Charlton and Denis Law.
"Not only that, this country's got a World Cup to play in next year, hopefully. For everybody's benefit we're trying to get him in a state where everybody thinks 'he's much more like the Wayne Rooney we know'. I'm looking forward to making that happen."
While Rooney had been linked with a move away from United, speculation has suggested that Cristiano Ronaldo could be set to return to Old Trafford from Real Madrid.
Asked about Ronaldo, Moyes declined to speak directly about the Portuguese superstar.
He said: "This club always interested in the best players."