Wayne Rooney 'angry and confused' at Manchester United treatment
Sky sources understand Wayne Rooney is unhappy at Manchester United.
Last Updated: 17/07/13 9:59am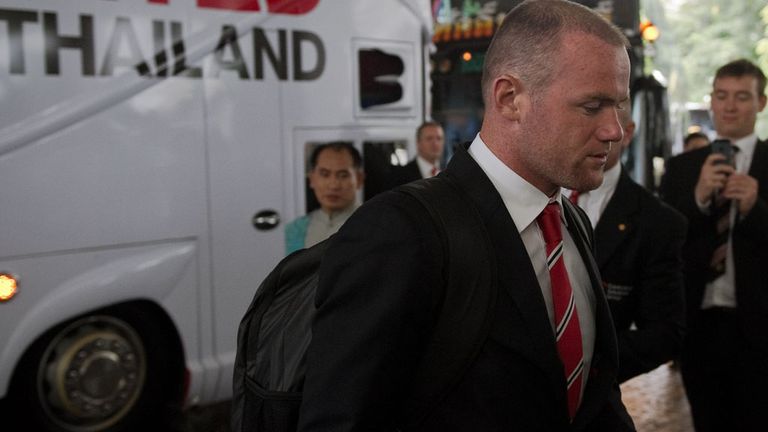 Sources close to Rooney claim the 27-year-old England international striker is "angry and confused" about his treatment by the club.
Reporter Kaveh Solhekol told Sky Sports News: "Rooney believes he is at the peak of his career and has no intention of becoming a squad rotation player or by playing second fiddle to anyone at Old Trafford.
"He believes he has nothing left to prove after nine successful seasons - yet that is what is being suggested by reports in the media which have interpreted the club's statement as meaning he's currently on trial for the coming season.
"Since he's returned from the pre-season tour due to injury, Rooney has been in touch with the club and spoken to David Moyes on the phone - he is angry and confused at the way he's been treated."
Rooney has been linked with a transfer to both Arsenal and Chelsea in recent weeks and it is understood he is open to the idea of moving to London from the North West.
He also expects to be fit for the start of the new season despite flying home from Bangkok last week due to a hamstring problem.
Rooney has two years left on his current contract at Old Trafford but new chief executive Ed Woodward revealed at the weekend that an extension is not on United's agenda.
Woodward said: "No contract renewals are being discussed. I am not sitting down with any player on an extension and there is no trigger date in the diary.
"Would we be afraid to run a contract down? Of course not."
United manager David Moyes still sees Rooney as a key member of his squad, but he said at the weekend: "Overall, my thought on Wayne is, if for any reasons we had an injury to Robin van Persie, we'll need him.
"Wayne can play up on his own, he can play dropped in. It's going to be a time to see how I work with Wayne.
"Manchester United isn't about Wayne Rooney. Manchester United is about the team - the club.
"I won't allow Wayne Rooney to become more important than the football club and the football team, because that's the heart of it."
Moyes has repeatedly stood firm on the striker's future, saying the 27-year-old is not for sale - although Chelsea manager Jose Mourinho is a confirmed admirer.
Speaking at the start of Chelsea's Far East tour last Friday, Mourinho said of Rooney: "He is a player I like very much but I can say no more than that. Being fast and direct, I like that, but he's a Manchester United player."