Andre Villas-Boas 'embarrassed' after Tottenham lose 6-0 to Manchester City
Tottenham manager Andre Villas-Boas said his side should feel ashamed after they were thrashed 6-0 at Manchester City.
Last Updated: 25/11/13 4:32pm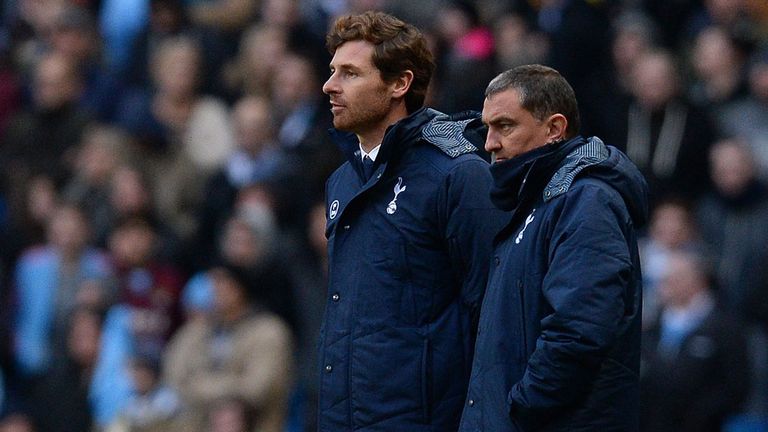 Spurs went into Sunday's game at the Etihad Stadium with the best defensive record in the Premier League, but Jesus Navas and Sergio Aguero both scored twice for City.
Navas' first goal came after just 15 seconds and Spurs boss Villas-Boas was left to reflect on where things went wrong for his team.
"To lose 6-0 is extremely embarrassing," said Villas-Boas. "We have high expectations for the season and losing to a rival by that scoreline is always difficult.
"A defeat like this tends to stick more to your career than the good things you achieve.
"Our game plan, our confidence and motivation was affected after we suffered a goal in 13 seconds. It is a bad moment. We have to be ashamed of the result."
He added: "It was a difficult start. Obviously conceding a goal in 15 seconds puts your plan in doubt and everything that you've been preparing. It's difficult to take.
"We had a very, very good reaction to the goal we conceded, and that's probably the only positive of the game that we have.
"Everything went bad for us. From being one of the best defences in the country to conceding six goals, there's not a lot we can say.
"We can say City were excellent, but we were extremely poor today and we paid a heavy price."
Spurs have now failed to score in their last three Premier League games, and only bottom two Crystal Palace and Sunderland have scored fewer times this season.
Villas-Boas' side again lacked a cutting edge and the Spurs boss will look for solutions ahead of Thursday's Europa League tie away to Tromso.
He added: "The good thing is that, in the Premier League or in a top club, there's always another game coming and another possibility to bounce back.
"We have a game on Thursday where we have to show that we are present, we are there and to continue to do our job.
"We have to see now the mistakes we made and reflect a little bit.
"We've created so many chances before, and it's an ongoing conversation we have to make sure we have to finish up the chances.
"The team is capable of creating, it's not finishing which is the situation right now."
Sky Sports' Glenn Hoddle was unimpressed from what he saw from his old team and said: "Tottenham are too slow, too predictable and lacking a creator but the spirit will have to be looked at as well as they are under pressure - though not to win the Premier League as they are clearly not ready for that."
Meanwhile, Hoddle's fellow pundit Graeme Souness questioned the guile of Tottenham's Brazilian central-midfield pair Sando and Paulinho.
The Scot also feels Villas-Boas' charges - who finished fifth in the Premier League last season - need to play a more intoxicating style of football in order to propel themselves up the table.
"If you go through all the stats they are quite equal, so for City to win 6-0 shows you some of the Tottenham players did not do their job," said Souness.
"They had a bad start, giving two goals away after bad kicks by [Hugo] Lloris, but I look at Tottenham's midfield and despite bossing things in the first half, they did nothing with the ball.
"Sandro or Paulinho didn't do anything clever, like drop the shoulder or slide a clever pass in.
"Tottenham are a team with a history of playing a brand of football that got you on the edge of your seat, but they are not producing that at the moment."