Premier League: Hull City apply to change name to Hull Tigers
Hull City have confirmed they have applied to the FA to change their name to Hull Tigers from next season.
Last Updated: 11/12/13 6:47pm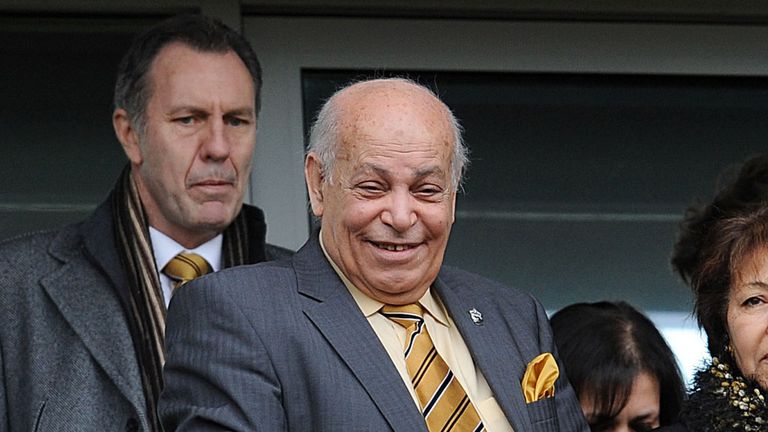 The club's owner, Assem Allam, is pushing ahead with the application despite opposition from fans groups, who want to keep the name the club has had since it was founded in 1904.
Allam believes the name change will make the club easier to market, particularly abroad. He has labelled the name 'City' as "lousy" and "common".
He said the club made losses of £28million last season when it was promoted to the Premier League.
He previously told the Guardian: "I know it will make a difference; shorter names have a quicker impact, it is textbook marketing.
"Hull is relevant. City is not relevant. Tigers: are you telling me you would drop the symbol of power?
"I cannot keep throwing money into it. There must be a limit. Our target is for the club to be self-financed, relying on its own resources.
"Manchester United are selling shirts in the Far East, selling commercial activities all over the world. We need the club to be known globally, and shortening the name will make the club known globally."
Hull fans formed a group called 'City Till We Die' and Allam stirred up further controversy by saying the fans 'can die as soon as they want'.
Allam told the Independent: "They can die as soon as they want, as long as they leave the club for the majority who just want to watch good football."
Allam said: "How can they call themselves fans, these hooligans, this militant minority, when they disturb and distract the players while taking away the rights of others to watch the football, and of companies who have paid good money for advertising?"
At the 19 minute and four-second mark of each recent game, Hull supporters have chanted against the Allam regime. And 'City Till We Die' hit back at Allam's remarks.
"Thankfully, hooliganism at football in this country is now exceedingly rare," the group said in a statement.
"The intemperate suggestion that singing "City Till I Die" or holding a banner with Hull City's name on it constitutes disorder is ill-informed, unhelpful and will be considered by many to be offensive.
"We reiterate our advice to all City fans to continue their fine support for our fantastic team while positively expressing a preference for our current name."
Allam, who moved to Hull in 1968, announced earlier this year that the company name had changed from Hull City AFC to Hull City Tigers.
Allam - who has pumped millions of his own money into the club - has threatened to walk away if his plans are not accepted.
"I'm a simple man," added Allam. "Do they want me to stay? If it's, 'No thank you', fine, in 24 hours the club is for sale, I do not put in one more pound and hopefully things happen quickly."
Hull manager Steve Bruce believes Allam should be granted his wish.
He said last month: "I can understand [the unhappiness] because in our country especially we are really big traditionalists and a lot of people have supported the club since the year dot, where it has been Hull City AFC.
"But the owner has come in and he's in a different culture and for the money he has put into the club if he thinks Hull Tigers is his way forward then we have to respect it.
"If he asks us to play in pink and white stripes on Saturday we have to do it because without him there wouldn't be either a Hull City or a Hull Tigers."