The Players' Player of the Year nominees have been announced. Here, we look at their incredible seasons - and what the stats and pundits say about them...
HARRY KANE - TOTTENHAM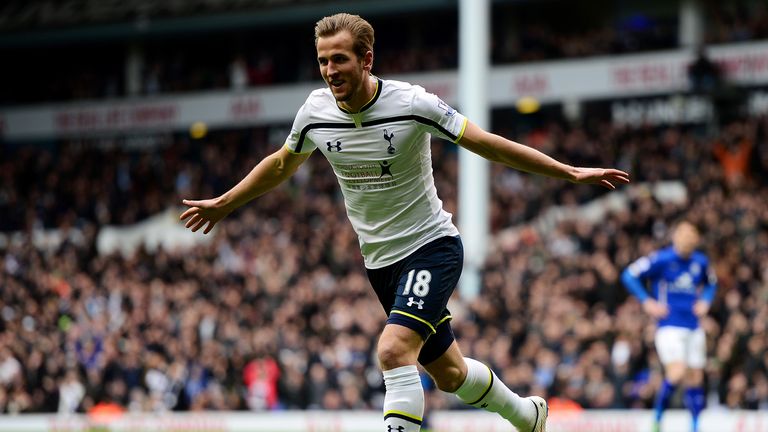 Season so far: The Premier League's breakout star has enjoyed a remarkable rise in 2014/15. Despite scoring only 17 league goals prior to this season, with just three of them coming in the Premier League, he has not only established himself as Tottenham's leading striker but is also the joint-top goalscorer in the Premier League. Kane scored 79 seconds into his England debut against Lithuania in March and captained Spurs for the first time earlier this month. It's been quite the season.
The stats: Kane has bagged 29 goals in all competitions for Tottenham so far this season and is the Premier League's joint top scorer – alongside Diego Costa and Sergio Aguero – with 19. Put those goals into context and he's earned Tottenham 22 points this season – a league-high haul. Oh, and he's scored more goals in 2015 – 14 – than 13 clubs have managed.
Pundit view: "He reminds me of Teddy Sheringham. He drops off, comes looking for the ball. He has an unbelievable future in the game." (Paul Merson)
Manager view: "Harry is a very important player for us. He's in a very good moment of his career. But my focus is always that a player can improve. He is young and we need to push him to develop his potential because his potential is massive." (Mauricio Pochettino)
EDEN HAZARD - CHELSEA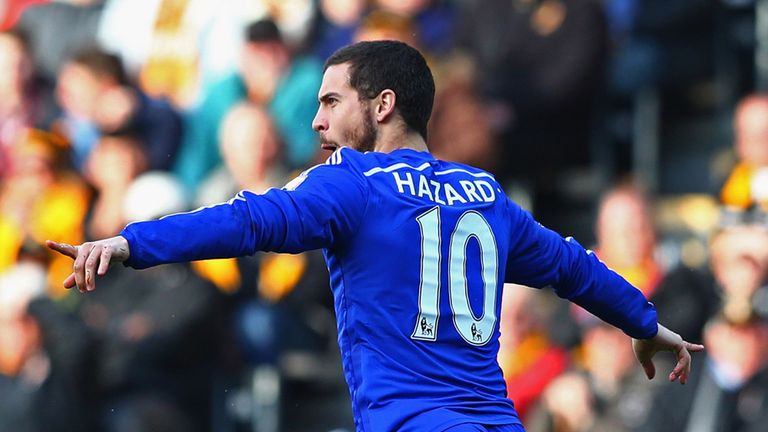 Season so far: Jose Mourinho might have questioned his work ethic last season but Hazard – winner of last season's Young Player prize – has gone from strength to strength in 2014/15 and is the Sky Bet favourite for this year's main prize. The Belgian has brought irresistible guile to Chelsea's muscular game – scoring 12, assisting eight and maintaining his form when others faded to carry his side to the brink of the title.
The stats: Hazard is top of the table when it comes to creating chances, crafting 88 opportunities for his team-mates to date. He's also completed 148 dribbles – 46 more than anyone else in the country – and also tops the charts for touches in the opposition box.
Pundit view: "On his day, nobody can stop him. He has such great quality on the ball; he can create something from nothing and that is a sign of a special player." (Thierry Henry)
Manager view: "He was a kid always living on his amazing natural talent but from a certain moment he started to have some tactical education, some mental education. He is already a top player and his evolution has been fantastic. He is still very young and he can become the best player in the world." (Jose Mourinho)
DAVID DE GEA - MANCHESTER UNITED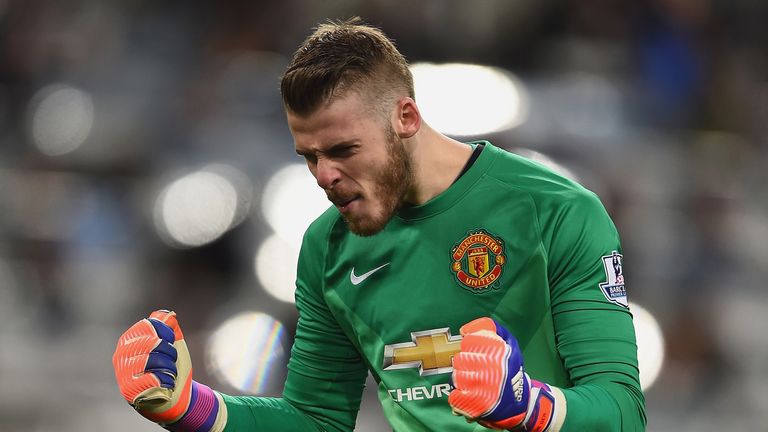 Season so far: Three-time Champions League winner Victor Valdes has no complaints about warming the United bench – he reckons David de Gea is the best goalkeeper in the world. Louis van Gaal has tinkered repeatedly in front of him but the Spaniard – United's player of the season last term and their most outstanding performer this campaign – has been a calming constant. The only question is whether or not United can keep hold of him.
The stats: Some goalkeepers have more clean sheets and others boast better save percentages, but there's a telling statistic that reveals De Gea's flair for the extraordinary. While the average conversion rate of big chances in the Premier League this season stands at 42 per cent, against United it is just 30 per cent.
Pundit view: "If you look at the improvements he has made from where he was three years ago, it is absolutely staggering. He is dominating one-on-ones, there has been a physical maturity and there has been a technical improvement, too. He has become a great goalkeeper." (Gary Neville)
Manager view: "David de Gea, this year, is unbelievable. In my career I have had a lot of good goalkeepers. For example, Edwin van der Sar was one of my goalkeepers and Valdes also with Barcelona, but De Gea is having a great season. He's saved us many times. His reflexes are very good." (Louis van Gaal)
ALEXIS SANCHEZ - ARSENAL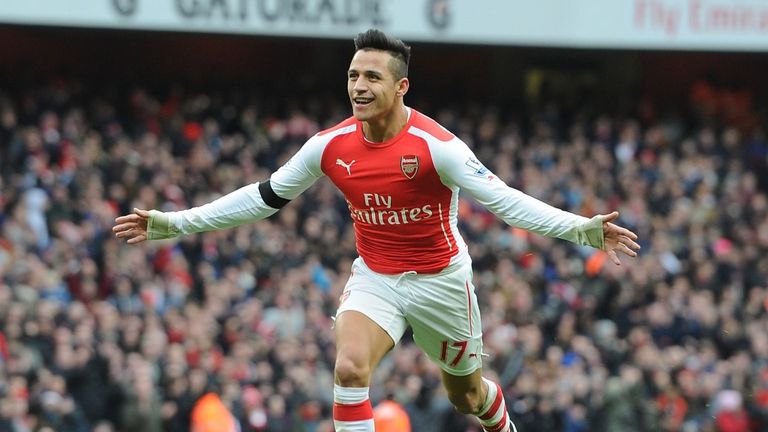 Season so far: Arsenal spent £35m on Alexis Sanchez last summer but the Chilean was quick to repay Arsene Wenger with the decisive goal in their Champions League qualifier with Besiktas in August. After slotting in to book Arsenal's spot in the group phase, the former Barcelona man hit a hot streak, netting 14 times in his next 18 appearances in all competitions.
Eighteen goals by early January was a remarkable return in his first season in England and while a lean February followed, Sanchez has played a key role in Arsenal's recent run of fine form, netting a winner against QPR last month before thundering in his 20th of the campaign against Liverpool.
The stats: Sanchez is one of only half a dozen Premier League players to score 14 goals this season but it's notable that none of the other five can match his tally of eight assists as well. Only Eden Hazard has completed more dribbles and he's tenacious too with 60 tackles made so far this season – nobody else with 10 goals or more has made more than 33 of them. Sanchez is an all-rounder.
Pundit view: "Goals, tenacity, pressing from the front, loses the ball – it goes past him he runs back." (Gary Neville)
Manager view: "Alexis is one of the players who had to dig deep, but he still had such desire to fight. He always finds something special to get a goal. It's difficult to find examples of someone who has settled at a club so quickly. When you look at the number of goals he has and the impact he has on the team, it's fabulous." (Arsene Wenger)
PHILIPPE COUTINHO - LIVERPOOL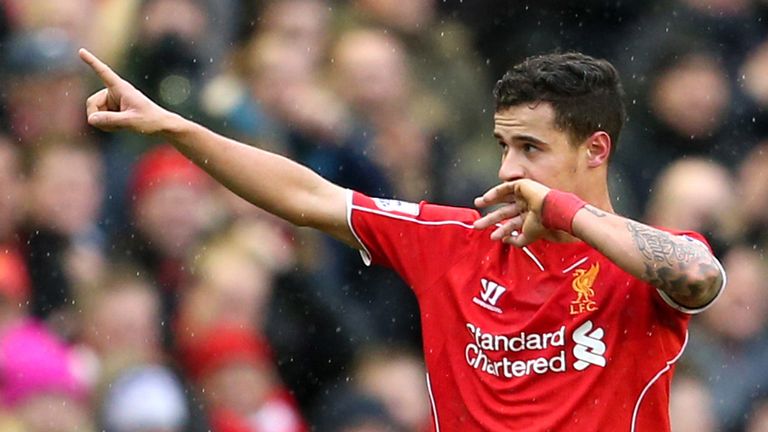 Season so far: With Daniel Sturridge injured for much of the season and Luis Suarez departed for Barcelona, added onus has fallen on Brazilian playmaker Philippe Coutinho this term – and the 22 year old has met the challenge. Coutinho slotted in an injury-time winner in a frantic finish at QPR but an even more important last-gasp strike came against Bolton in the FA Cup fourth round in February, a day after he had signed a new long-term deal with Liverpool.
Thunderbolts against Southampton and Man City demonstrated Coutinho's class and appetite for the big stage, while a decisive winner against Blackburn sent Liverpool to Wembley for an FA Cup semi-final.
The stats: Coutinho's headline stats cannot compare with some of his rivals for this award with only four goals and four assists in this season's Premier League. But Coutinho's class has to be seen to be appreciated and his tally of seven through-balls – among the top five players in the country – hints at his ability to unlock the door for his side.
Pundit view: "Last season Luis Suarez was Liverpool's main man, the go-to man. But as this season has progressed, and for the future, Coutinho is Liverpool's. He's now the man where every time the ball goes to him we think: 'Something is going to happen here'." (Jamie Carragher)
Manager view: "Coutinho is operating on a very high level. He came in at 19 and is still developing. He's a sensational footballer. He has a humility, wants to work and is an absolute joy to work with. He was £8.5million a few years ago, it's frightening to know what he's worth now." (Brendan Rodgers)
DIEGO COSTA – CHELSEA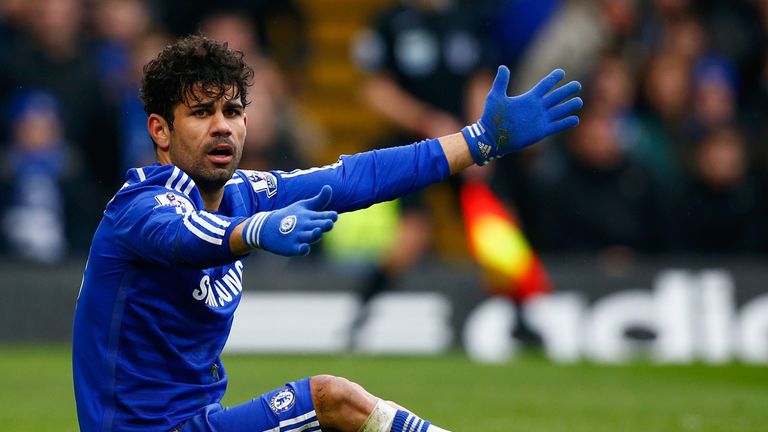 Season so far: Diego Costa is now the standard by which all 'impact signings' will be judged, after Jose Mourinho's £32m man from Atletico Madrid racked up seven goals in his first four Premier League appearances, including a hat-trick at home to Swansea.
With 19 goals in 24 league appearances, the Spain international is the Premier League's joint-top scorer and has been crucial to Chelsea's charge towards the title. Injuries have hampered him of late but Costa's power play in the first half of the campaign has fired the Blues to the brink of glory. 
The stats: Costa's tally of 19 goals is as good as anyone but it's not been the quality of the goals that has impressed as much as his remarkable ruthlessness when the opportunities have arisen. According to Opta, Costa boasts the best conversion rate of clear goalscoring opportunities (68 per cent) of all players with half a dozen goals or more.
Pundit view: "Diego Costa is horrible to play against and I applaud him for it." (Gary Neville)
Manager view: "Diego is a team player who works hard, he's not just about goals. It's about his defensive work, mentality and ambition. This is the player we bought and we were waiting for since last season. He is one of the best strikers at this moment in football. He is a special player." (Jose Mourinho)