Manchester City goalkeeper Claudio Bravo has conceded 23 goals from 54 shots on target this season - but how does the Chilean compare to other top-club stoppers?
City boss Pep Guardiola axed Joe Hart and signed Bravo for £17.1m from Barcelona in the summer due to the Chilean's superior footwork.
However, the 33-year-old has received increased criticism for his shot-stopping abilities.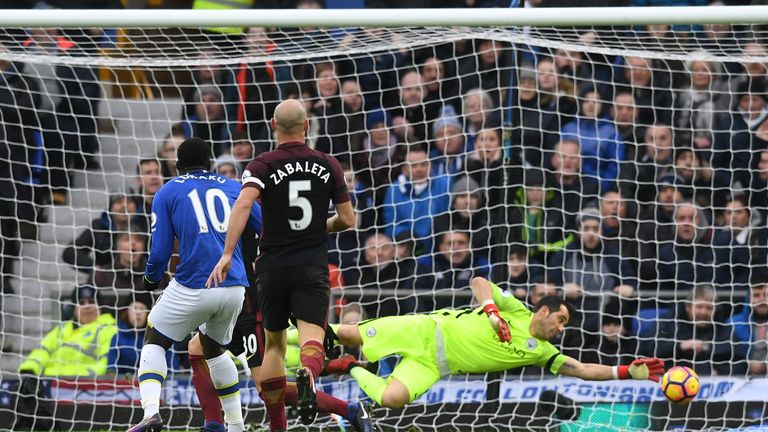 Following City's shock 4-0 defeat to Everton in the first instalment of Merseyside v Manchester on Sunday, City have now conceded 26 goals in the Premier League - more than any of the other top five clubs.
Ten lowest PL save percentages (10 apps or more)
| | | | |
| --- | --- | --- | --- |
| Lukasz Fabianski | Swansea City | 56.25 | 49 |
| Fraser Forster | Southampton | 56.67 | 26 |
| Claudio Bravo | Manchester City | 57.41 | 23 |
| Wayne Hennessey | Crystal Palace | 59.65 | 23 |
| David Marshall | Hull City | 60.22 | 37 |
| Heurelho Gomes | Watford | 60.98 | 32 |
| Artur Boruc | Bournemouth | 61.8 | 34 |
| Loris Karius | Liverpool | 62.5 | 12 |
| Maarten Stekelenburg | Everton | 62.96 | 20 |
| Adrián | West Ham United | 64.29 | 20 |
Speaking on Sky Sports' Monday Night Football Special, Jamie Carragher said: "The club have now got to be looking for another goalkeeper for next season or they bring Joe Hart back because if Pep Guardiola wants to win the Champions league or the Premier League, which is why he's been brought in, you won't win it with that goalkeeper."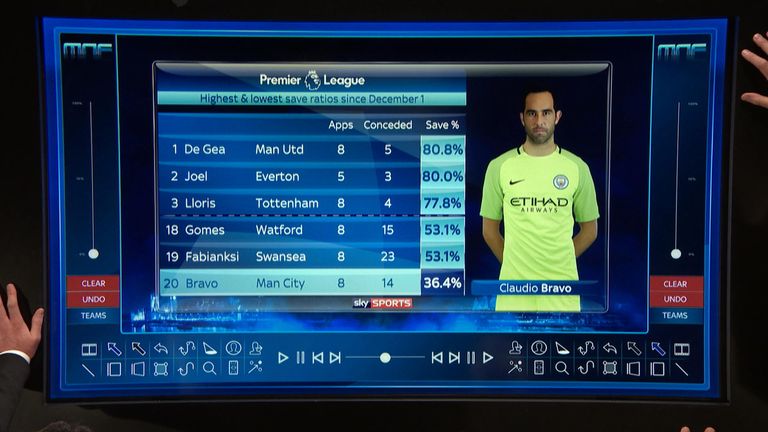 Liverpool boss Jurgen Klopp has had his own goalkeeper dilemma this season after new signing Loris Karius made an error leading to a goal in two successive league games, resulting in Simon Mignolet being reinstated as the Reds' No 1.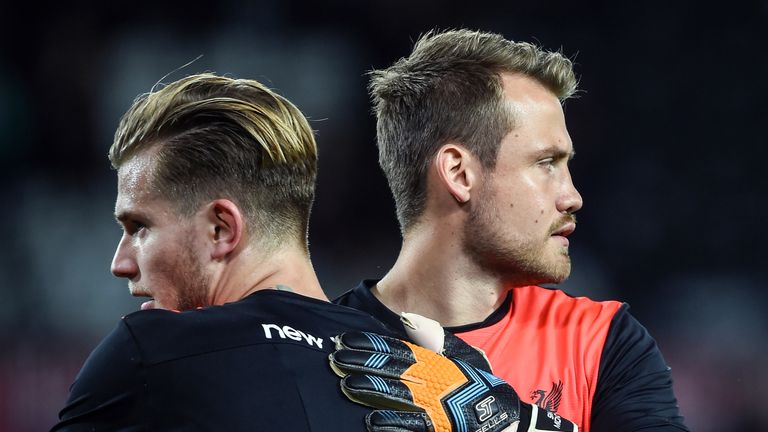 But how do keepers from the current top six clubs compare?
The global football agency World in Motion's head of research and analytics Sam Jackson has produced a detailed study of each stopper's performances this season for his work with the agency's goalkeeping division GK1 Management.
His shot-stopping model looks at two different factors - how well a 'keeper responds to a shot on target and the difficulty of each shot faced.
SHOT RESPONSE
'Shot response' is gauged by how well a 'keeper deals with a shot faced - was it held at the first attempt, held at the second attempt, parried to safety, parried back into the danger zone, or was a goal conceded?
Tottenham's Hugo Lloris ranks top amongst the top six clubs for his average shot response this season, having held a higher percentage of his shots faced while conceding a league-low 14 goals from 21 games.
Manchester United's David de Gea ranks second, and also safely parries more shots than his counterparts, followed by Arsenal's Petr Cech, Simon Mignolet and Chelsea's Thibaut Courtois - with Claudio Bravo and Loris Karius ranking lowest.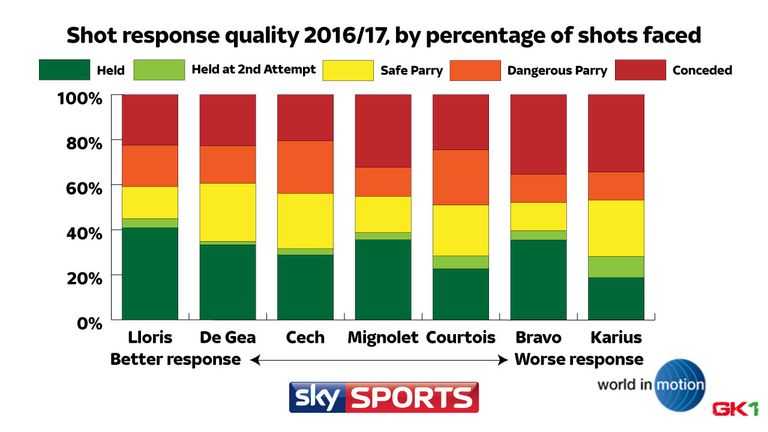 SHOT DIFFICULTY
The 'difficulty' part of the model factors the location from where a shot was taken, shot destination, shot power and whether the keeper's view was impaired.
For example, Etienne Capoue's close-range volley into the top corner against Southampton's Fraser Forster back in August ranks as the most difficult shot to save in the Premier League this season.
Jackson's data suggests that of the 'keepers at top six clubs, Courtois has faced the most difficult shots this term - despite only conceding 15 league goals - followed by De Gea, Karius, Mignolet and Cech.
Bravo and Lloris have faced the easiest shots, although the City 'keeper has conceded nearly twice as many goals as the Spurs stopper.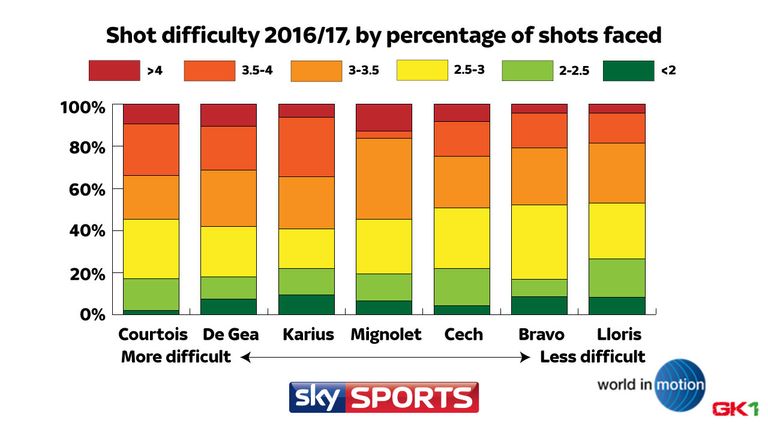 OVERALL
When combining the two parts of the model, the study finds De Gea to be the top shot-stopper at a top six club, with a 74 per cent rating.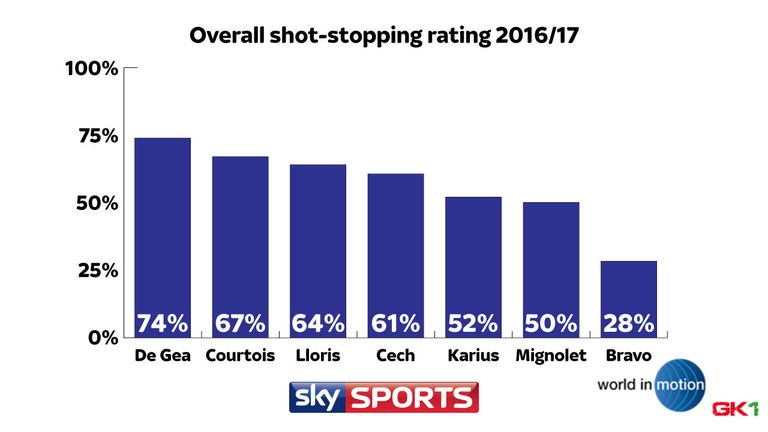 Courtois ranks second overall (67 per cent), followed by Lloris (64 per cent), Cech (61 per cent), Karius (52 per cent), Mignolet (50 per cent) and Bravo ranking lowest with just 28 per cent.
Indeed, Middlesbrough's Marten de Roon's late headed equaliser through Bravo's hands back in November registers as having been one of the lowest 'difficulty' shots faced which ended up in the back of the net.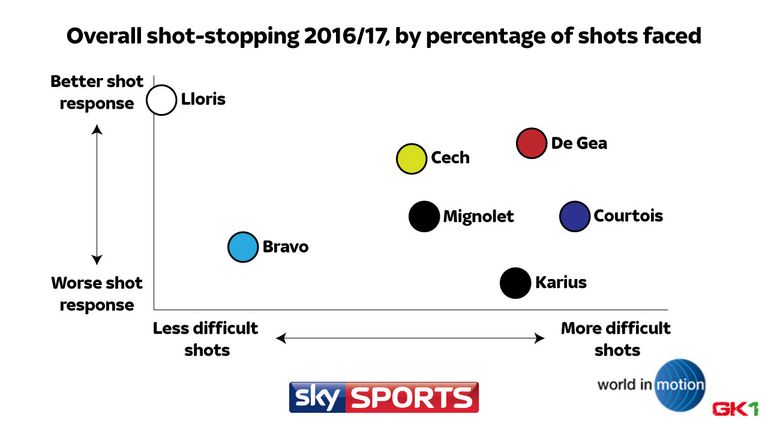 Jackson told Sky Sports: "It's important when we analyse 'keepers, we look at what actually matters - goalkeeper coaches want their players to hold shots rather than parrying them where possible.
"Looking at the data in this way. De Gea appears as an elite shot-stopper and the model agrees that Bravo has struggled.
"Mignolet has received plaudits for his performances since returning to the No. 1 slot at Anfield but some of Karius' shot-stopping woes may be explained by him having simply faced more difficult shots than his counterpart.
"Lloris, meanwhile, has been heralded by many for keeping so many clean sheets for Spurs this year, yet he has faced the easiest shots of any of the 'keepers at the top six clubs."