Premier League on Sky
Man City, Man Utd and Chelsea kick off a new season of live Premier League action on Sky Sports!
Last Updated: 05/07/12 5:50pm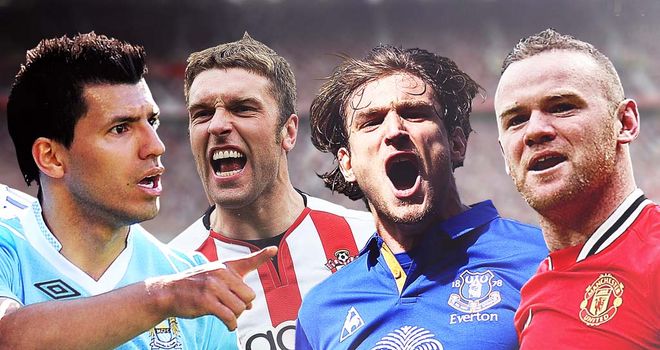 Premier League Champions Manchester City, runners-up Manchester United and UEFA Champions League winners Chelsea kick off the Barclays Premier League 2012-13 season on Sky Sports.
In conjunction with the Premier League, Sky Sports today announced the first 42 Barclays Premier League fixtures to be shown exclusively live from August to November 2012, with every club featured by October 6.
Ford Super Sunday kicks off the season with Wigan Athletic against Chelsea followed by Manchester City against newly-promoted Southampton. Ford Monday Night Football returns with League runners-up Manchester United away to Everton.
The fixtures announced today - part of a comprehensive line up on Sky Sports - are all to be played before the end of November and include:
THE BIGGEST GAMES: Last year's top eight teams face each other 17 times including Liverpool v Manchester City on August 26 and Arsenal v Chelsea on September 29.
MAJOR DERBIES: Sky Sports will show five major derbies from the Midlands, north London, Tyne-Wear, Merseyside, and the North West including Liverpool v Manchester United on September 23.
ALL CLUBS: Every Barclays Premier League team will be shown live at least twice in the first set of Sky Sports fixtures with all three newly promoted clubs shown live at least three times.
Barney Francis, Managing Director of Sky Sports, said: "We're all looking forward to the start of the Premier League and we begin with a bang; Champions League winners Chelsea, Premier League Champions Manchester City and Manchester United all in our opening weekend.
"These selections provide our viewers with huge head-to-heads, major derbies and every team at least twice, all in the first three months of the season. We have the biggest names providing the most insightful analysis and commentary plus a wealth of unrivalled support programming. I'm sure it'll be another fascinating football season on Sky Sports."
These fixtures are the first of 115 live Premier League matches that Sky Sports will show during the 2012-13 season, with every match available in HD with many in 3D. Sky Sports viewers will also enjoy over 129 live UEFA Champions League matches, 75 live games from across all three npower Football League divisions, Capital One Cup fixtures and international fixtures.
Sky Sports viewers with Sky Go will be able to enjoy all this live football, wherever they want on PC, laptop, iPhone, iPad and compatible Android phones. Support programming including Soccer AM, Gillette Soccer Saturday, Goals on Sunday and Sunday Supplement as well as Sky Sports News HD are also available on Sky Go.
Confirmed live Premier League fixtures for 2012/13:
AUGUST
Sun 19: Wigan v Chelsea (1.30pm)
Sun 19: Man City v Southampton (4pm)
Mon 20: Everton v Man Utd (8pm)
Sat 25: Swansea v West Ham (12.45pm)
Sun 26: Stoke v Arsenal (1.30pm)
Sun 26: Liverpool v Man City (4pm)
SEPTEMBER
Sat 1: West Ham v Fulham (12.45pm)
Sun 2: Liverpool v Arsenal (1.30pm)
Sun 2: Southampton v Man Utd (4pm)
Sat 15: Norwich v West Ham (12.45pm)
Sun 16: Reading v Tottenham (4pm)
Mon 17: Everton v Newcastle (8pm)
Sat 22: Swansea v Everton (12.45pm)
Sun 23: Liverpool v Man Utd (1.30pm)
Sun 23: Man City v Arsenal (4pm)
Sat 29: Arsenal v Chelsea (12.45pm)
Sun 30: Aston Villa v West Brom (4pm)
OCTOBER
Mon 1: QPR v West Ham (8pm)
Sat 6: Man City v Sunderland (12.45pm)
Sun 7: Southampton v Fulham (1.30pm)
Sun 7: Newcastle v Man Utd (4pm)
Sat 20: Tottenham v Chelsea (12.45pm)
Sun 21: Sunderland v Newcastle (1.30pm)
Sun 21: QPR v Everton (4pm)
Sat 27: Everton v Liverpool (12.45pm)
Sun 28: Aston Villa v Norwich (1.30pm)
Sun 28: Chelsea v Man Utd (4pm)
NOVEMBER
Sat 3: Man Utd v Arsenal (12.45pm)
Sun 4: QPR v Reading (1.30pm)
Sun 4: Liverpool v Newcastle (4pm)
Mon 5: West Brom v Southampton (8pm)
Sat 10: Aston Villa v Man Utd (5.30pm)
Sun 11: Man City v Tottenham (1.30pm)
Sun 11: Chelsea v Liverpool (4pm)
Sat 17: Arsenal v Tottenham (12.45pm)
Sun 18: Fulham v Sunderland (4pm)
Mon 19: West Ham v Stoke (8pm)
Sat 24: Swansea v Liverpool (12.45pm)
Sun 25: Sunderland v West Brom (1.30pm)
Sun 25: Chelsea v Man City (4pm)
Tue 27: Aston Villa v Reading (8pm)
Wed 28: Wigan v Man City (8pm)
The full line-up of live matches on Sky Sports this season also includes UEFA Champions League, npower Football League, Capital One Cup, Scottish Cup, Clydesdale Bank Premier League, Northern Ireland's Carling Premiership and international fixtures.
Click here for all confirmed live football matches on Sky Sports.
Sky Sports News HD will provide a depth of sports news, breaking stories, results and interviews in the best picture quality, 24 hours a day.