Gary Neville says Manchester United players will demand more of David De Gea after Tottenham error
Gary Neville says David De Gea won't be forgiven quickly for the error that cost Man Utd at Spurs.
Last Updated: 22/01/13 11:46am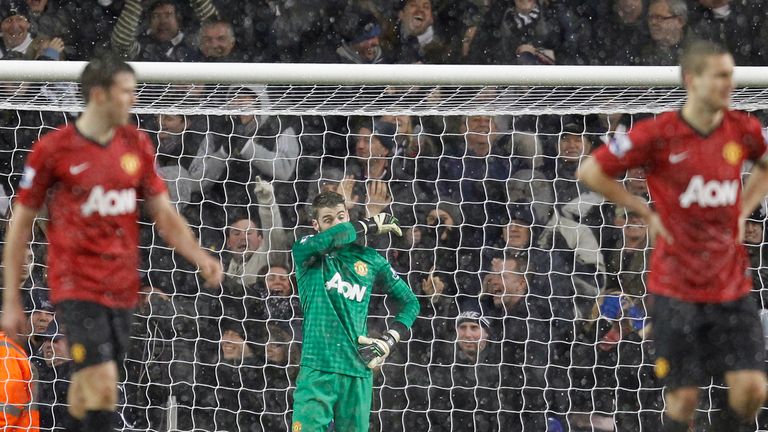 The Spanish goalkeeper's weak punch to the feet of Aaron Lennon in the dying moments at White Hart Lane allowed the Spurs winger to set up Clint Dempsey's equaliser, a result which saw United's lead over title rivals Manchester City cut to five points.
Sky Sports expert Neville said the body language of Nemanja Vidic, Patrice Evra and Danny Welbeck in the immediate aftermath of the goal showed that they were "furious" with the goalkeeper and is certain that words will have been exchanged in the dressing room afterwards.
"The idea that they're saying 'unlucky mate, let's go and have a drink,' well, that is not that place. Anybody is misguided if they believe that is what happens," he said.
"There is an incredible amount of accountability in that dressing room; it is not a place that is forgiving, it is not a place where you won't get people who will confront each other when mistakes are made.
"If you play at that club, in that dressing room under that manager it's not a case of destroying his confidence, it's about learning fast.
"You've got to learn the hard way and he's learning in a very unforgiving environment where he's judged continuously at the highest level."
Harsh
Neville admits De Gea made several fine saves against Tottenham, but knows from his own experiences of playing for Manchester United that the highest standards are expected at all times.
He recalled a mistake he made against Arsenal in 1998 and says he has never been allowed to forget his error, such is the level of expectation at Old Trafford.
Neville added: "It may seem as though I'm harsh on goalkeepers, but they are in a position of maximum authority on a football pitch in respect to the job that they do. It's a thankless task, but you cannot make a mistake like that in the last minute of the game at this level.
"Those practices where they are getting challenged under pressure will be happening 100 times per week. The goalkeepeing coach at every club will do that type of practice and he's got to get height and distance. It's a tough school, but it's a big mistake and it's cost his team two points.
"There's a theory that he saved Manchester United because he made two or three great saves, but unfortunately that's a waste of time.
"I had a very bad experience at the same age as De Gea. Everyone will remember the [Marc] Overmars goal at Old Trafford when I was clambering back to try and chase him. I'd honestly had a fantastic match at centre-back, one of the best ever matches I'd played for Manchester United, for 78 minutes. I went to right-back and made a positional error of two or three yards to try and get the ball.
"That day will be remembered as the day that Arsenal won the championship, the day it slipped away from Manchester United. I've seen that goal back probably 150 to 200 times over the last 12 years. I gave that goal away, I gave the momentum to Arsenal to win that championship and that lives with you.
"So I'm not sat here from a position of royalty, saying that David De Gea is out of order for making a mistake. I've been there and I know the expectation of what you have to be is unforgiving in that dressing room."
Stick
De Gea had returned to the side after missing the FA Cup replay against West Ham, but Neville feels Sir Alex Ferguson will stand by the Spanish goalkeeper.
And he insists the former Atletico Madrid player can emerge as one of the top goalkeepers in world football if he learns from his mistakes and builds his confidence this season.
"I think he sticks with him, he added.
"Sir Alex Ferguson has had the Gerard Pique experience, who was a young player who went back to Spain [and was a success at Barcelona].
"I've no doubts that David De Gea can be a top goalkeeper, one of the best in the world. He's physically going to mature in the next 18 months and he needs a championship.
"If he wasn't to win the championship this year and things like this continue to happen it would be painful for him. That's where there would be problems.
"He played well yesterday, but playing well for 92-and-a-half minutes and then doing that in the 93rd is a problem at a club like that."