Yaya Toure has had his moments. There was the whipped strike against the crossbar against West Ham last weekend and the deadlock-breaking effort late on at Aston Villa. It's not that he's failing to contribute. It's that this contribution is so diminished by comparison to last season's heroics.
Toure scored 20 goals in Manchester City's 2013/14 Premier League winning campaign. Luis Suarez claimed the individual awards; Toure took the title. He was the difference. To put this goalscoring accomplishment by a midfielder into some sort of context, Frank Lampard only hit the 20-goal mark once in his Premier League career. Steven Gerrard never even came close.
But something appears to have changed over the summer and it's difficult to pinpoint precisely what that is. Perhaps the most likely explanation is that there have been a combination of factors. Of course, it would be wrong to dismiss the personal tragedy of losing a brother – such an event is likely to bring about a reassessment of priorities. But other issues have muddied the waters.
The birthday cake confusion and related quotes attributed to his agent led some to conclude that Toure and his advisers were looking to construct an exit strategy - one that might explain a subsequent lack of motivation. Then there is the physical aspect. Toure is 31 and coming off the back of World Cup exertions with his country. A certain dip in form might be explicable in that way.
Ambling
Whether mental, physical or both, the Premier League tracking data reveals some alarming results. At Upton Park last weekend, Toure made fewer high-intensity runs than any outfield starter on either team and it's hardly a one-off. At his best, that trademark ambling stride would be interspersed with driving runs through the middle of the pitch. But there is evidence to suggest those forays have become less frequent. When does deceptive pace become mere deception?
In the first five Premier League matches of the 2013/14 season, Toure produced 30 or more sprints in three of them and never dipped below 23 sprints in any of those matches. This season began in less dynamic fashion. Fifteen sprints against Newcastle. Next time against Liverpool, there were 18 of them. The home defeat to Stoke saw Toure make just 16 high-intensity runs. Standards have slipped.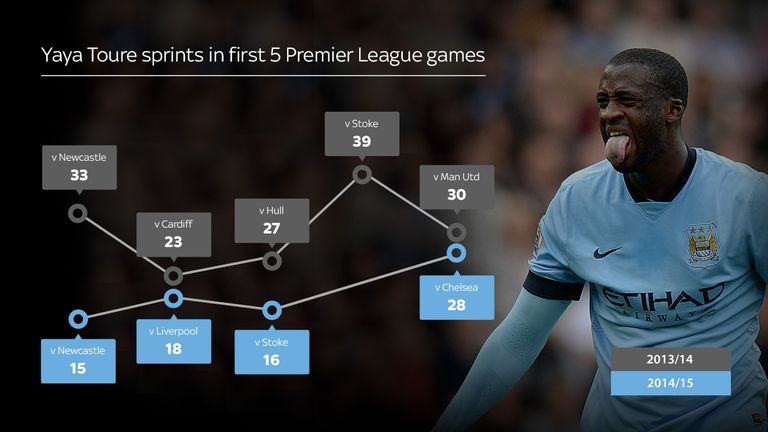 While City boss Manuel Pellegrini acknowledges it was a fraught summer, he's backing his man. "I don't agree exactly with the media that Yaya has had a bad season," he said recently. "If you compare to last year, when he had a brilliant performance, maybe he just needs time to get back to that level. He had a very complicated summer, but he is arriving towards his best performances." And yet, there was little sign of that as City crashed out of the Capital One Cup at home to Newcastle on Wednesday evening.
It's true that Toure scored an important goal against Aston Villa, but aside from another in a 7-0 cup thrashing of Sheffield Wednesday that remains his only direct contribution of note. Ten Manchester City players have assists to their name in this season's Premier League and Toure is not among them. This from a player who was among the top six assisters in the country last term. By objective criteria, these 2014/15 stats are those of an ineffectual performer.
Axe unthinkable?
Even so, it remains unthinkable that Toure should be omitted. His role in City's rise to the top commands a level of trust that cannot be eradicated by a sloppy start to the season. But it will have been noted that he was rested for the visit of Tottenham – a game his team won 4-1 – before returning for the disappointing draw with CSKA Moscow and the defeats to West Ham and Newcastle.
There are alternatives too. James Milner's form this season has been impressive and his energy brings real drive to City's midfield. The contrast with Toure is marked. Milner sprinted 90 times at Villa, on 80 occasions against Chelsea and a further 77 times versus Hull. They are the three best numbers by a City player this season. Of course, running isn't everything. But clubs don't track this data on a whim. Prior to Wednesday night, all four of City's defeats this year have come in games Milner did not start.
One solution might be to use Toure in a more advanced role in behind Sergio Aguero. The recent form of Edin Dzeko has been unconvincing, with the Bosnian having found the net in just two of his 14 appearances for the club this season – against Sheffield Wednesday and Hull. The switch would allow any two from Fernandinho, Fernando and Milner to operate behind the Ivorian and offer greater protection to City's increasingly exposed defence.
City Midfielders
| | | |
| --- | --- | --- |
| Man City Midfielders | | |
| Player | Minutes played | Interceptions |
| Fernandinho | 418 | 13 |
| James Milner | 474 | 8 |
| Fernando | 402 | 7 |
| Yaya Toure | 647 | 2 |
That lack of cover provided by Toure is becoming an issue. While the aforementioned trio have managed at least seven interceptions so far this season, he has just two to his name in 647 minutes. Not only is that a worrying contrast with the efforts of his team-mates but also in comparison to his own contribution of the previous year. A man who came up with an interception every 122 minutes in 2013/14 is now cutting an opposition pass out once every five hours or so.


It's something that could be particularly pertinent in the Manchester derby this weekend, a game in which Angel di Maria's bursting runs will need to be studiously tracked if City are to gain a modicum of control. And yet, Pellegrini appears adamant that no change will be forthcoming. "It can be an option to play him further forward, he can play both positions," says the coach. "But he is an important midfielder for us and that is where he will continue to play."
Of course, it would be typical Toure to deliver when it matters. Indeed, he has scored in this very fixture in each of the past two seasons. What's certain is that he needs to show his manager and the City supporters something more on Sunday. Otherwise those looking to explain the team's unconvincing start to the season must surely look no further than the celebrated midfielder.
Watch Manchester City take on Manchester United this Sunday live on Sky Sports 1 HD (1.30pm kick off).  Click here to add Sky Sports to your Sky TV package!