Manchester United 2-2 Liverpool in 1992
The first game between the two teams since the advent of the Premier League came in October 1992 at Old Trafford, pitting Sir Alex Ferguson's Manchester United against Graeme Souness's Liverpool. The visitors looked set for a win too when Don Hutchinson's deflected strike gave them the lead and Ian Rush later doubled the advantage with his 287th goal for the Reds – surpassing Roger Hunt's club record.
But United produced the sort of comeback that was to typify their decade. With 12 minutes remaining, Mark Hughes came up with a wonderful lobbed volley after substitute Clayton Blackmore had chipped the ball into his compatriot's path. Hughes then seized upon a Ryan Giggs pass to equalise in the final minute and earn United an unlikely point. Even Ferguson admitted it was fortunate. "We didn't play particularly well and perhaps we didn't deserve a point."
Souness was frustrated. "With a bit more ringcraft and fieldcraft we would probably have won," he said. But it was to prove an indicator of what was to come. The previous season had been the first since 1968 that United had finished above Liverpool and 1992/93 saw them go one better and win the title for the first time since 1967. Liverpool eventually finished sixth for a second successive season – their joint lowest finish in 28 years.
Manchester United 2-2 Liverpool in 1995
This fixture marked the return of Eric Cantona after serving an eight-month suspension for his infamous kung-fu kick at Selhurst Park. Typically, he had an immediate impact – just 67 seconds into the game, to be precise – in crossing for Nicky Butt to open the scoring. Robbie Fowler threatened to spoil the comeback with goals either side of half-time but when Jamie Redknapp was adjudged to have fouled Giggs, Cantona had the final word from the penalty spot.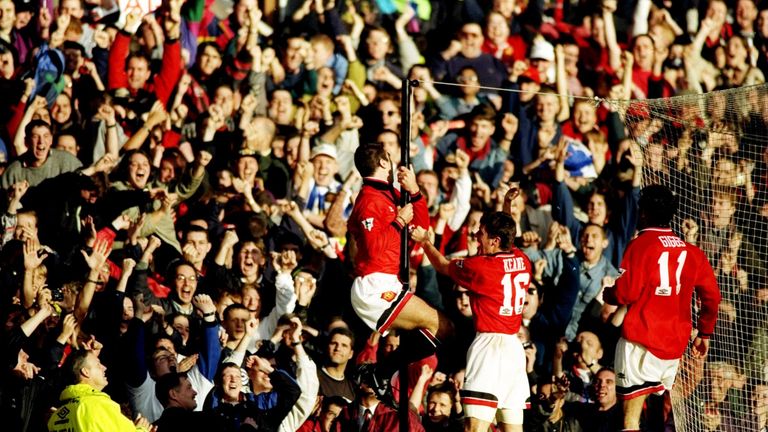 Liverpool boss Roy Evans was unimpressed by referee David Elleray's role. "It is a sad story when the referee thinks he has equal billing with Eric Cantona," said Evans. "I thought Cantona passed the test but the referee did not. We deserved more than we got. We lost two points on a dodgy decision." Ferguson just seemed relieved the drama was over. "Eric did well," he said. "He's tired, of course, but he can be pleased with his performance. And the hype's over, thank goodness."
Manchester United 1-0 Liverpool in 2006
Despite featuring a last-minute winner for Manchester United courtesy of Rio Ferdinand's header from a Giggs free-kick, this was a game more noteworthy for the bad blood that followed. Jose Mourinho's Chelsea won the title that year but this fixture isn't all about trophies as Gary Neville's actions showed. The United full-back's decision to run the length of the field to celebrate the winner in front of the visiting Liverpool fans caused controversy. Neville was unapologetic.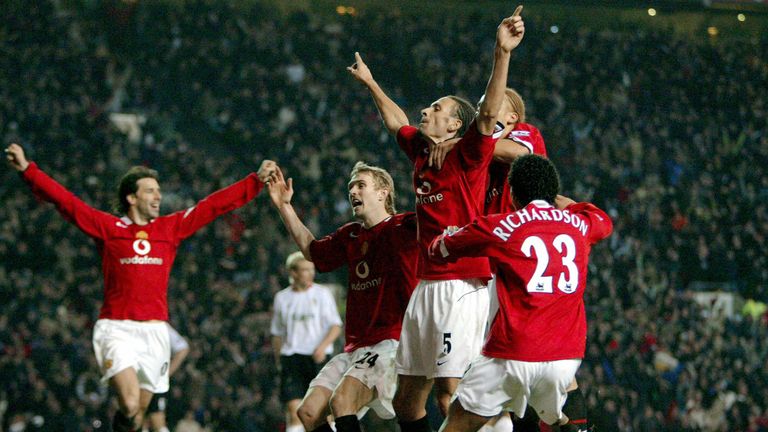 "I would have been apologetic if I'd run up to one of their players and tried to belittle them but this was a celebration," he told the Times. "What are you meant to do? Smile sweetly and jog back to the halfway line?" Monday Night Football colleague Jamie Carragher had a different view. "I think there is a line and Neville crossed it. I've heard people say it's justified because he gets a lot of stick from our fans but the truth is he gets stick as he's been doing that for years."
Manchester United 1-4 Liverpool in 2009
Manchester United were the defending champions and league leaders at the time but found themselves taken apart at Old Trafford by a motivated Liverpool team. Cristiano Ronaldo had given the home side the lead from the penalty spot but Fernando Torres forced a mistake from Nemanja Vidic soon after and United capitulated. Steven Gerrard put Liverpool ahead - also with a penalty - before inducing another Vidic error that saw the defender sent off.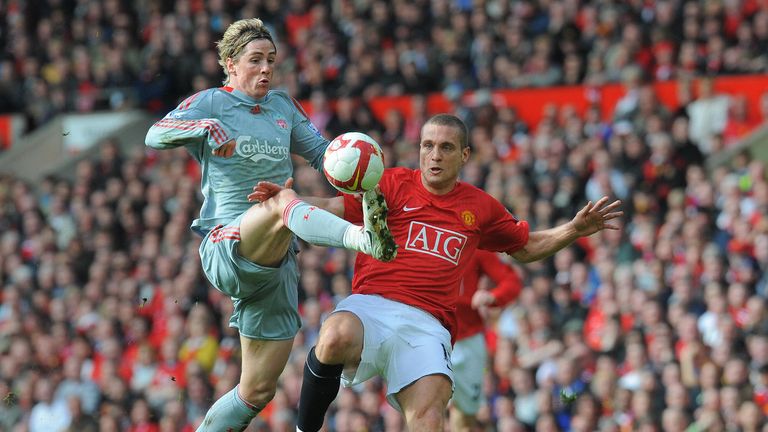 Fabio Aurelio curled home from the resulting free-kick, before Andrea Dossena capped an amazing afternoon for Liverpool by lobbing Edwin van der Sar. Ferguson was less than magnanimous. "I thought we were the better team, but the score doesn't reflect that," he said. Rafa Benitez preferred to look ahead. "If we are going to win the title we are going to need three points from every game and United to drop some more." It didn't happen and Liverpool fell four points short.
Manchester United 3-2 Liverpool in 2010
Dimitar Berbatov's career at United began with a defeat to Liverpool and that seemed to set the tone for the following two seasons in which he scored just 26 goals in 86 appearances. But things improved at the start of the 2010/11 campaign, with Berbatov scoring in four of his first five appearances. Finally he was in form and he duly put United two goals up against Liverpool in the early season derby game.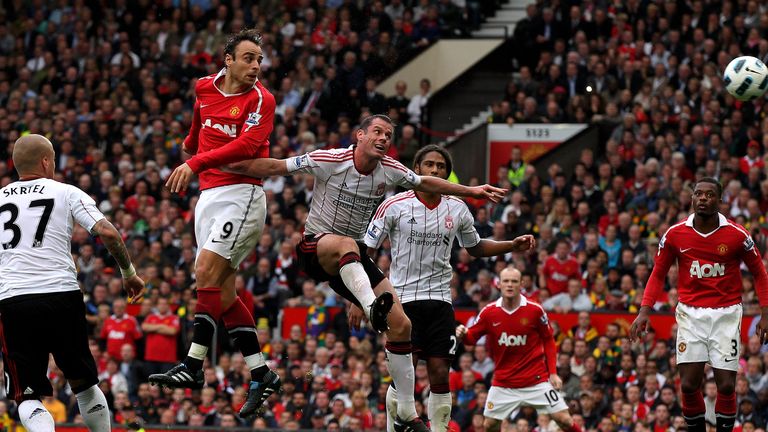 Gerrard threatened to scupper things, scoring a penalty to pull one back and then levelling the scores with 20 minutes remaining courtesy of a 20-yard free-kick. But Berbatov completed his hat-trick – the first by a United player against Liverpool since 1946 – when he rose above Jamie Carragher to convert John O'Shea's cross. It felt like the moment from which the mercurial forward would go on to justify his vast price tag.
"You must persevere and trust your judgement, you must have faith, and I think we are being rewarded this season for our confidence in him," said Ferguson afterwards. In a sense, Berbatov delivered. The Bulgarian finished the season as the Premier League joint-top scorer. But Ferguson failed to live by his own words – choosing to omit Berbatov from his squad for the 2011 Champions League Final against Barcelona at the end of that season.
Manchester United 0-3 Liverpool in 2014
David Moyes' time in charge of Manchester United was littered with lows but few plumbed the depths quite like this miserable surrender against Liverpool in March. The visitors dominated early on and finally took the lead in front of the Stretford End when Rafael's handball allowed Gerrard to open the scoring from the spot. Soon after the restart, Phil Jones clumsily fouled Joe Allen and Gerrard converted again.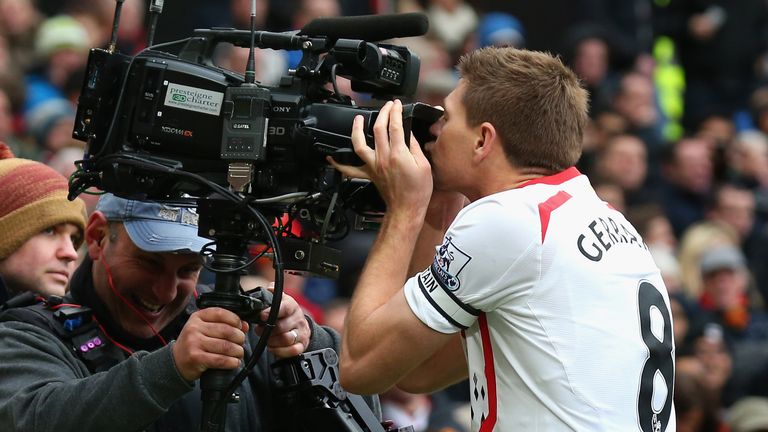 The Liverpool skipper might have made it a hat-trick of penalties but squandered the opportunity when Vidic was adjudged to have fouled Daniel Sturridge – and was sent off for his troubles too – but Luiz Suarez soon added a third anyway. "It's a nightmare," said Wayne Rooney. "It's one of the worst days I've ever had in football." Moyes, meanwhile, had an admission. "I think the job was always going to be hard but if you are asking me is it harder than I thought, I would say so, yes." He was sacked the following month.
Watch Manchester United v Liverpool live on Sky Sports 1 HD this Sunday from 12.30pm