Adam Bate looks at the statistics that show Arsenal's Alexis Sanchez is the Premier League's great all-rounder...
Defining Alexis Sanchez isn't easy. Consider the late breakaway during Arsenal's 3-0 win over Stoke on Sunday. Sanchez was chasing a hat-trick and had space to run into, but with Theo Walcott free to his right, the Chilean opted instead to slip the ball through to the substitute.
When Walcott screwed a tame effort wide of the far post, Sanchez was entitled to be disappointed. Instead there was a quick clap for his colleague before getting his head down and running back into position. He is, after all, far more than just a goalscorer.
"I like the fact he can play left, right, up front, and that's why I went for him," said Arsene Wenger in the summer and the Arsenal boss has been true to his word. Having scored goals as a centre forward this season, Sanchez's brace against Stoke came from the left. But there's much more to his versatility than that.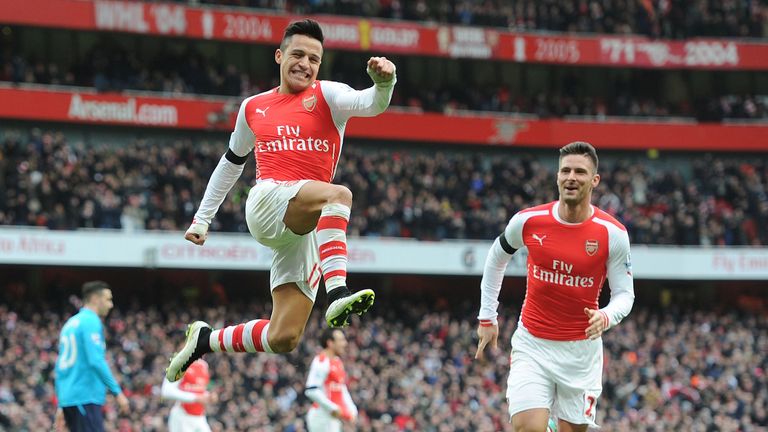 With the likes of Santi Cazorla in good form, it would be wrong to call Arsenal a one-man team. But while there have been players who overshadow their team-mates through force of personality, weight of goals, presence on the pitch or as a creative fulcrum, few do the lot quite like Sanchez.
The statistics are extraordinary. He's the Premier League's fourth-highest goalscorer behind Sergio Aguero, Diego Costa and Charlie Austin. Arsenal midfielder Alex Oxlade-Chamberlain admits Sanchez is not happy when he doesn't score.
But then there are the assists. Wenger has hailed his "creativity" while Mathieu Flamini has talked of Sanchez "giving a lot for the team" and that's literally been the case with the goals he has laid on for team-mates. As well as being the fourth-highest scorer, he's also the fourth-highest provider of assists in the country.
Sanchez sprints
Alexis Sanchez made more high-intensity runs against Stoke - 66 - than any of his team-mates.
Naturally, he ranks behind three completely different players to Aguero, Costa and Austin on this score. Cesc Fabregas, Gylfi Sigurdsson and Leighton Baines are the men with more assists, while only the first of those two have created more clear chances of the type Sanchez provided for Walcott at the weekend.
Just when you're thinking Sanchez might be some sort of miraculous hybrid of Costa and Fabregas, there is his dribbling to consider - so you can throw Eden Hazard into the mix as well. Sanchez has the third-most completed dribbles in this season's Premier League.
Sanchez Stats
| | | | |
| --- | --- | --- | --- |
| Sanchez stats | | | |
| Discipline | Total | Rank | Top player |
| Goals | 12 | Fourth | Diego Costa, 15 |
| Assists | 7 | Fourth= | Cesc Fabregas, 14 |
| Chances created | 57 | Second | Cesc Fabregas, 65 |
| Dribbles | 67 | Third | Eden Hazard, 99 |
It's a series of statistics that can only be achieved with a barely-believable work-rate in a player of such ability. Sanchez made the most high-intensity runs (66) of any Arsenal player on Sunday and it comes after a similarly stunning display in the FA Cup win over Hull last time out.
"Forget the ability he has got," said opposing manager Steve Bruce of that effort. "The work rate and effort and endeavour he puts in - there was no sign of him being tired." Indeed, the statistics show that Sanchez has taken defending from the front to new levels.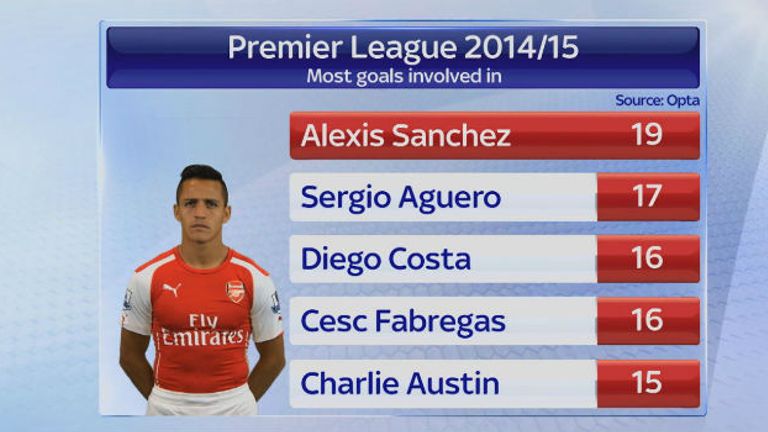 He has made more tackles and interceptions than the other three highest goalscorers in the Premier League combined. In fact, of the 30 players to score five goals or more, only Mile Jedinak has made more tackles or interceptions – and the Crystal Palace midfielder's tally of five includes three penalties. No forward in the country has made more tackles than Sanchez.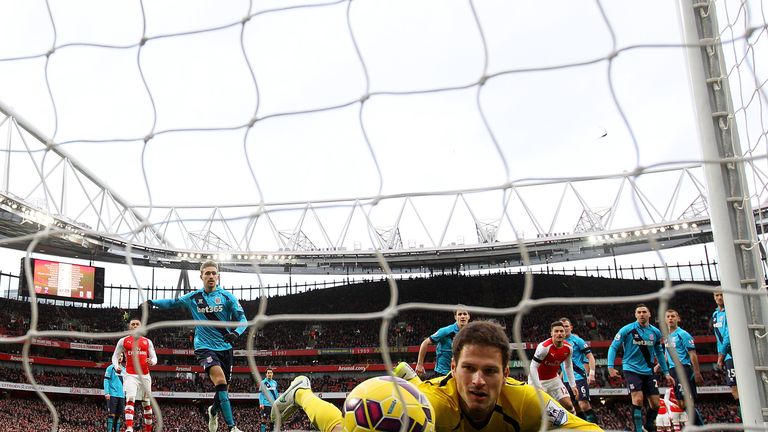 How far these performances can take a flawed Arsenal side remains to be seen and there is a school of thought that dictates that when the player of the year awards are handed out, they should reflect a trophy-winning contribution.
But when it comes to individual efforts, the case for Alexis Sanchez is a persuasive one. He is the closest thing that the Premier League has to a master of all trades.
Jamie Carragher's view
"There are a lot of players who come to this country and you know they've got fantastic ability. You've seen them playing in foreign leagues or at World Cups. He's got the power and the pace that you need allied to the ability. We know Mesut Ozil is a fantastic player but you've still got this slight question mark of has he got the power and the pace to impose himself in the Premier League as he did in Spain. There's never that question with Alexis Sanchez."
Watch Man City v Arsenal live on Sky Sports 1 HD from 3.30pm on Sunday 18 January