Harry Kane's incredible season with Tottenham has catapulted him into the England team but when he faces Burnley on Super Sunday, they have a young striker with big ambitions of his own. We look at why Danny Ings should be inspired by Kane's impact...
May 2014. It's hardly the dim and distant past. Even so, the fact that Danny Ings was the starting striker for England's Under-21 team in their 3-1 victory over Wales, while Harry Kane warmed the bench, feels an awful long time ago.
Kane was introduced as a substitute that evening but departed six minutes later through injury. His remarkable rise since then has been well-documented - scoring more goals for Tottenham this season than he'd managed in almost 100 appearances for Leyton Orient, Millwall and others prior to the current campaign. The tale is usually told to highlight the youngster's stunning transformation.
But for Ings, it could also act as inspiration. The Burnley forward finds himself battling at the other end of the Premier League table and remains with the Under-21s while Kane has graduated to the seniors. And yet, with the two men lining up against each other at Turf Moor on Sunday, it's a chance to reflect on two journeys that Ings will hope can continue to mirror each other...
Learning the trade
Kane's loan spells certainly played their part in the England striker's development. From success with Millwall to a truncated stay at Norwich, there was much to learn - but learn he did. "I always felt if you can play at Millwall, then you can play anywhere," said Lions goalkeeper David Forde of Kane's spell at The Den. It's a sentiment shared by Ings, who also progressed in the lower leagues.
Released by Southampton as a 10-year-old, he was taken on by Bournemouth and sent out on loan to Conference South club Dorchester by manager Eddie Howe. Ings credits it with toughening him up. "It was probably the most important spell," he said, quoted in the Mail. "I got kicked around a lot. I was young and it helped me mature as a man and a footballer."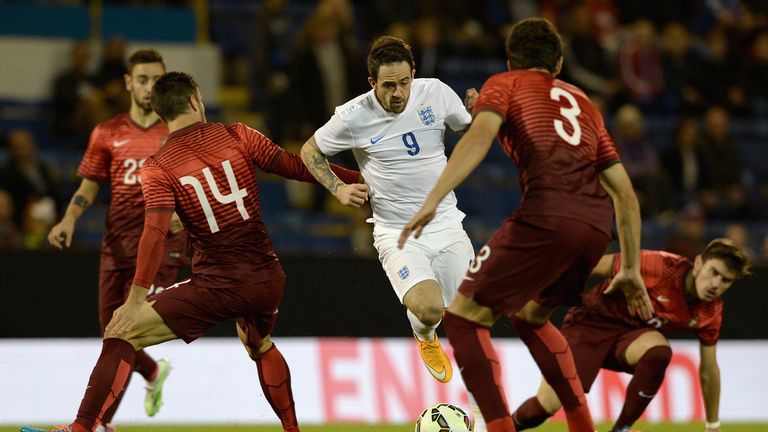 Positive attitude
Kane's hard work has caught the imagination of many this season, with his 13-kilometre effort against Everton making the headlines and it's a quality shared by Ings.
"He has the work-rate, technique and the temperament to become a top player," claimed Sky Sports' Jamie Redknapp in his Mail column, while Jamie Carragher singled out Ings' attitude as the key reason why Liverpool should move for the Burnley man instead of West Brom's Saido Berahino.
Perhaps the clue is right there imprinted on the striker's person. Ings has a tattoo that reads: 'The difference between the impossible and possible lies in the man's determination.'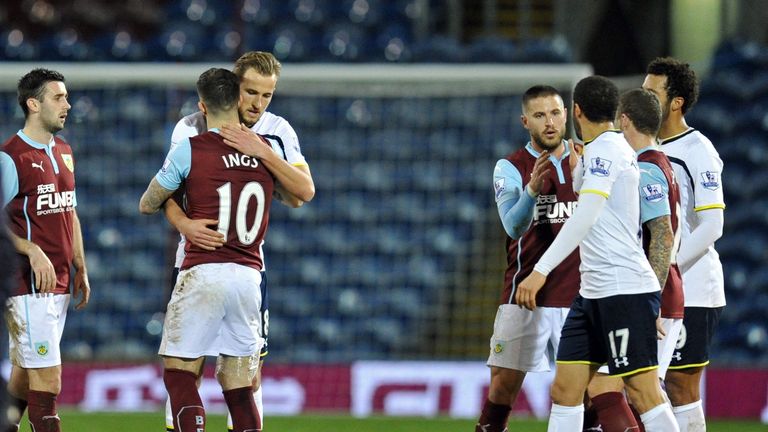 Similar styles
It takes more than just effort to become a quality Premier League forward but Ings has the admiration of his peers in this regard too. England captain Wayne Rooney noted the forward's abilities in January. "Danny Ings is doing fantastically," said Rooney. "He is scoring quite a few goals and his movement is really good."
Rooney's view appears to be shared by England boss Roy Hodgson, who namechecked Ings during an in-depth assessment of Kane's qualities - many of which could apply to both men. "I think he's got the qualities you're looking for in a centre-forward, in the sense that he goes both ways, he can be a target player and receive balls that are played up to him," Hodgson said of Kane.
"He's not one who just stays on the shoulder and make runs, he's quite prepared to take part in the build-up play, run the channels, receive the longer balls, fight with the centre-halves. But he is also prepared to make those runs into the box. He's good at attacking crosses, he's good at making short runs to get played in. Really he combines everything that you're looking for in a centre forward. Ings has impressed me as well. I think we need to keep an eye on him."
The stats say...
Ings has nine Premier League goals to Kane's 19 but that can partially be explained by the relative standing of teams they represent. The underlying data for last season's Championship top scorer and player of the year is more encouraging.
According to Opta, Ings has converted 60% of his 10 clear opportunities to score in the Premier League this season and this compares favourably with Kane, who has netted with 55% of his 20 clear chances. Ings has also created more for others with his selflessness, fashioning 30 chances for team-mates compared to 20 by Kane.
What's next?
Burnley boss Sean Dyche is anticipating an England call. "I'd like to think he's in their thoughts and in and around their thinking. There are lots of other players out there doing well. Obviously the main one is Harry Kane. I would certainly promote them to continue monitoring him because I think he's got a freshness to the way he plays and is different to a lot of centre-forwards who would be considered."
Whether Ings will be a Burnley player if and when that call-up arrives, it remains to be seen. The 22-year-old is out of contract in the summer and reportedly had talks with Real Sociedad in January. There will be Premier League interest whatever fate befalls Burnley this season. "He is a quality striker and, Chelsea or Manchester City apart, he could improve any side in this League," says Redknapp. "With all respect to Burnley, he is destined for bigger things. The big question is when?"


Watch Burnley v Tottenham live on Sky Sports 1 HD from 12.30pm on Sunday
Pick up a Sky Sports Day Pass for £6.99 with NOW TV