Marcus Rashford: A look at Manchester United's unlikely hero
By Adam Bate
Last Updated: 26/02/16 3:57pm
Manchester United's 5-1 win over FC Midtjylland in the Europa League overhauled their first-leg deficit and was particularly notable for a two-goal debut by Marcus Rashford.
The 18-year-old forward was only drafted into the starting line-up following an injury to Anthony Martial in the warm-up. But what's Rashford's story? We take a look at his rise…
Marcus Rashford wasn't even a striker when coming through the ranks at Manchester United. Thrust into the role for an FA Youth Cup tie against Leicester City, he duly impressed and later led the line following an injury to Demetri Mitchell. It's proven good preparation.
Rashford had only minutes to ready himself once Anthony Martial was injured in the warm-up, but responded in style - scoring two goals on his debut at Old Trafford. The teenager turned the team's tie with FC Midtjylland around in the process, and perhaps much more.
Player profile: Marcus Rashford
Date of birth: 31 October 1997
Birthplace: Wythenshawe
Date joined: 1 July 2014
Position: Forward
United supporters won't want to indulge themselves in talk of Mark Robins moments - for some, Louis van Gaal's tenure already feels way past that - but for Rashford this truly was one to cherish. Indeed, his is precisely the sort of talent Van Gaal was supposed to uncover.
This didn't necessarily appear to be an evening for such things. With Champions League qualification through the Premier League looking tricky, the Europa League is no longer a competition that United could - or should - run the risk of letting slip away from them.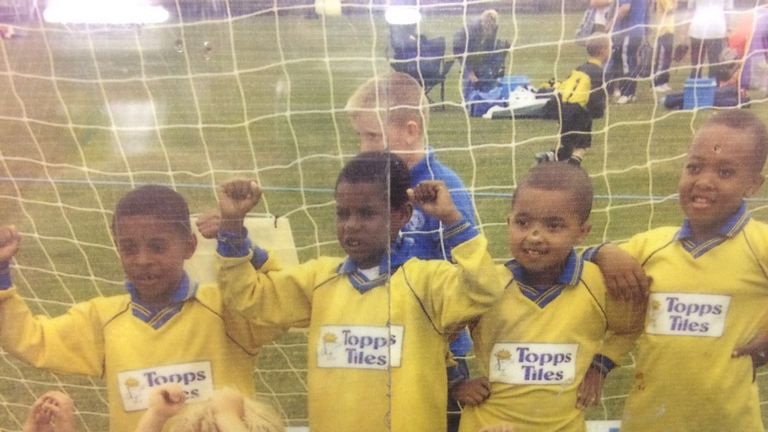 But for one young man at least, it was a time to be glad of United's small squad; one left so vulnerable given the presence of only two strikers at the club. Just when all looked bleak, and briefly two goals down on aggregate, Rashford played his part in lighting up the night.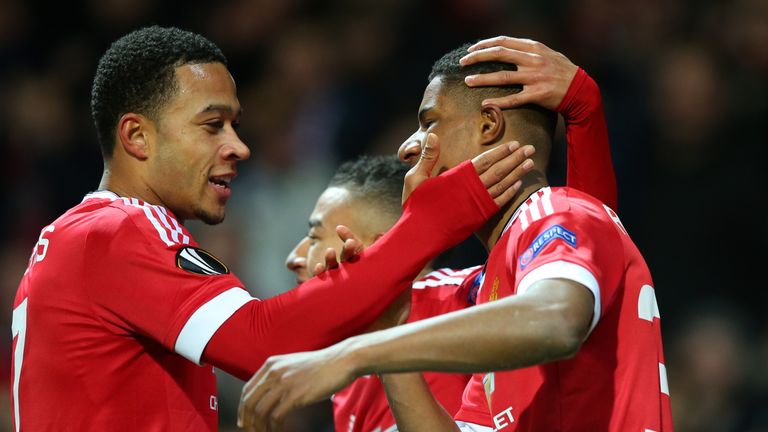 Memphis Depay might have been the classiest player on show but from the moment Rashford robbed a defender and sped away to the touchline in the early stages, there were hints of the explosive pace that has helped fast-track him to the first-team squad.
Under-18 star
Rashford was the top scorer in Manchester United's under-18s last season with 13 goals.
After a quarter of an hour, he cut inside and forced a good save. But while he was active, United's defenders were passive. And punished. It was only after the interval that the home team turned it on and two goals from Rashford took the tie away from the Danes.
They were similar efforts - neat right-footed finishes of a striker first to react. But for Nicky Butt watching on from the stands, the man who gave Rashford the captain's armband for United's UEFA Youth League campaign, there would have been particular satisfaction with that fact.
September strides
The Manchester-born striker scored in all six of his appearances in September 2015.
For in a sense, they were reminiscent of an old team-mate of Butt's. Ruud van Nistelrooy goals. Noteworthy chiefly for their simplicity. But those at United's academy are well aware of the regularity with which such goals can flow. They are the goals Rashford has been working on.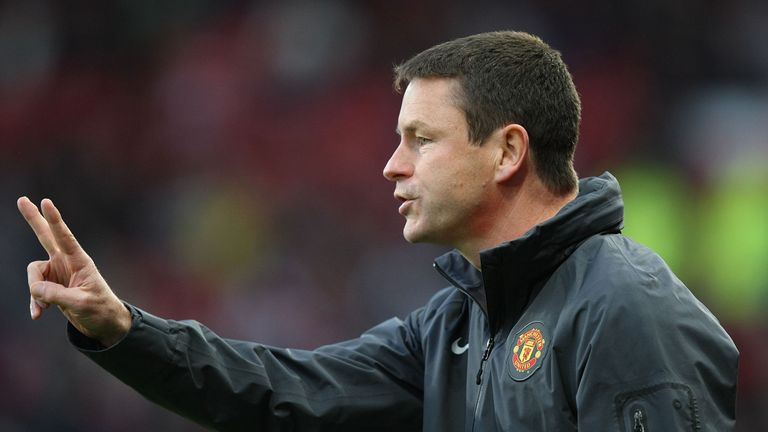 It's the hours spent with youth-team coach Paul McGuinness, who left the club this month, and, in particular, his assistant Colin Little. "He's starting to understand that part of his game and needs to now get a real goal addiction," said McGuinness as recently as December.
"He needs to score every type of goal. He can score unbelievable goals, dribbling past three defenders. But he needs to be more like Ruud van Nistelrooy where it goes in off his knee, or comes back off the bar or the 'keeper and he puts in the rebound. Real goalscorer's goals."
This wasn't a bad start. And while the return of Danny Welbeck with Arsenal on Sunday is an uncomfortable reminder of the forward talent that United have allowed to leave the club in recent times, perhaps there are those to fill the breach after all.
Rashford is already showing encouraging signs that he's a young man with a happy knack of seizing his opportunities. In 2014, McGuinness talked of the forward "turning a corner". Now he's turning defenders for the United first team. Who knows what 2016 could bring?