Jose Mourinho's first Manchester United news conference: The full transcript from Old Trafford
By Lyall Thomas
Last Updated: 05/07/16 3:27pm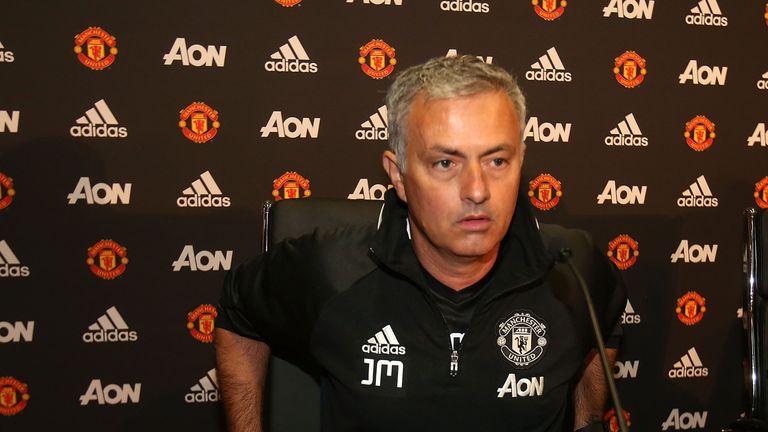 Jose Mourinho appeared at his first news conference as Manchester United manager on Tuesday. Below is the full transcript from Old Trafford...
Jose, you are officially the Manchester United manager. How do you feel? Is this your dream job?
This is not a dream job. This is reality. I am Manchester United manager. The reality is that this is a job that everyone wants and I have it.
I know the responsibility and the expectation. At the same time I know the legacy. I know what's behind me. I know what the history is and what the fans expect from me. The challenge doesn't make me nervous because my history was always to live with big clubs' expectations.
And it comes in the right moment of my career, where I feel very well prepared, very stable, and with a great motivation. I can say I am where I want to be. I want to be in this club, in this country, in the Premier League and the domestic cups.
I feel a bit frustrated that we are not in the Champions League. I don't hide that I am chasing Sir Alex Ferguson's record of Champions League matches. I am around 130 and hopefully it is only one season that we are not there.
When I say 'we', obviously the club is more important than myself and Manchester United is a Champions League club. We have to make sure that, in July 2017, instead of waiting for the Europa League play-offs and then the group draw, this club is where it has to be; the Champions League.
Bearing in mind the reality of the last three years, Jose, what is the realistic aim this season? Is it to compete for or to win these big trophies?
It depends on the way you want to face it. I was never very good at hiding behind words or philosophies. I never tried to be good at that. I was always much more aggressive in my approach, with the risks it can bring.
It would be easy, honest and pragmatic for me to focus on the last three years, and the fact we didn't qualify for the Champions League, and to say, 'Let's work, let's try to be back in the top-four, let's try to do well in the Europa League', but I am not good at that, and I don't want to be good.
I prefer to be more aggressive and to be more aggressive is to say 'we want to win'. I could anticipate that one of you will come later with a question about style of play, and what is before is the result of the style of play. I can anticipate that by saying that you can win a short competition and you can win a couple of matches without playing well. But you cannot win a competition without playing well.
What is playing well? It is scoring more goals than the opponent, it is to concede less than the opponent, it is to make your fans proud because you gave everything and you win. I want everything. I want to win matches, play well, play young players, score goals, not concede goals.
I want the fans to be behind us not because we are chasing a result in the last 10 minutes but because we are defending a result. Of course we are not going to get everything, but we want to.
You've said in the past that you like having big players who have a point to prove. Do you fit the character now of being a big player with a point to prove?
There are some managers that the last time they won a title was 10 years ago. Some of them have never won a title. For me it was one year ago. If I have a lot to prove, imagine the others.
The reality is that this was never important for me. I play against myself. That's my feeling. I have to prove not to others, but to myself. That's my nature. I would never be able to work without success. I always have to find the reasons why I have many questions to myself and to the people working with me.
I could approach this job in a defensive point of view by saying, 'Yes, the last three years the best we did was fourth, the best we did was the FA Cup'. I cannot go into that side. I have worked in some big clubs before and the reality is that when people, year after year, you have a certain kind of Man U, the Man U has to change for the better not for worse.
For so many years, for the fans success was just routine, but I want to forget the last three years. I don't want the players to start the season by thinking 'we have to do better'. What is to do better? To do better is to finish fourth. To finish fourth is not the aim.
This is what I do with myself. I am 53, not 63 or 73. Maybe you are tired of me because I started so early at the highest level. But I am a very young manager. I have this approach of not trying to prove to myself, or to others, or going for big challenges, then I am in trouble.
The reality is that I was in trouble for the last five months. The first month was fine, the second month was not so good, and after the second month it was a disaster.
You've already begun to make your mark on this squad, how many more changes to you think you need to make?
I don't know. (Mourinho then turns to the press officer and asks: 'The third player is already official or not?' She replies: 'No.' Mourinho asks: 'So the third player will be official, when?' Press officer replies: 'Soon').
I can try to make you understand the profile. We made a nucleus of four positions as priority, to give a certain balance to the squad, and a certain push in terms of quality and the qualities I want, especially the ones with more vision.
As you know, I am more a manager that likes specialists, not so much the multi-functional players. I am clear in my approach and model of player, so I need specialists. I like one or two multi-functional players because when you are in trouble, you always need one or two guys who can fill the space. If you have three central defenders injured or suspended, you need some left-back or midfield player that can give you a hand.
We decided four targets and from them we have three. Until we don't have the fourth we are working hard on that, with Mr Woodward and the owners. When we have the fourth, we will breathe, and the market will be open, because there is no way we will get the fourth on August 31.
There is something that is also very important, which is that all the players I keep are happy. You can imagine, first game of the season, I don't pick somebody, they get disappointed, they have the chance to go to another club, and somebody is feeling that they are not fundamental, they leave, so somebody has to come in.
So we will see what happens. We are doing well. We are getting the players we want. We nearly have the third and hopefully we will get the fourth.
How big is the challenge that's right on your doorstep in Manchester City and Pep Guardiola, and how excited are you about taking him on like you did in Spain?
I think Leicester's legacy was not just the happiness around the country and the smile on all of our faces with what they did. The legacy from them is that we are in a competition with 20 teams fighting for the title.
Next season, if you have a team that wins the first five matches, you will concede that that team are considered candidates. It's over, the time where you say, 'These guys are doing very well but in December they will collapse'. Leicester killed these words.
To speak about one manager, one club, one 'enemy', but I hate the word, I don't think it is right. In Spain it was a two-horse race. Now it has become three. When I was in Italy it was three teams. Then it makes sense, that kind of approach. In the Premier League it doesn't make sense at all, because if you focus on one team then the others will be laughing. I am not going to be a part of it.
I am Manchester United manager with respect to all the other clubs in the country, especially one that was my house for seven years and shared so many moments with their fans. I am going to focus on ourselves.
Ryan Giggs has obviously left the club, but something that has been levelled at you in the past is not bringing through young players. Ryan epitomised that at Manchester United, so will you get your head around the culture here and that emphasis on young players?
How long do we have? It would take me 10 minutes to answer this question. I knew that was coming. Do you know how many players I have brought through from the academy to the first team? Forty-nine. If anyone is interested I can give you the names.
And I did it with two important factors that are important. Sometimes you promote because you don't have another choice. You have to bring academy players in because you have lots of injuries. The second factor is that when you are not playing for big targets, it's easier to bring them through outside of the pressure of the big moments.
My injury record is very low, so I never promote because of a need. I did it because of conviction and decision. Last year was the only season of my career I was not fighting for the title. Every other year I was fighting for it until the last moment, so it was never a situation of stability to promote young players.
Some of these 49 players are big names. Some of them are Champions League winners. Some of them are at the Euros, for national teams. Forty-nine is a lot. One lie repeated many times, sometimes it looks like it is true, but it is still a lie.
And about Ryan, I never run away from my responsibility but I can say it's not my responsibility that Ryan Giggs is not in the club. The job that Ryan wanted was the one the club decided to give to me. It's not my fault. He wanted to be Manchester United manager.
The reasons the owners, the board, they can tell you that they decided the job was for me. From this moment, Ryan wants to be a manager, like 16 years ago, in 2000, when I decided myself I wanted to be a manager. For many of us, we arrive as assistant managers and then we make a decision, and Ryan has made his decision.
So when you ask, 'Could he have had a job, could he have been my assistant?', he could be what he wanted in the club. They wanted to give him any important job, but he made a decision. He made a decision that he had to be brave.
In 2000, I had two years contract left at Barcelona to be assistant. Do you think it was easy for me to leave such a big club, with such stability and take up a new fight? It's not easy.
For Ryan it was not just the step from being assistant manager to manager, it was the step to leave his house. Twenty-nine years is not 29 days. He was brave, and he was honest and good luck.
And if he wants to come back one day when I am here I will never stop him and I will say 'yes' if the club asks my opinion. And if one day the club offers him the chance to become the manager, I think it will be something natural and a consequence of his success in his managerial career.
What advice has Sir Alex Ferguson given you and will you be speaking to him continually throughout the season?
Yes, he said bring the umbrella, and it rained at the training ground on the first day, so it was good advice. The second advice was to bring my typical bottle of wine because there will be many occasions now for us to be together.
When his holidays are finished, I will be based in Manchester, he is the same, and we will have lots of time to meet each other. He will always be welcome at the training ground, obviously, and we will have time to share lots of our personal stuff; friends, family, life.
But his opinion is a very important one for me, the same way as so many legends in this club. They love the club and some of them are in the pundit industry in this moment, so every opinion will be important for me, agreeing or not agreeing. People that love the club and has a big connection with the club will always be respected by me.
You said you wanted specialist players. So where do you see Wayne Rooney next year? Is he a striker or a midfielder?
In football, there are many jobs on the field. The one that is more difficult to find is the guy who puts the ball in the net. Obviously, players' qualities and characteristics change through the years. It is normal that a player at this age changes a little bit. But the natural appetite to put the ball in the net never changes.
Maybe he is not a striker anymore. Maybe he is not a No 9 anymore but with me he will never be a No 6. He will never be 50 metres from the goal. You can tell me his pass is amazing, and yes it is, but my pass is also amazing without pressure.
For me, he will be a No 9 or a No 10, or a number nine-and-a-half, but not a No 6, not even a No 8.