Jose Mourinho insisted Manchester United's performance against Stoke was "beautiful" despite his side dropping two points from a winning position.
United thought they had won the game after Anthony Martial came off the bench to make the breakthrough on 69 minutes, but Joe Allen struck for Stoke with eight minutes left.
Mourinho believes it was United's best performance so far this season and refused to blame his side for conceding late on, despite sloppy defending.
He said: "I am very happy with the performance but, when the result should be 5-0 or 6-0 and it is 1-1, the happiness disappears and the frustration with the result comes.
"It was the best performance in terms of the football we played, the creation, the chances and the consistency, because we did it for 90 minutes.
"We started with a big chance in the first minute and finished with another one, and in between we had maybe five, six, seven more, and had complete control of the game.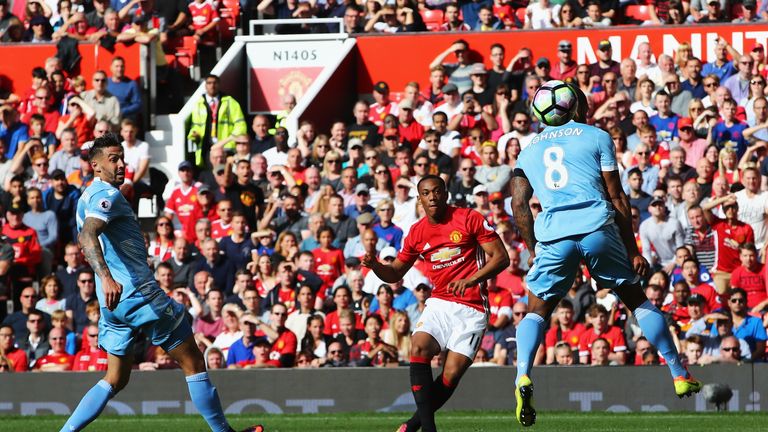 "There was a great attitude after 1-0 because we wanted to kill the game and were feeling so confident and kept creating chances.
"Then, by magic, they crossed the midfield line and scored a goal, which was obviously very unfair for us."
Zlatan Ibrahimovic missed a glorious chance after a minute of play and Paul Pogba also squandered close-range opportunities, while Stoke keeper Lee Grant pulled off a number of fine saves.
Mourinho said: "I never criticise my players for missing chances. The goalkeeper is the man of the match, deservedly, and the post too.
"We had some open chances where we could do better. I can be critical of the attitude or some naive mistakes sometimes, but not of the chances. We should be with a fat result at this moment, not just three points."
You can watch the final day of the Ryder Cup, plus Premier League football and the Japan Grand Prix on Sky Sports. Upgrade now and enjoy three months at half price!