Marouane Fellaini foul against Everton not a surprise, says Leon Osman
Last Updated: 05/12/16 7:02am
Leon Osman says he was not surprised by the challenge that led to his former team-mate Marouane Fellaini giving away a penalty against Everton on Sunday.
With Manchester United leading 1-0, Fellaini fouled Idrissa Gueye in the box just minutes after coming on as substitute at Goodison Park.
Leighton Baines stepped up to convert the spot-kick in the 89th minute and ensure the Toffees left with a share of the spoils.
Fellaini spent five years at Everton before joining Manchester United in 2013, and his former Toffees team-mate Osman said on Nissan Super Sunday it was not a shock to see his tackle on Gueye.
"He was always like that for us," Osman said. "He was like that in training, if you came up against him he was likely to stand on your toes or give you a dead leg.
"When he played for us you wanted him as far away from our box as possible, get him up causing havoc in around the opposition penalty area where he was really good."
Gary Neville added there was nothing wrong with the decision to introduce Fellaini, but thought it was an "idiotic" challenge from the midfielder.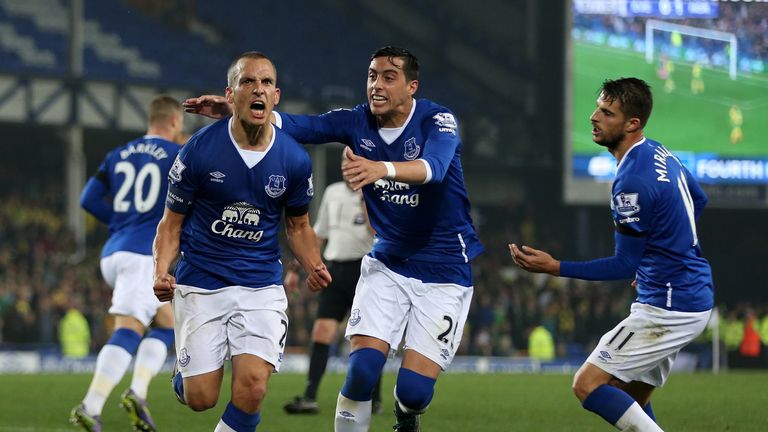 When he played for us you wanted him as far away from our box as possible
Leon Osman on former team-mate Fellaini
"You can see the sense behind the substitution from a manager's point of view, but when he goes on to do an idiotic thing like that it's just really poor," Neville said.
"He's such an experienced player, he's played here before, he knows the ground and the crowd, it's a poor individual moment.
"It's no reflection on the manager, he has made the substitution for the right reasons and he has been let down by his player."