Manchester United made history on Saturday as victory over Watford saw them become the first side to hit 2,000 points in the Premier League.
Juan Mata and Anthony Martial sealed a comfortable 2-0 win at Old Trafford that meant Jose Mourinho's side reached the milestone after 949 games.
Nearest rivals Arsenal are back on 1,797 points, while leaders Chelsea sit in third place on 1,755.
All-time Premier League points
| | |
| --- | --- |
| Manchester United | 2,000 |
| Arsenal | 1,797 |
| Chelsea | 1,755 |
| Liverpool | 1,650 |
| Tottenham | 1,411 |
| Everton | 1,304 |
United, one of only six teams to play every season in the Premier League since its inception in 1992, have an overall win ratio of 63 per cent and also top the table when it comes to points-per-game, averaging 2.11.
Victory over the Hornets stretched United's unbeaten run to 16 Premier League games - their longest top-flight streak since March 2013 and the longest current unbeaten sequence in Europe's major leagues.
Another record looms because Mourinho's men - still sixth in the table but just a point off fourth-placed Liverpool - will become the first Premier League club to notch 600 Premier League victories if they can see off Bournemouth on February 4 at Old Trafford.
Mourinho declared the run "amazing" and while he sees ample room for improvement, he reckons his side is not getting enough credit for the quality of their football.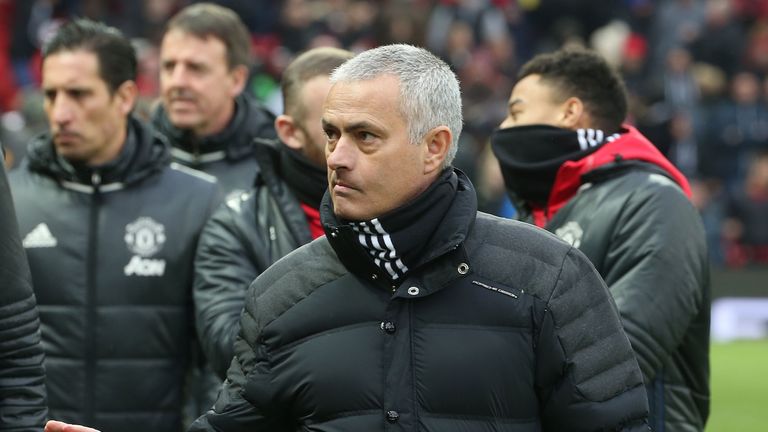 "It was a very good (performance)," he said after the game. "It was the kind of football that if it was somebody else's team, you would say it was 'art', but because it was my team, you will just say it was 'very good'. But that is fine.
"Sixteen (league) games unbeaten is an amazing record, but it would be the perfect record with two or three fewer draws at home. We have an amazing record of being unbeaten, but we should have more."