Anthony Martial and Marcus Rashford are vying for one spot at Manchester United
Last Updated: 14/10/17 12:02pm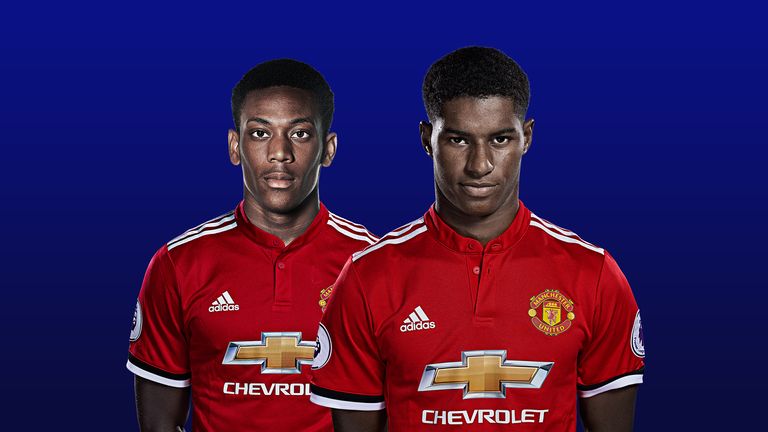 Marcus Rashford and Anthony Martial are locked in a battle for a Manchester United starting spot. So who deserves to get the nod? And why won't Jose Mourinho use them together? Nick Wright takes a look ahead of the big game against Liverpool on Saturday, live on Sky Sports.
Rashford and Martial have been two of Manchester United's outstanding performers this season. The former has contributed five goals and four assists in 11 appearances. The latter has provided five of each in nine appearances. It is only October, but they are already closing in on their totals for the whole of the last campaign.
With explosive pace and electrifying ability in one-on-ones, Rashford and Martial are swashbuckling attackers who fit with the club's traditions. Their performances have thrilled supporters and helped United to nine wins from 11 games this season. And yet they have only started together once - a 4-1 win over lowly Burton Albion in the Carabao Cup.
It is no great surprise that the free-scoring Romelu Lukaku has made the central striker position his own this season. Nor is it surprising that Henrikh Mkhitaryan - who ranks third in the Premier League for chances created and second for assists - has secured the No 10 spot. What's more intriguing, though, is that Jose Mourinho has favoured Juan Mata on the right.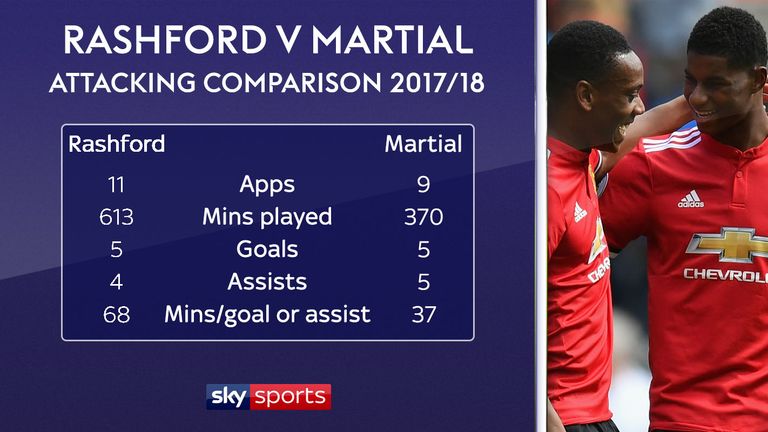 The Spaniard is not naturally quick or powerful. He has only scored once this season and he is yet to register a single assist, but with the exception of the 2-2 draw at Stoke last month, he has started every Premier League game, leaving Rashford and Martial to battle it out on the opposite flank.
Mourinho's reluctance to use Rashford and Martial in tandem has been questioned by some supporters in light of their recent performances. Even Ryan Giggs, a man who knows more than most about the importance of wing play to Manchester United, has said he could "definitely see them in the same team".
For Mourinho, however, it is a question of making the system work. United's attacking width on the right flank comes from Antonio Valencia's overlapping runs from full-back. Indeed, the Ecuadorian has made more crosses from open play than any of his team-mates this season. He has also had more than twice as many touches in the opposition box as any of United's other defenders.
The right winger in Mourinho's system is therefore required to drift inside, making space for Valencia and linking play in central areas. United's left winger plays a more conventional role in front of Daley Blind or Ashley Young, attacking the opposition full-back at pace, but Mata's remit is different. His presence is integral to the balance of the team.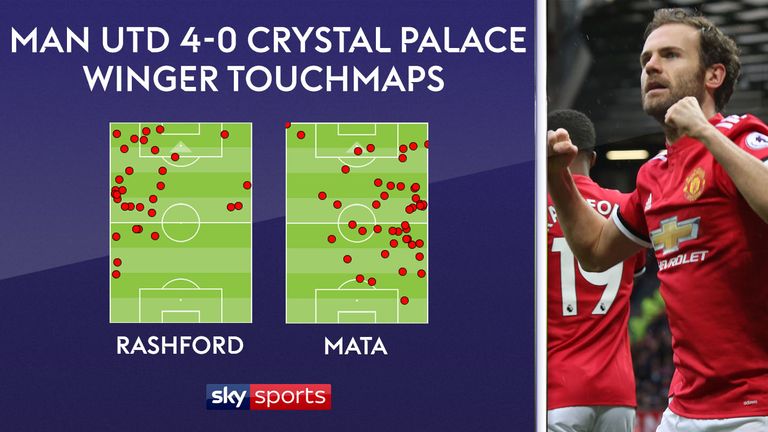 The thought of Rashford and Martial rampaging up the flanks is a tantalising one for United supporters, but Mourinho is entitled to be cautious. The one and only time he tried it, away to Watford in September last year, United suffered a chaotic 3-1 defeat, with each of Watford's goals coming from wide areas.
United were too expansive and Mourinho heeded the lesson. The decision to drop Wayne Rooney dominated the headlines when United hosted Leicester a week later, but replacing Martial with the more disciplined Jesse Lingard was arguably more significant. Mourinho's re-jigged and re-balanced side claimed a thumping 4-1 win. "The team shone," he said afterwards.
And so, in the interests of the team, Rashford and Martial will continue to vie for one position. Martial has been the more productive of the two in an attacking sense this season, averaging a goal or assist every 37 minutes, but it's Rashford who currently has the edge, starting six of United's first seven Premier League games.
He was involved in the build-up to three of United's four goals in their last outing against Crystal Palace, but Mourinho places just as much importance on his defensive contribution. In the narrow 1-0 win over Southampton three weeks ago, he described Rashford's defensive performances as "phenomenal".
It was not the first time Mourinho has praised the 19-year-old's work ethic. "That's the reason I kept Marcus on the team all the time," he said in April. "He went months without scoring a goal but my trust is always based on mentality. Some other players, they don't realise what makes me trust a player, but Marcus, I trust. It doesn't matter if he doesn't score, he's fantastic in his attitude."
Martial is still fighting to earn that trust. Opta data shows that Rashford has averaged more distance covered, more high-intensity sprints, more tackles and more ball recoveries than Martial since the start of last season, and Mourinho frequently cited a lack of application as his reason for leaving the Frenchman out of his team last season.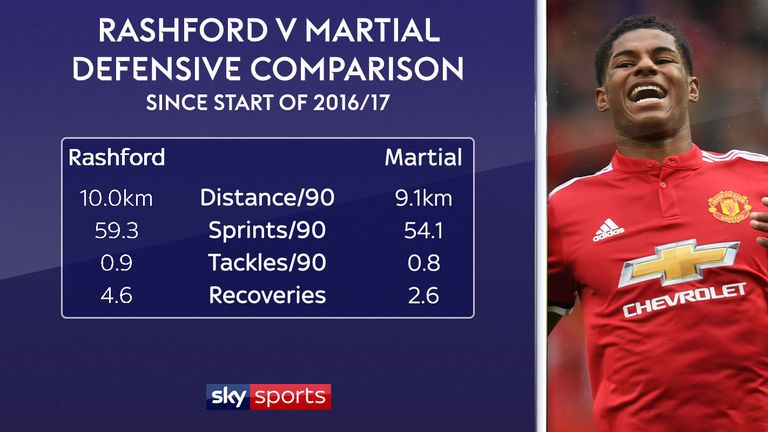 It is only in recent months that Martial has finally begun to meet Mourinho's expectations. "We had a conversation about his future here," Mourinho said in August. "His professional level has improved. He's working much, much better."
Martial's improvement is obvious and Rashford is feeling the benefits too. "It's difficult when you're in and out of the team, but we have to find the positives out of it and I think we've both done that," he said last month. "We're pushing each other more and more. It's a bit of a headache for the manager, but it's a good headache for him to have."
Right now, it's Rashford's place to lose. But Mourinho heads to Anfield on Saturday knowing he can call on either player without hesitation. As they prepare for a hectic run of fixtures, that can only be a good thing for Manchester United.
Grab a Sky Sports Day Pass and strap yourself in for a blockbuster Saturday lunchtime watching Liverpool v Man Utd live on NOW TV. Watch instantly from just £6.99. No contract.