Marcus Rashford's Manchester United form: What has gone wrong?
Last Updated: 22/02/18 12:02pm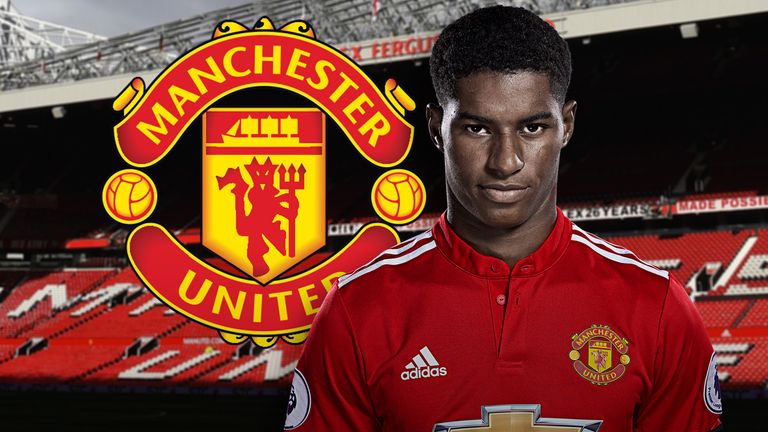 Manchester United's clash with Chelsea on Sunday marks the second anniversary of Marcus Rashford's spectacular debut - but the forward is not expected to be in the starting line-up. Adam Bate examines Rashford's form and wonders what's next for the youngster...
It has been an extraordinary two years for Marcus Rashford since the night he scored twice on his Manchester United debut against FC Midtjylland. He scored two more against Arsenal that weekend and there has barely been time to catch his breath since, with trophies lifted and England caps won.
Rashford has played in 68 of United's last 77 Premier League games - more than any other outfield player.
As recently as October, there were supporters booing Jose Mourinho's decision to replace Rashford with Anthony Martial with the game goalless against Tottenham. But the Frenchman proceeded to score the winner and the mood shifted quickly. Rashford has not started any of United's last seven Premier League games since the draw with Burnley on Boxing Day.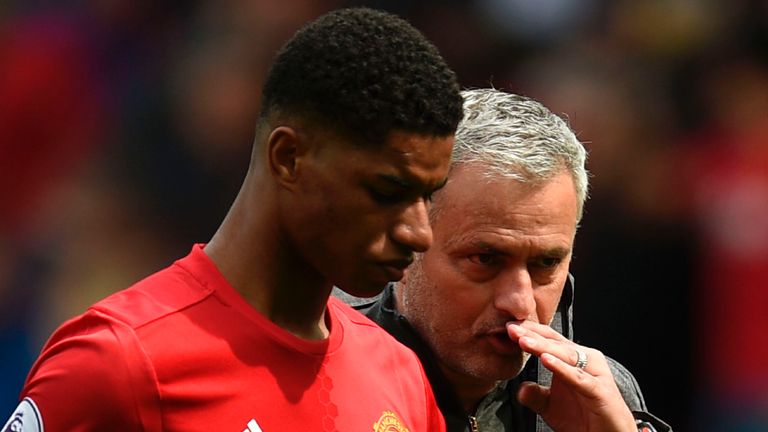 Perhaps a dip was inevitable. Rashford is still only 20. But this was supposed to be the season that saw him kick on. Mourinho was emphatic about that in the summer. He spoke of a young player who had grown both emotionally and physically - three centimetres to be precise. He talked of how Rashford had added muscle but retained his formidable pace.
"Last season everyone was saying it would be difficult for me to play Marcus but he was one of the top in appearances for the team," said the United boss. "He's learning a lot, a great professional, great attitude. Last season he was not scoring goals and missing a lot of chances, which was not a drama, because that's part of the evolution.
"We know he is going to score more goals than last season."
Unfortunately, Rashford's issues have been even more apparent this term. He has found the net only four times in the Premier League with his minutes-per-goal ratio and conversion rate deteriorating year on year. In part, that can be explained by him being used on the wing but Mourinho certainly seemed unimpressed after the FA Cup tie against Derby.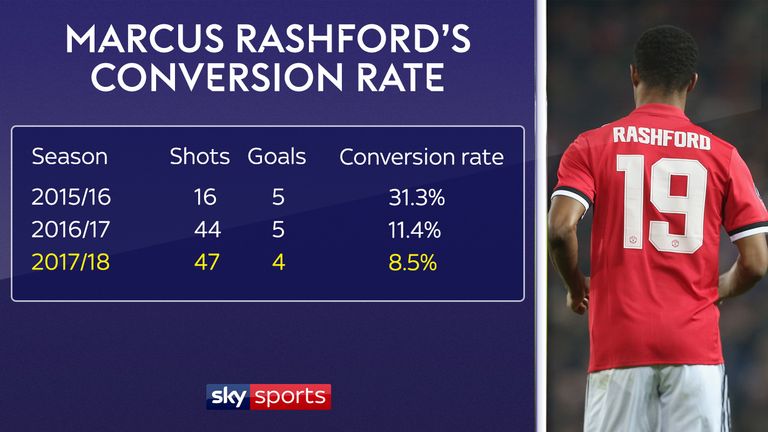 It was the comments directed at Antonio Conte that took the headlines that evening but when asked to reflect on Jesse Lingard's display it was telling that Mourinho chose instead to contrast the match-winner's efforts with those of the misfiring Rashford. He even brought Romelu Lukaku on at half-time, so unsure was he of the youngster's finishing touch.
"He is the opposite of Marcus," said Mourinho of Lingard. "Marcus, in training he scores unbelievable goals, he comes into matches and misses unbelievable chances, and hits the post, and the goalkeeper saves … My feeling was that Rashford is not going to score a goal and because of that I am not going to lose time and I am going to play Romelu."
Rashford has played only 39 minutes of Premier League football since then with a slight muscle injury keeping him out of the United squad of late. He did get the chance to play as a striker against Yeovil in the subsequent round of the FA Cup and duly scored, but he is unlikely to convince Mourinho any time soon that he can outscore Lukaku in that role.
With Alexis Sanchez's arrival pushing him further down the manager's list in the wide positions too, flexibility is Rashford's best hope of game time. But is it really his best hope of fulfilling his potential? Former Manchester United midfielder Gordon Strachan is not so sure. "His problem is that he can play in a few positions," Strachan told Sky Sports.
"At this moment he doesn't know what he's best at. At Manchester United at the moment with Jose, he likes that big powerful striker up front to hold it up. I don't know if Marcus is that type of player. Can he play off the left and right? He certainly can. Can he play at number 10? I don't know. At that point you've got to find where your best position is."
So what next for a player who remains 12/1 on with the bookmakers to make England's World Cup squad this summer? The hope will be that a much-needed rest could reinvigorate him. Things can change quickly and with Manchester United still competing in three competitions, there will surely be opportunities for Rashford to rediscover his form.
The huge game against Chelsea on Sunday is a fixture that underlines what he is capable of at his best. It was in this corresponding contest back in April that he was drafted in as a surprise replacement for the benched Zlatan Ibrahimovic and soon scored the opening goal in a 2-0 win, delivering a man of the match performance as a central striker.
Rashford was electric that day, punishing Chelsea on the counter-attack. Too hot for David Luiz to handle, even shrugging off N'Golo Kante. He harassed defenders, dispossessed them and then dribbled past them. "He has been outstanding," Gary Neville told Sky Sports. "The Chelsea back three, who have been fantastic all season, have been torn apart all day."
Mourinho agreed. "He played fantastically well," he said. "He is faster than their defenders and he can get behind them. We knew playing this way would be very difficult for them." Those principles still apply, of course. But Mourinho is unlikely to turn to Rashford this time. It's been some two years. But there is work to do to ensure the next two are even better.