Scott McTominay was determined to repay Jose Mourinho's faith in him after being selected as a surprise starter for Manchester United's 0-0 draw with Sevilla on Wednesday night.
Mourinho caused a stir by leaving United's record, £93.25m signing Paul Pogba out of his starting line-up in favour of McTominay for the first leg of the Champions League last-16 tie.
It was only the ninth time McTominay has started for United, and second in the Champions League, but the 21-year-old put in a mature display by pressing effectively and being efficient with his passing.
"Obviously it's so important for me to repay the manager whenever he puts trust in me in these games," McTominay said.
"And I thought the whole team tonight put in a real shift for the manager and I think going back to Old Trafford we're in a good position.
"I wouldn't say the best position because we didn't win, but we're in a good position because we can go back and fight for every ball and hopefully we can progress to the quarter-finals.
"It's all to play for. At 0-0, anything can happen. We're confident against any team we play. Hopefully we go back to Old Trafford and we can go through there."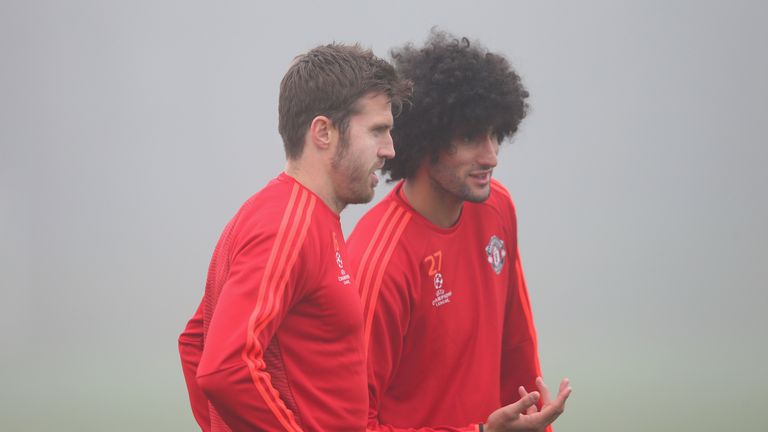 Mourinho has gone on record saying he plans to buy at least one central midfielder this summer to replace the retiring Michael Carrick. He could look for a second if Marouane Fellaini, who is in the final year of his deal, decides not to sign the contract offer United have on the table.
But McTominay's emergence could also factor into Mourinho's thinking when making decisions on his squad for next season.
The United boss lauded McTominay after Saturday's FA Cup fifth-round win at Huddersfield and was again quick to praise the player after Wednesday's match in Spain.
Mourinho said: "I went to the press conference and the questions were about Paul and I think the question should be about the kid [McTominay].
"He was fantastic, he did everything well. He put lots of pressure on Banega to stop him as a playmaker. He was always comfortable. I think he was brilliant."
McTominay admits he had some pre-game nerves but says he quickly settled into the game despite the partisan home crowd at the Estadio Ramon Sanchez Pizjuan.
"Big nights, big occasions," McTominay said. "That's what you want in your career.
"They're the things that make or break you as a footballer and I feel like it is how you deal with those situations that define you as a player and as a character on the pitch.
"Obviously nerves are only natural. It is how you deal with those nerves and it is how you put that on a football pitch.
"Once you're out there, you just forget about it. It is a game of football on a pitch that you've played on before, so, you just take it from there, want to play your game and that is it."