Jose Mourinho will not play the clown at Manchester City's party
Last Updated: 06/04/18 11:13am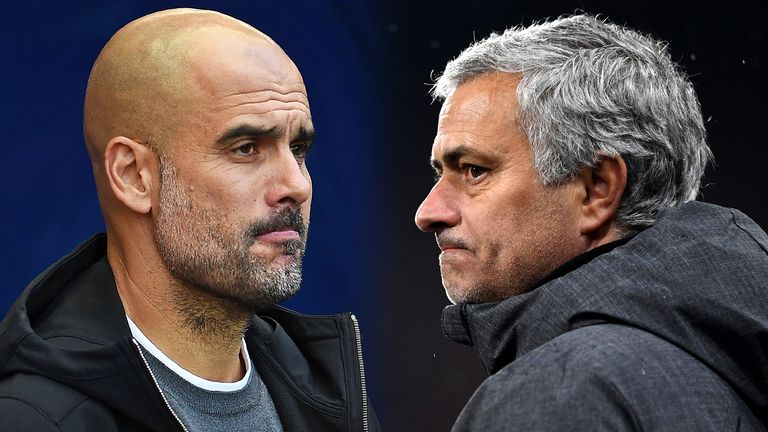 Jose Mourinho will want to avoid being the clown at Manchester City's title-winning party, writes Adam Bate.
It is not easy to convince the biggest club in the country that they are the underdogs. A reported global following in excess of 650m along with record revenues of £581m make that particularly tricky. But it is the role that Manchester United will play on Saturday. Summoned to the Etihad Stadium to bear witness to Manchester City's coronation.
Jose Mourinho may well curse the fixture list but if his visit to Anfield in 2014 is a clue, he will be determined to take the day. "I felt during part of [that] season that the country wanted Liverpool to be champions," Mourinho later told Sky Sports' own Gary Neville in an interview for the Telegraph. "The media, the press. A lot was to put Liverpool there.
"Nobody was speaking about a lot, a lot of decisions that helped them win important and crucial points. And I felt that day was a day that was ready for their celebration. I used the word with my players. I said - we are going to be the clowns, they want us to be the clowns in the circus. The circus is here. Liverpool are to be champions."
Mourinho's Chelsea helped swing the title race Manchester City's way that day. They will not need his help four years on but a draw would delay the inevitable and United's fans are in need of such a fillip. Those supporters are likely to accept that more investment is needed to bridge the gap but they want some hope that a City dynasty can be prevented.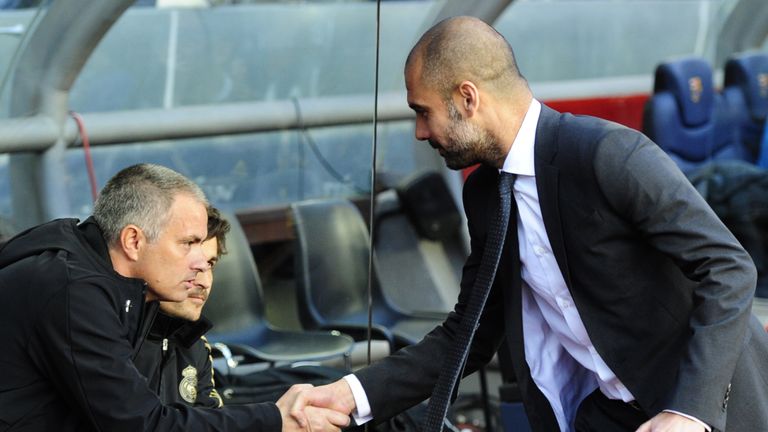 Mourinho has done that once before in his now infamous duels with Guardiola. This is the fourth season that the pair have gone head to head. The last time that Guardiola beat Mourinho to the title, during their days in Spain, the Portuguese bounced back to triumph in the 2011/12 campaign. So exhausted was Guardiola by the experience that he walked away.
There were many other factors in that decision but few doubt that the unpleasantness of the rivalry between his Barcelona and Mourinho's Real Madrid played its part. Once asked to pick his favourite match between the teams, a list that included an iconic 5-0 victory, Guardiola claimed to have enjoyed none of them, so toxic had it all become.
"Outside of the field, he has won the entire year, the entire season and in the future [it will be the same]," said Guardiola in a famous outburst in April 2011. "He can have his personal Champions League outside the field. Fine. Let him enjoy it, I'll give him that. In this room, he is the chief, the ******* man. In here he is the ******* man and I can't compete with him."
Media manipulation and siege mentality remain Mourinho's weapons of choice but, for now, he is happier pitting himself against rivals below United. After all, it is a comparison that flatters more than the 16 point deficit on City. Better to point out the praise for Liverpool and Tottenham. "Manchester City is not important for me," he said recently.
"Important for me is that, since the moment we left the first position and went to second, we stayed there for the whole season. We deserve to finish second in spite of what you can say, the criticisms you can make. You all say the third, the fourth, the fifth, the sixth are all better than us, but they are not better than us because we have more points than them."
It is a point well worth making. United are on course for their best league finish since Sir Alex Ferguson departed as manager five years ago. On course too for a points tally that would have been enough to win the Premier League just two years ago. City's praise is deserved but perhaps United are owed a little more of what is left to go around.
The problem for Mourinho is that such arguments will only sate the supporters at Old Trafford for so long. He was able to cultivate this siege mentality at Madrid too but he had to deliver the title in his second season no matter how good Guardiola's Barcelona were at the time. Similar rules are likely to apply in Manchester as well.
It has been the third season that has so often done for Mourinho. This time it needs to be different. It needs to be a season where his team is galvanised. It needs to be a season where his players pull together in a united cause. At the very least, Mourinho must mount a title challenge that does not fall away with the autumn leaves.
Will that mean cranking it up with Guardiola? Causing the cracks to appear as they once did in La Liga? There is the chance to sow the seeds this Saturday. To highlight City's own Champions League failings. To show what United can do on the pitch. Maybe downplay City's achievements away from it. Whatever happens, Mourinho will be determined not to play the clown.