Paul Pogba turned the game around for Manchester United - and maybe his career at Old Trafford too
Last Updated: 08/04/18 10:41am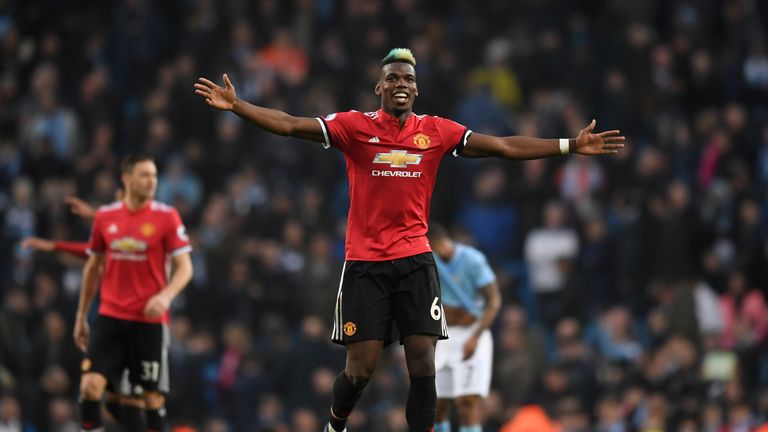 Paul Pogba turned the game around for Manchester United as they produced a stunning comeback to win 3-2 against Manchester City at the Etihad Stadium and deny their great rivals the title. In the process, Pogba may have turned his Old Trafford career around too, writes Adam Bate.
The title celebrations had already started at the Etihad Stadium. All that remained was for Manchester City to give United a number with which to remember their pain. Would they lose by five goals or only four? As it turned out, Jose Mourinho's men won the game 3-2. The party pooped by Paul Pogba, the player who had dominated the build-up to this derby.
He did not dominate the first half and one did not need to be a social media obsessive to imagine the abuse being directed at British football's most expensive player. Scorn would be too kind. Criticised for his cash. Mocked for his blue hair. Anger and amusement at Pep Guardiola's suggestion that his agent had attempted to engineer a switch to City.
At that point, Pogba looked set to be a footnote in the story. A gifted individual but an individual nevertheless as City's team of talents took the day as well as the season. Instead, he became the author of the right kind of headlines. Two goals in the space of 97 seconds to draw United back level. Two goals in the space of 97 seconds to turn everything around.
Huge credit should go to Pogba for the character shown in such circumstances. "You never see him hide," Chris Smalling told Sky Sports afterwards. It was Smalling who volleyed home the winner to complete the comeback but it was Pogba who received the unlikeliest of man of the match awards after Gary Neville had spoken for many in saying he could have had no complaints had he been substituted at the break.
Credit must also go to Mourinho for his handling of things with the situation at its most bleak. Given the controversy stirred up in the build-up to this game and the apparently fractious relationship with his midfielder, it would have been easy for him to have identified Pogba as a convenient scapegoat. Instead, it seems that he offered only encouragement.
"I told my players that they cannot improve a lot from what they were doing in the first half," he told Sky Sports. "I was not asking for Paul to improve because I was already happy with what he was doing in the first half but [he scored] two fantastic goals and I am really pleased for him. If it is true that his agent offered him to some clubs now the price has gone up."
It was a playful line delivered with a smile but Mourinho will want to see more of this from Pogba. While much of the criticism may well have been over the top, he did go into this game on a run of 21 matches without scoring a goal - that is the longest such streak in Pogba's entire professional career. Clearly, he has a responsibility to deliver more.
"He has to understand that he needs to be efficient," Pogba's fellow Frenchman Thierry Henry told Sky Sports. "Goals and assists. I just hope that today he became a Manchester United player and I hope that he did not do it today because he had to do it. Because he was cornered. Can he do that at 0-0 or when they are winning a game? I think he can."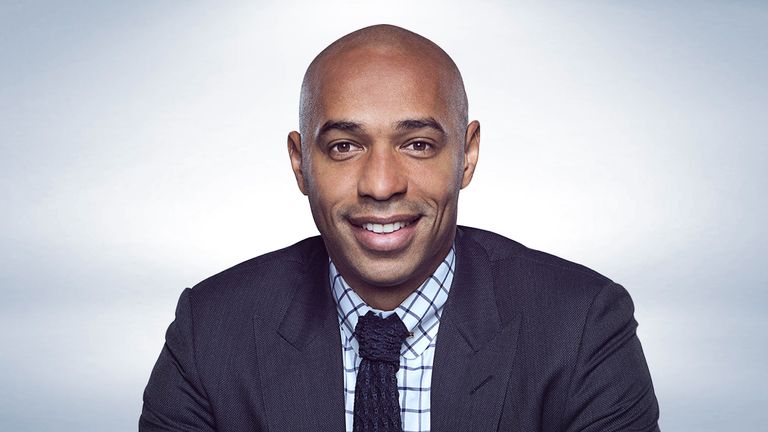 I just hope that today he became a Manchester United player.
Thierry Henry on Paul Pogba
Speaking to Henry at the Sky Sports touchscreen after the game, it was notable that Pogba admitted "relief" was his main emotion upon finding the net and he was humble enough to admit that he understands the demand for more. "That is the question that we were asking ourselves," he said. "If we did this all the season we would maybe even be on top."
He did offer a caveat though. Pogba has spent much of the campaign alongside Nemanja Matic in a two-man midfield with four team-mates ahead of them. It is not a system that is necessarily conducive to making the sort of runs that were essential for him to score both of his goals. "It is hard to make this run when you are in a two," he explained.
"I had to get more in the box because we are a three and I have Matic in behind. I saw the space and I just went." He got the rewards and he made a point of celebrating with the United supporters upon the full-time whistle. "Lose against City and let them win it [against us] in their own stadium? No, I couldn't let that happen," he added with a hint of Zlatan Ibrahimovic.
It will not change the destination of the title, but could Henry be right in thinking that this might change the direction in which Pogba's United career was heading. The club's box-office name now has a box-office performance for the club to his name. Maybe it will change the mood at Old Trafford. Maybe it was the day that Paul Pogba turned it all around.
Comment below to get involved in the debate, but please adhere to our House Rules. If you wish to report any comment, simply click on the down arrow next to the offending comment and click 'Report'.