Anthony Martial's stunted development is the real cost of the Alexis Sanchez signing for Manchester United, writes Adam Bate.
The significance of Alexis Sanchez's man of the match performance at Wembley on Saturday was lost on nobody. It was that trademark combination of tenacity and quality that did for Tottenham. This was what Jose Mourinho and Manchester United were buying in January - a player who can be relied upon to make the difference in the big games.
That is why Sanchez can expect to be in the team again for the visit of old club Arsenal on Sunday. It would be no surprise if he delivered the decisive blow then too. But there is still room for a tinge of regret about the fact that Anthony Martial, the man he has replaced, is expected to be sat on the bench. Perhaps he is even heading for an Old Trafford exit.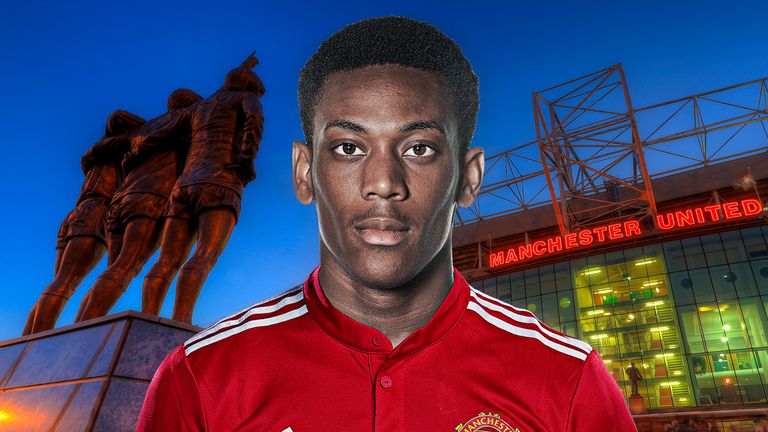 For all the focus on Sanchez's salary, this could be the true cost of his acquisition. Martial had been in the form of his life at the time of the Chilean's arrival. Just two days prior to the deal's conclusion, he had netted the only goal of the game against Burnley - scoring in a third consecutive Premier League game for the first time in his career.
For Martial's many admirers, this was what they had been waiting to see. A cult hero among a section of the club's supporter base, the belief was that his burgeoning talents were being overlooked by those on the outside. When one potential Manchester United line-up shown on Sky Sports depicted Sanchez displacing Martial, there was outrage. It was unthinkable.
And yet that is precisely how it has worked out. Sanchez made his United debut on the left wing in a 2-0 defeat against Tottenham with Martial immediately moved to the right. The Frenchman's next start came in another away defeat, this time at Newcastle, and once again he was deployed on the right. Soon after, he was dropped. Momentum was lost.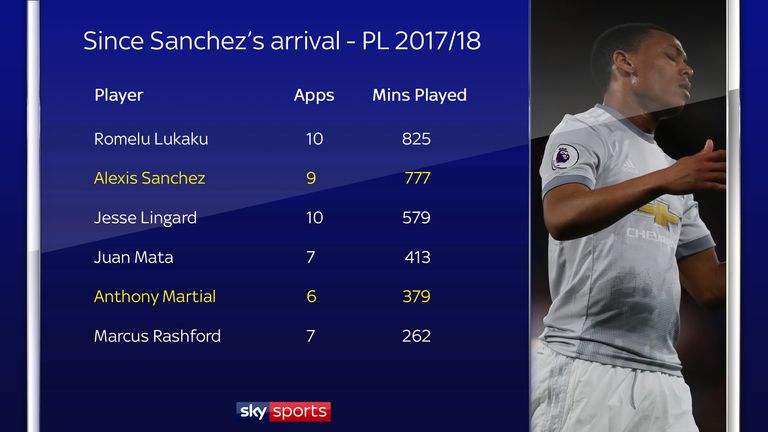 The result is that, three months into Sanchez's Old Trafford career, Martial has made the fewest Premier League appearance of the club's six main attacking options in this period. Sanchez has his left-wing spot but Jesse Lingard and Juan Mata have also enjoyed more minutes on the pitch too.
Martial's record still stands up. Sanchez has scored two goals in his nine Premier League appearances for United so far, but Martial managed more than that in the three games prior to his arrival. And while he has not found the net since then, he still boasts the best minutes-per-goal ratio of anyone at the club this season, including Romelu Lukaku.
It is an indication of what might be achievable given an extended run, but he is yet to start more than six consecutive Premier League games under Mourinho. Restored to the line-up for the recent win at Bournemouth, Martial completed twice as many dribbles and created twice as many chances as any team-mate. He was still an unused substitute at Wembley.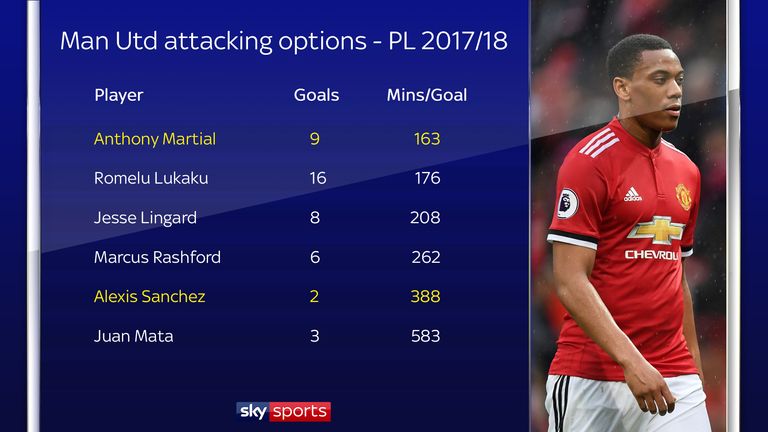 Hopes that it will work out for him at Old Trafford are fading. "I am sorry but at the moment I cannot say anything else about it," Philippe Lamboley, Martial's representative, told the Italian media recently when asked directly whether the player would be staying. There have been reports that he is being touted elsewhere. It appears an exit strategy is being drawn up.
Mourinho has long been clear that he does not want players at his club who do not want to be there. Back in September, he spoke of Martial's improved "mood" and "body language" but if the perception is that he has reacted negatively to the challenge laid down by Sanchez's introduction to the squad that may only reaffirm the manager's concerns.
The problem is that Mourinho has been here before. This was how he framed Kevin De Bruyne's Chelsea exit - pointing to a player who was unwilling to fight for his place. That De Bruyne and Mohamed Salah have since emerged as the country's outstanding performers has become a source of easy criticism of Mourinho, but there is an unfortunate trend.
De Bruyne was 22 years and 172 days old when he made his final appearance under Mourinho at Chelsea. The following season, Salah was 22 years and 223 days old when he was selected by the same manager for the last time. Both men, it has since emerged, were on the very cusp of elevating their game. They were dispensed with at just the wrong time.
On the day of the FA Cup final against Chelsea, Martial will be 22 years and 165 days old. Could history repeat? It would surely be a mistake if so. "Anthony Martial is a far better player than I was at that age," said Thierry Henry earlier this season. "He can become a world-class player." The fear for United is that this potential could be realised elsewhere.
Mourinho has always insisted that he knows Martial has the necessary talent. "We just want consistency," he added. But that consistency tends to come with age and experience, a natural consequence of a maturation process that takes time. As Henry suggests, with the right encouragement it is possible to improve greatly in the coming years.

United's preference for the finished project is understandable. The desire to challenge rivals Manchester City is urgent and the belief is that Sanchez, who turns 30 later this year, can deliver in the here and now. But surely it will take more than off-the-peg acquisitions to close the gap on Pep Guardiola's expensively-assembled squad.
Such is City's wealth that it is only by nurturing talent and maximising potential that United's ambitions can be realised. Creating the next superstar will be just as pivotal to the club's success as buying the current one - and much cheaper too. Synergy should be prioritised over star names. Exponential improvement as well as consistency of output.
Sanchez could well be the hero of the hour against Arsenal at Old Trafford this weekend but there is still time for Martial to become the hero of the decade at the same venue. Whether or not there is still time for him to convince the Manchester United manager of this possibility, could yet be the biggest long-term consequence of Sanchez's signature.
Comment below to get involved in the debate, but please adhere to our House Rules. If you wish to report any comment, simply click on the down arrow next to the offending comment and click 'Report'.