David de Gea has been named as Manchester United's Sir Matt Busby Player of the Year for a record fourth time.
It is the fourth time in five seasons the Spanish goalkeeper has won the award. He succeeds compatriot Ander Herrera, who won it last season.
It means De Gea eclipses Cristiano Ronaldo, who won it on three occasions, in 2004, 2007 and 2008.
De Gea told MUTV: "It is difficult to say with words what Manchester United means for me, and for anyone it is amazing to play for this club, for the fans, for the history, it is amazing to play for this club.
"It was a bit hard at the beginning, but I believe in myself, I train hard. I want to say thanks for everyone, I didn't expect to win just one and now I have four. Thanks for everything."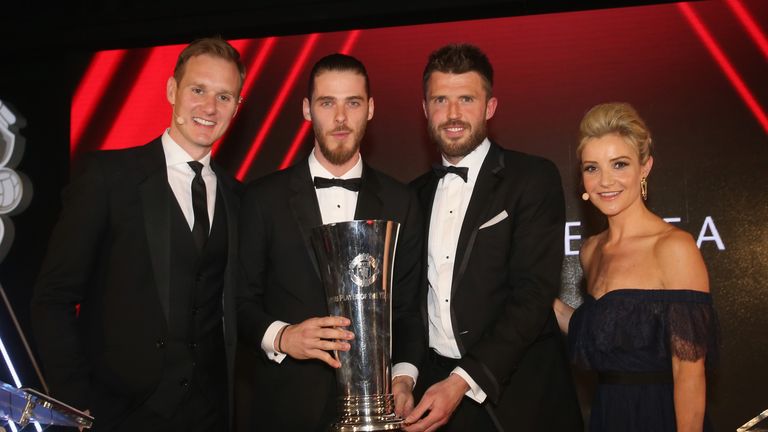 De Gea was also named as United's Players' Player of the Year.
"It is always special to receive this award, especially from my team-mates. I love all of them so I am very happy," De Gea said.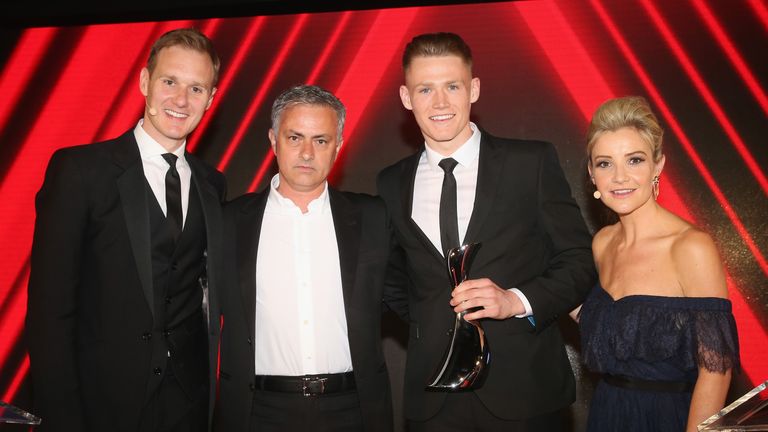 Jose Mourinho presented Scott McTominay with the Manager's Player of the Year award and had high praise for the 21-year-old afterwards.
"I think the dream of every boy that arrives at the club is to play for the first team," Mourinho said. "When the dream becomes true, the next dream is to play in big matches and to play in the Champions League and eventually to play for the national team.
"This player gives everything, in five or six months, so my Player of the Year has to be Scott McTominay."
Nemanja Matic won Goal of the Season for his injury-time half volley against Crystal Palace, which sealed a dramatic 3-2 win at Selhurst Park in March after United had been 2-0 down.
Matic said: "It's one more trophy for my small collection; my kids will also be very happy. This is a great club, a great team and we also have a great manager.
"My team-mates have helped me to adapt very quickly. I hope that I can still improve to give something to the team."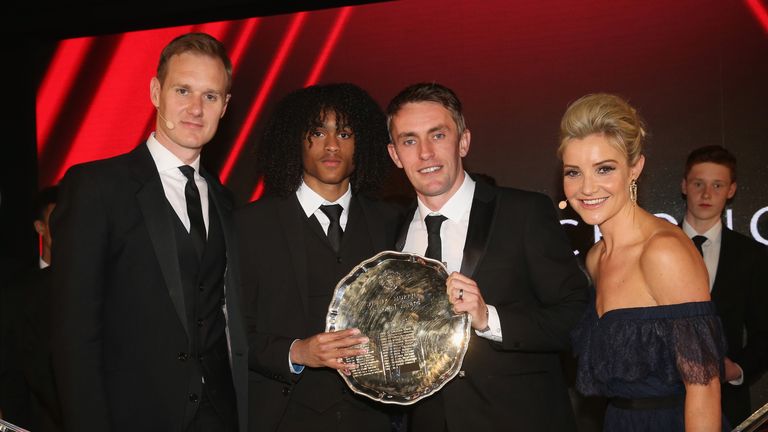 Rising Dutch star Tahith Chong, 18, was named as the Jimmy Murphy Youth Team Player of the Year.
The Curacao-born winger was signed from Feyenoord in 2016 and represents the Netherlands at international level.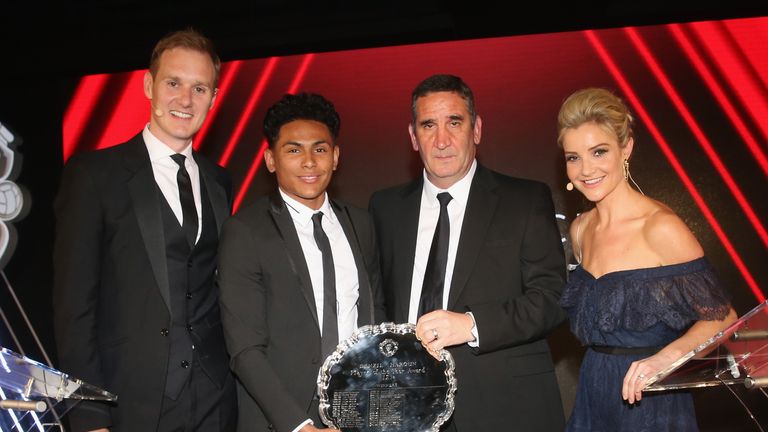 Demetri Mitchell won the Reserve Team Player of the Year award. The talented full-back bounced back strongly after seeing his loan spell at Hearts last season end prematurely because of a season-ending knee injury.
Mitchell said: "I've been here since I was a kid, so to win an award at Manchester United means a lot.
"When you go on loan, you grow up as a person and I think that going there for six months I've learnt a lot, playing in men's football and playing for points now.
"You know how much it means to the staff and all the players around you so it's important."