David de Gea says winning the FA Cup is not good enough for Manchester United
Last Updated: 02/05/18 8:06pm
David de Gea admits winning the FA Cup is not good enough for a club like Manchester United who must aim for "bigger and better things".
De Gea was named United's player of the year for a record fourth time, but the Spaniard does not feel it has been a good season for the club who can only finish second behind Premier League champions Manchester City, and also crashed out of the Champions League to Sevilla.
Speaking to Sky Sports News, the goalkeeper admitted United must improve if they are to close the gap on Pep Guardiola's team next season
He said: "It has not been quite enough this season.
"Fair enough we are battling to hang on to second place and hopefully we will fire until the final game to ensure that happens, but we have not managed to win our initial target which was to win the Premier League title.
"That is what we are all here for, that is what the players at the club want and also to give a good account of ourselves in the Champions League but we have also not managed to do that.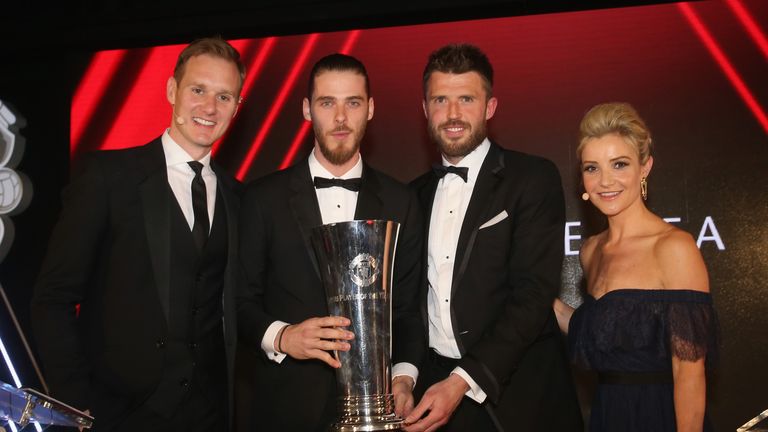 "Obviously the FA Cup is very important, a nice trophy to win, and we are going all out to win that.
"But it is not quite enough - we are Manchester United and have to aim for bigger and better things, that has always got to be our focus.
"Next season is a new season and we have to improve in a number of areas.
"We have to fight to be involved at the end of the season. It is not just Manchester City we will be challenging next season, five or six teams fight for the Premier League. It is a case of hard work to be in there at the wire."
United face Brighton on Friday night, live on Sky Sports, and De Gea is hoping they beat Chris Hughton's side to quickly seal their place as runners-up behind City.
He added: "We want to win on Friday night (against Brighton) and seal second place as quickly as possible but it is insufficient and we can't offer any excuses.
"We are here to try and win trophies. The fans and people at the club deserve better and that is what we have to do - fight to win big trophies."