Will Paul Pogba now emerge as Manchester United's new leader?
World Cup win could be the catalyst for the midfielder
Last Updated: 31/07/18 5:13pm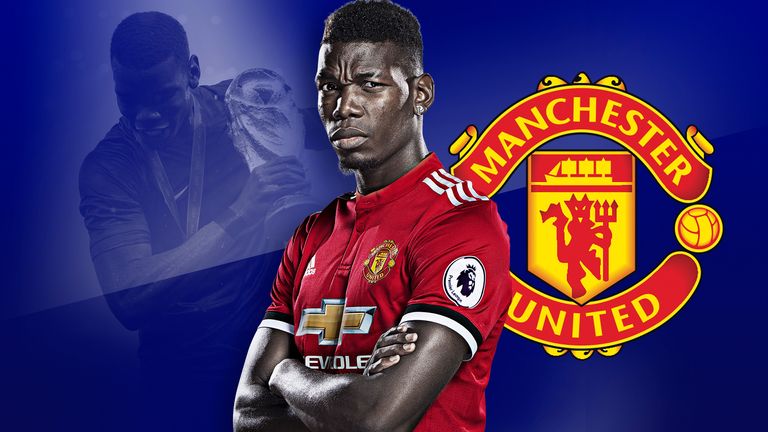 He was a pivotal figure on and off the pitch in France's World Cup win but will Paul Pogba be able to emerge as the leader of this Manchester United team? The answer to that will rest with Jose Mourinho but also the player himself, writes Adam Bate.
The sight of Paul Pogba cajoling his team-mates in their moment of need will have been jarring for some of his more vocal critics. But there he was. France's leader in the dressing room. "Today, we run ourselves to death out on the pitch," he told his team-mates before the Argentina game. "No one lets anyone else down. No one drops off. The details, boys."
Another video of Pogba before the final itself was even more revealing. These were not the manic utterings of an overexcited young man but instead evidence of his calm guidance. He was urging concentration and providing context ahead of the biggest game of their lives. This was real leadership, backed up by a man-of-the-match performance on the pitch.
Samuel Umtiti claimed that Pogba had always been a leader but another France centre-back, Adil Rami, was perhaps more accurate when he spoke of the 25-year-old becoming one in Russia. Pogba had, after all, been jeered by his own fans when playing against Italy on the eve of the tournament. He grew into this role and he grew into his role in midfield too.
"It is a World Cup and we have to sacrifice," he explained. "We have to defend. It's not what I do best, I'm not N'Golo Kante, but I will happily do it. I think I have become more mature."
That last word is the one that will resonate with Manchester United manager Jose Mourinho ahead of the forthcoming Premier League season. He has suggested as much in his typically pointed remarks during the club's pre-season tour of the United States.
"I hope he understands why he was very good," said Mourinho. "That's the point about his performance level and contribution to a winning team, is to understand why he was so good - especially in the second part of the competition, where he was absolutely brilliant."
Mourinho highlighted Pogba's performance in the semi-final win over Belgium, in particular, and the positional maturity he showed in that game - waiting for the right time to express himself. He will probably be wondering how Didier Deschamps convinced him to do it.
The truth is that Pogba still considered his disciplined display to be a sacrifice and admitted as much. It is easier to make that sacrifice when the prize is so great and the reward is so immediate - 90 minutes away, as he himself pointed out in his dressing room speech.
It is a little trickier to be persuaded of that when United go to Burnley in the final game before next month's international break (and all that will bring for France's homecoming heroes). Nor will the need for three points be quite so obvious when United travel to Vicarage Road to take on Watford in the first game back from that trip.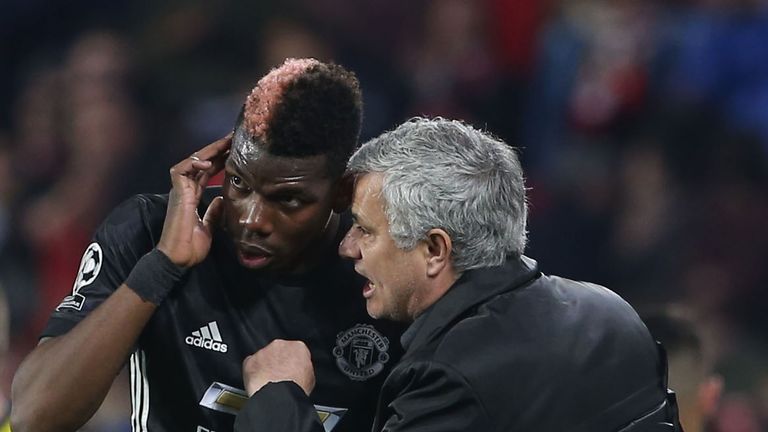 Pogba has already shown that he can deliver in the big games for Mourinho. Most notably, there was his standout performance in the turnaround win over Manchester City that delayed Pep Guardiola's title celebrations. Pogba scored twice in two second-half minutes - just part of a "phenomenal" performance, according to his manager.
"To lose against Manchester City and see them celebrate in their home stadium, I couldn't let this happen," Pogba told Sky Sports afterwards when explaining his motivation in beating United's Manchester rivals. But perhaps that's part of the problem. The target was there for him - imminent and achievable. Consistency is the challenge now.
Even in that game, he had been unconvincing before the interval and it was not exactly the turning point in his United career that his supporters had hoped for. Pogba was substituted before the hour mark in the very next game against West Brom. Then he returned as the star man in their midweek win at Bournemouth. And that was just April.
"Manchester United are a far better team with Paul Pogba in it," Gary Neville told Sky Sports that month. "He brings arrogance, confidence and belief. But when you are a player who is signed for that money, you have to play well and you have to match it.
Manchester United are a far better team with Paul Pogba in it ... but you have to deliver consistently
Gary Neville
"It is no good shouting and singing and not playing. You have to play well. He shows great belief and confidence and shows total confidence in himself - but you have to deliver consistently. Manchester United have shown great faith in him to deliver, they paid a lot of money for him, and there is a large expectation."
One suspects Pogba himself is far from convinced that those expectations are always fair. "I am less entitled to make mistakes than others," he said during the World Cup. "I went from the biggest transfer in the world to the most criticised player in the world."
He may be right about that. It is worth noting that nobody has been involved in more Premier League goals for Manchester United than him in the past two seasons - 11 of his own and 14 assists for others. What's more, he has achieved those numbers without being given the freedom that others are afforded to get into the opposition box.
"It is hard to make this run in a two," he told Sky Sports when discussing his equalising goal against City, "because you have to stay and you have to control. When we have three players, I know Nemanja Matic will stay behind, and you have more freedom to go in front."
Nevertheless, he has succeeded in a two-man midfield for France - if that can ever be an accurate description of any partnership of which one member goes by the name of Kante. There has been Blaise Matuidi drifting inside in support. Steven N'Zonzi has contributed off the bench too. But it was Pogba who found a way to make it work for him and the team.
"I am playing as a midfielder now, which is my role," he explained. "I am being less offensive. I think people judge me now on my role as a midfielder and not as a player who can get goals and assists." Again, changing the expectations can change the perceptions.
Twenty-one games without a goal, as happened for Manchester United last season, need not matter if he is helping to bring the sort of control that he provided for France's wins over Peru and Uruguay. Assists are not vital either if he can spring attacks for his team, as he did in the build-up to his own goal in the final against Croatia. His game is multi-faceted.
United will need him to be flexible again this season. No doubt there will be opportunities to enjoy the freewheeling version of Pogba, complete with the late runs into the box that can steal the show and the points with it.
The arrival of Fred, a dynamic midfielder who can cover the spaces that his team-mate vacates, will help. Mourinho has said as much. "We think Fred is the kind of player that we need to complement the qualities of our midfield players," he explained this summer.
But there will also be times when United will want four forward-thinking players ahead of Pogba too. When Jesse Lingard or Alexis Sanchez are operating as the number 10 in support of Romelu Lukaku, Mourinho must stress the need for him to maintain his discipline.
Pogba can do it. He has shown the whole world that he can do it. He is a World Cup winner now and the time has come to see him for what he is - United's best asset, not a problem to solve. The manager may have appeared to omit him from a six-man shortlist for the captaincy but Pogba can still lead this team - if he is ready to embrace the role.
"I think I am still improving," he told Sky Sports towards the end of last season. "I can still do better. I am not young but I can still improve, learn and get more experience. I will get better and better during the next year." Pogba has been as good as his word so far. If he can maintain it then he could yet achieve special things with his club as well as his country.
Comment below to get involved in the debate, but please adhere to our House Rules. If you wish to report any comment, simply click on the down arrow next to the offending comment and click 'Report'.