Manchester United are interested in signing Harry Maguire from Leicester, according to Sky Sports News. The England centre-back shone at the World Cup but is he the answer to United's defensive problems?
It is only two years since Harry Maguire was considering his future at Hull City having been unable to hold down a starting spot during their promotion-winning Championship campaign. There was interest from Middlesbrough and even talk of a transfer request. Hull rated him highly but would they give him the playing time he wanted in the Premier League?


Maguire was 23 at the time and could not have imagined the trajectory his career was about to follow. The decision to stay at Hull was vindicated as he earned a £17m move to Leicester City the following summer, and a year on from that he is a World Cup semi-finalist and a £65m transfer target for Jose Mourinho's Manchester United.
United face a major challenge to convince Leicester to sell, but there are other questions to consider too. Is Maguire the right man to reinforce Mourinho's defence? And is he ready for another step up? Nick Wright takes a look with help from Michael Appleton, who worked with him closely as Leicester's assistant manager last season.
Aerial prowess
One area in which Maguire would undoubtedly help United is in the air. 'Slabhead', as he is affectionately nicknamed by team-mates at both Leicester and England, stands at 6ft 4ins and offers formidable aerial strength in both boxes.
It's an attribute Mourinho values highly. From John Terry and Didier Drogba at Chelsea to Paul Pogba and Romelu Lukaku at Manchester United, the Portuguese has always shown a preference for physically imposing players who can dominate their opponents with and without the ball. At United, eight of his 11 signings so far have been at least six feet tall.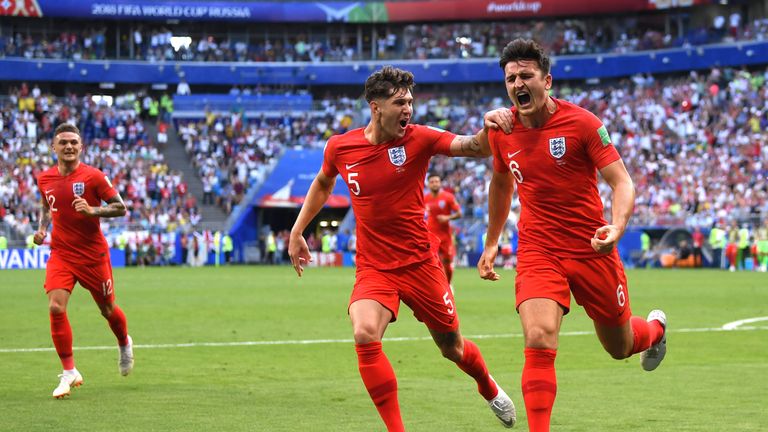 Maguire certainly fits the bill in that regard, and never has his ability in the air been more apparent than during England's World Cup campaign. The Leicester man was a revelation in Russia, winning more aerial duels (54) than any other defender in the tournament.
He was one of the main reasons why England were so effective from set pieces. Maguire seemed to get his head to practically everything, scoring from a header against Sweden and having more penalty-box efforts on goal than Harry Kane, Antoine Griezmann or Mario Mandzukic over the course of the tournament.
Mourinho would be eager to harness that set-piece threat at United, who rank a lowly 12th among Premier League sides for goals from corners and free kicks since his appointment in 2016. Maguire, who has scored four times and provided six assists in two seasons in the Premier League, would surely help to make them more potent.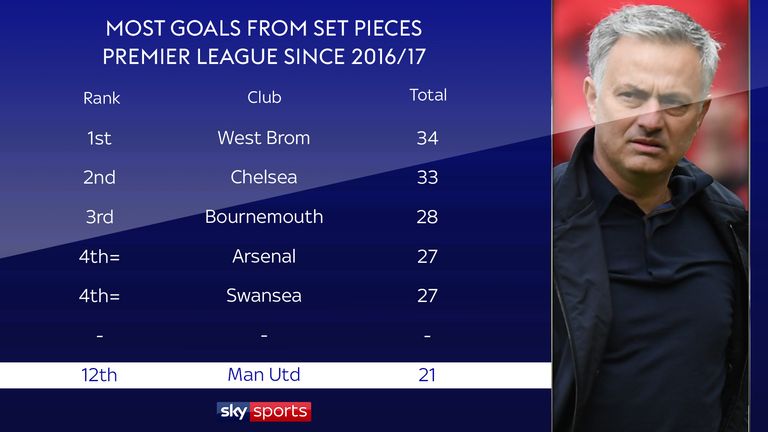 Appleton agrees, but warns that Maguire's aerial prowess means he is already subjected to special treatment by Premier League defenders. "I think the defending from set pieces is much better in the Premier League than what we saw at the World Cup," he tells Sky Sports.
"I don't think the movement that got players free at the World Cup would work so well in the Premier League. But having said that, what you tend to find is that they know Harry is going to be the biggest threat, so he gets looked after by more than one player. Sometimes you use him as a decoy. He might make a run to the near post and free up space at the far post."
Mobility question
Maguire's aerial ability is exceptional but one of the question marks over his suitability to an elite team is whether he is mobile enough. In an interview with Sky Sports last season, Mike Phelan, his former coach at Hull, described Maguire as a "big structure" who has had to work hard to learn how to manage his sizeable frame.
"He had to work on footwork, technique and the physicality of the game," said Phelan. "Carrying a big frame around with you for 90-odd minutes isn't easy. He had to train hard and work at things like nutrition and diet. Once he felt able to manage all those things, his ability began to come through."
Maguire is usually able to keep pace with opponents when facing the same direction, but Appleton admits his size can make him vulnerable on the turn.
"You look at him and he doesn't often get done for pace," says Appleton. "But when people talk about mobility, I think they mean side-to-side, the twisting and turning. He's a big lad, so it's not always easy for him to manoeuvre his body in that way."
That weakness is not often exposed at Leicester, who tend to sit deep and hit teams on the counter-attack, but Manchester United are more likely to dominate the ball and play higher up the pitch, leaving space behind their defence. That's where Maguire, who averaged fewer sprints per 90 minutes last season than every United centre-back except Phil Jones, could run into trouble.
Versatility
Maguire has shown himself to be adaptable and versatile. He played on the left of a central defensive pair for Leicester last season, but Mourinho will also have noted that he shone in a back three for England at the World Cup. Maguire is a tactically intelligent player who can perform in a variety of different systems.
Maguire is even capable of playing in defensive midfield. He was often seen carrying the ball into midfield during the World Cup, but Mourinho will take greater encouragement from how he curbed his attacking instincts at Leicester, learning when to step up and when to play things safe. It's the kind of positional discipline he craves.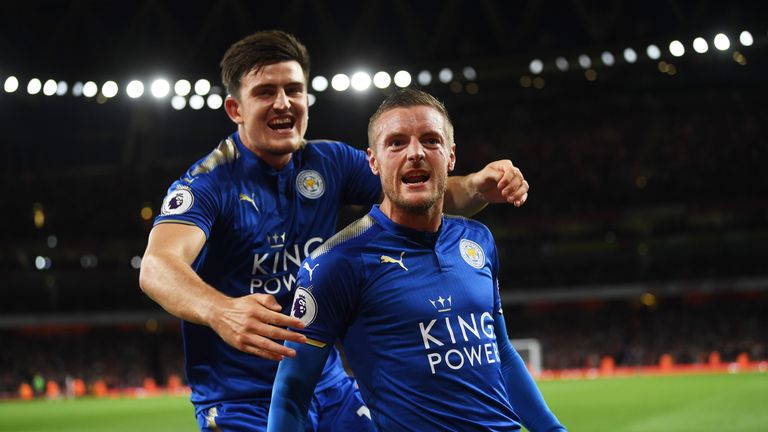 "That's one thing we worked on with him, recognising when to step into midfield, because it's different in different games," says Appleton. "When we played the bigger teams we naturally played on the counter-attack, because our opponents had all of the ball, so we would instruct Harry to hold his position.
"But against the smaller sides, he learned to understand that he could play with a bit more freedom. He would step into the middle of the park and one of Wilfried Ndidi or Vincent Iborra would slot back in behind him. He is capable of popping the ball into a midfielder and playing a give-and-go, but he knows when to go and when to stay."
Passing
Another of Maguire's strengths is his distribution. The 25-year-old has a fine range of passing and brings composure on the ball. "That's one of his best attributes, I think," says Appleton. "I think the reason he is so calm on the ball is because he is so calm as a character. It takes a lot to ruffle his feathers and get him wound up."
Maguire is capable of building attacks from deep but the statistics suggest he would have to adapt his style if he were to join Manchester United. While Maguire completed just 78.4 per cent of his passes for Leicester last season, none of United's centre-backs completed less than 82 per cent, with Jones and Victor Lindelof completing more than 90 per cent of theirs.
It is partly down to Leicester's more direct approach, but Mourinho would demand a similar level of efficiency from Maguire at United, and he can take encouragement from how the Leicester man adapted for England at the World Cup. Over the course of the tournament with Southgate's side, Maguire completed 88.8 per cent of his passes.
Maguire is capable of finding the feet of midfielders and forwards in attacking positions, but he is also capable of picking out team-mates from long-range. Last season, he completed more than three times as many accurate long passes (173) than any United centre-back. It's a weapon which could be useful to Mourinho.
Conclusion
It is not difficult to see why Mourinho is interested in Maguire. Buying off the back of a World Cup campaign is a historically risky strategy, but his performances in Russia provided another example of his ability to take new challenges in his stride.
His aerial ability, composure and distribution could improve United, but his mobility is potentially problematic, and there are also question marks about his relative inexperience. After only two full seasons as a Premier League player, is Maguire ready to step into Manchester United's defence?
"I think Leicester will do their absolute utmost to make sure he stays there this year and I think that would be a good decision for him," says Appleton. "He's only had two seasons in the Premier League and it wouldn't do him any harm to have another one with Leicester.
"The reality is that the Leicester owners are very ambitious. They have won the title already and they believe they are capable of competing with the top teams on a regular basis. If Harry is going to be in and around the top eight, then he's still at an age where there is plenty of time to work his way further up the ladder in the future.
"As for whether he could play for a team like United now, it's a difficult one. If you had asked me two years ago I probably would have said I couldn't see it, but that's because he had never really had the opportunity to play in the Premier League. That's the thing with a lot of players, you never really know until you give them the opportunity."
Mourinho, it seems, is willing to take that gamble.
Comment below to get involved in the debate, but please adhere to our House Rules. If you wish to report any comment, simply click on the down arrow next to the offending comment and click 'Report'.