Man Utd's Diogo Dalot says playing for Jose Mourinho 'a dream come true'
United will not rest in pursuit of top four, says Dalot: "We sleep thinking about it"
By James Dale
Last Updated: 06/12/18 12:55pm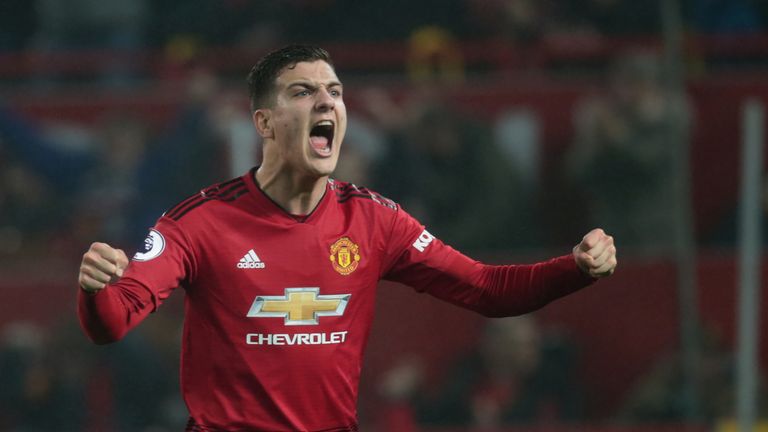 Diogo Dalot's dream was to play for Jose Mourinho's Manchester United, but the top four is now what keeps him up at night.
The 19-year-old completed his first full 90 minutes in what he calls "the best league in the world" in United's 2-2 draw with Arsenal on Wednesday.
The result was United's fourth without a win in the Premier League and left Mourinho's side eighth in the table, eight points off the Champions League qualification places.
Rest is not an option for Dalot, though, who will be aiming to earn his second-straight league start this weekend at Craven Cottage.
"Fulham is a big game," the summer signing from Porto said. "I think in the Premier League it's always a big game - that's one of the things I have noticed here.
"There's no weak games, there's no chance to relax and most of all for us because we need to get points and to climb up the table. That's what we want.
"We sleep thinking about (getting into the top four) and we wake up thinking about that and for sure we will get there.
"I think it is our main goal for now to get into the top four and we are going to fight for that and I think we will get there."
Mourinho praised the "soul" of his team after making seven changes - including bringing in Dalot - for the game against Arsenal, having questioned some of United's players "heart" last month following a goalless draw with Crystal Palace.
Dalot, who spent time honing his English to ensure a smooth transition at Old Trafford, insists he is learning all the time from the Manchester United manager.
"I have been following the Premier League since I can remember, since I first watched football, and to be able to see from the stands for a while and then get on to the pitch, it has all been good experience for me," Dalot said.
"I need to adapt considering the team I'm now playing in, the coach and the league I am playing in.
"But I think my game can adapt and (I can) get my game together here and settle down. With the help of my team-mates, the coach and the fans I think I will be improving a lot here.
"Jose Mourinho brings all his experience and knowledge of the game to us all, not just me.
"I think he is one of the best coaches ever and for me it is a dream come true to be alongside him and to learn from him. For me, it is very good."