Should Manchester United appoint Ole Gunnar Solskjaer permanently?
Ole Gunnar Solskjaer has won his first six games as caretaker manager
Last Updated: 14/01/19 9:06pm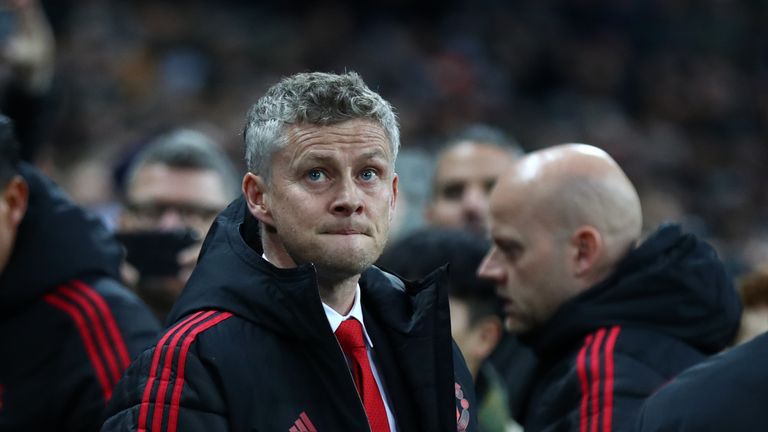 Should Manchester United appoint Ole Gunnar Solskjaer permanently? Gary Neville, Graeme Souness and Robbie Keane have their say.
Solskjaer has won his first six games in charge as caretaker manager, and passed his first big test against Tottenham with flying colours, beating them 1-0 at Wembley on Sunday.
After his sensational start, should Man Utd consider giving him the full-time job? Sky Sports pundits Neville, Souness and Keane offer their views.
Gary Neville
Before the game I said if Manchester United lost the game, the result should not determine the outcome of the next United manager. One thing I will say is because Manchester won, it shouldn't determine the outcome of the Manchester United manager.
It shouldn't be like that. We shouldn't flip from week to week as to whether Solskjaer should be the Manchester United manager at the end of the season or not. It's something that I think will need to be looked at in April or May when there's been a body of work put in.
But it's been a wonderful start. I'm delighted for him as a person because he's a brilliant person. He's a thinker of the game and you've seen that in the first half against Tottenham.
He's come through the coaching ranks in the right way. He's done his grounding, if you like, in the reserves at Manchester United. He's gone away to Norway and done well at Molde. He's come back and had his bad experience at Cardiff which I think most managers would say that you need. He's gone back to Molde and now he's got a little break.
It might be the break of his life but there's still a lot of work to do. He won't be getting carried away because he'll recognise there's still a lot of work to be done.
Robbie Keane
When you're winning games, of course you're going to put yourself in a position where you have a chance. He's loved by everyone at Manchester United. He definitely wants the job, you can tell that, and if you asked the players, they'd probably say 'Give it to him now' because of the feelgood factor. I think he's in prime position to take over.
Graeme Souness
Definitely. I think it's time for them to go down the road of an ex-Man Utd player. They went with David Moyes, the 'Chosen One' - I don't believe they gave him enough time - then they go for two of the biggest names in football management and that didn't work for them. There's no quick fix.
They're going to get back challenging again but are they going to be dominant next season? I doubt it. Anyone coming in needs to have time - and a bit more. I think Solskjaer would get that. What a difference we're seeing. It's never been more difficult for managers but Solskjaer seems to be the perfect fit.