David de Gea's form: What's up with Manchester United's goalkeeper?
Watch Man Utd vs Chelsea on Sunday, live on Sky Sports Premier League from 4.15pm; Kick-off is 4.30pm
Last Updated: 25/04/19 9:00pm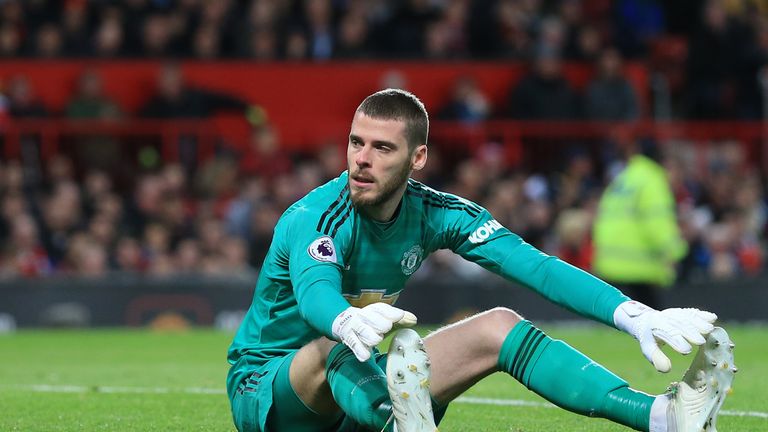 Once the outstanding goalkeeper in the Premier League, David de Gea's form for Manchester United is under scrutiny after another error in their derby defeat to Manchester City on Wednesday evening. Adam Bate examines the evidence that reveals his alarming dip in form and wonders what's happened to the United number one...
Such is the list of problems at Manchester United that David de Gea might still be somewhere nearer the bottom. Picked in the PFA Team of the Year for each of the four seasons prior to this one, De Gea was a "one-man wall" for United for much of that period, according to Gary Neville. But the cracks in that wall are starting to appear.
In a Manchester derby that highlighted the vast gulf in quality between the two clubs, only two goals separated United and City - and De Gea could have done better for both of them. The opener from Bernardo Silva crept in at the near post, and the second goal from Leroy Sane ricocheted into the net off the goalkeeper's right leg. Neville was far from impressed.
"The goalkeeper has to do better," Neville told Sky Sports. "It's a really, really bad mistake. David de Gea, he's been magnificent for Manchester United for so many years but this season, it's just not happening for him. Those feet are letting him down. So many times we've seen him kick the ball away. Straight at him, off his shin, into the back of the net."
It's been a miserable time for De Gea. He was slow to react to Gylfi Sigurdsson's long-range shot in the 4-0 defeat to Everton and let Lionel Messi's tame effort sneak under him in that beatdown in Barcelona. "I was in the Nou Camp for that mistake and it was something that shook me, watching David de Gea make a mistake like that," added Neville.
Unfortunately, it's becoming a trend.
De Gea last faced such question marks over his goalkeeping during his trying first season in the Premier League. But he has now made three errors leading to goals in the competition this season, according to Opta. That's more than he made in that difficult first campaign, and more than he has made in any campaign during his Old Trafford career.
He has been so good for so long that there is a reluctance among United supporters to acknowledge the depth of the problem. The natural instinct is to defend De Gea, point to the plethora of marvellous saves in that Wembley win over Tottenham, and argue that the Spaniard remains the Premier League's outstanding goalkeeper.
But this run of poor form now dates back to the summer and a woeful World Cup. His performance against Spurs convinced many that he was still the number one 'keeper in the country but the reality is that it was the anomaly this season. Alisson at Liverpool and Ederson at Manchester City have both been much more consistent in their performances.
A deeper look at the numbers reveals that to be true.
What do the stats tell us?
By analysing the type of shots that a goalkeeper faces, the location from where they are taken, and where on the target they are struck, Opta can establish the likelihood of those shots resulting in a goal based on the evidence of thousand upon thousand of previous such shots. That analysis does not reflect well on De Gea's efforts this season.
It suggests that, on average, De Gea would have been expected to concede between 46 and 47 Premier League goals. Instead, he has let in 50, which is more than all but three goalkeepers in the country and the most that United have conceded in 40 years.
This same analysis suggests that Alisson has saved Liverpool five goals this season. The same is true of the much-maligned Tottenham captain Hugo Lloris, thanks in part to his penalty-saving exploits. Ederson has also saved more shots than would have been expected.
De Gea is the outlier and it's costing United.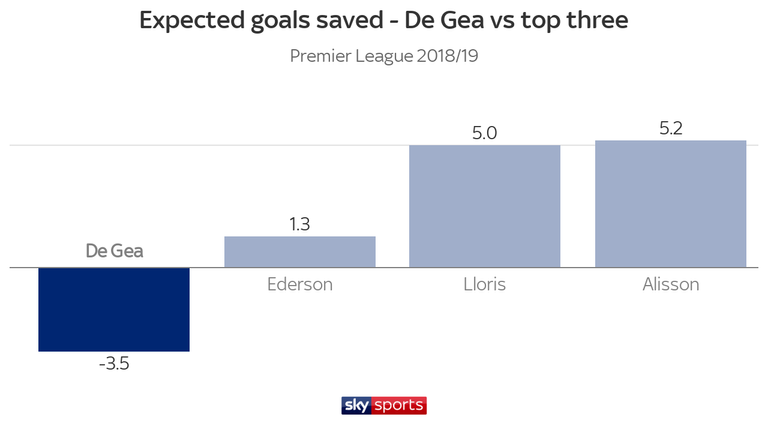 What's so shocking about these statistics is that his approach to goalkeeping is ostensibly risk-free. Alisson has got himself into trouble at times because of his willingness to play with the ball at his feet, giving away a goal against Leicester early in the season because of it. De Gea doesn't do that and nor does he take risks by coming off his line either.
Opta records the number of accurate keeper sweepings and defines it as a goalkeeper anticipating danger by rushing off their line to cut out an attacking pass. The first-choice goalkeepers for the three teams at the top of the Premier League table have each made at least 16 accurate keeper sweepings this season. De Gea has done it only twice.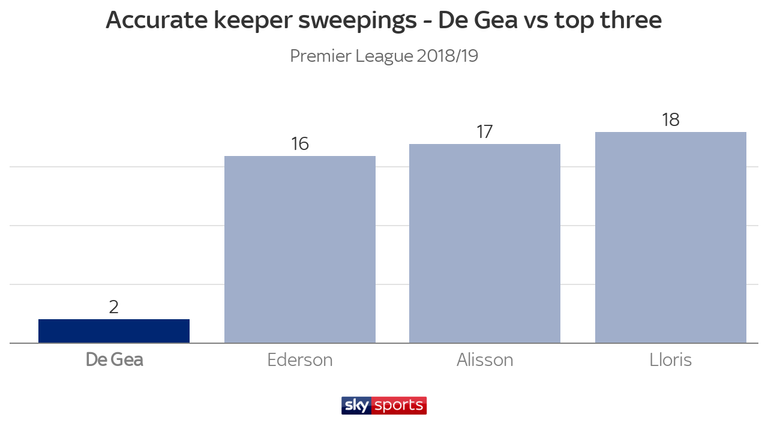 The significance of this is that the accepted wisdom has been that Pep Guardiola places a high premium on his goalkeeper being able to kick because it allows his team to build play from the back. Likewise, Mauricio Pochettino values his goalkeeper's appetite for leaving his line because it enables his Tottenham team to defend with a high line.
While that remains true, there has long been an assumption that if goalkeepers were judged purely on shot-stopping abilities then, in their quieter moments, even other managers would acknowledge that De Gea is the best in the business. These statistics suggest this is no longer the case. De Gea isn't doing the other bits. But he isn't making the saves either.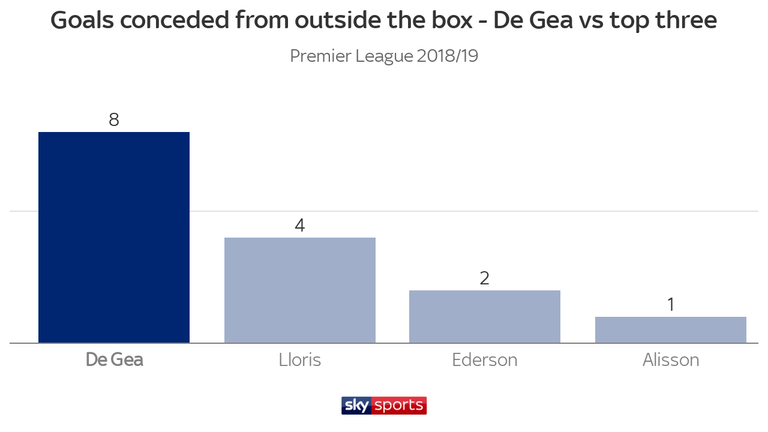 In fact, he has conceded more shots from outside the box than those goalkeepers at the top three teams put together. His performances have not matched up to his reputation and for the first season in five, De Gea has been omitted from the PFA team of the season.
Why has his form dipped?
There are a number of possible reasons for this regression. A lack of protection from the defence is nothing new but it should not be ignored. Certainly, former United captain Roy Keane called out Luke Shaw for failing to stop the shot from which Bernardo scored.
United's failure to close the ball down may explain why De Gea has faced more shots from outside the box this season than any other goalkeeper in the Premier League.
There are suggestions too that the uncertainty over his contract is affecting him. It would be perfectly understandable given the number of times that De Gea has saved United over the years that he would be confused to see others in the dressing room being paid much more money than he is. It is, as Neville pointed out this week, a distraction for De Gea.
There is so much for Ole Gunnar Solskjaer to sort out at United this summer that the form of his goalkeeper is one piece of the puzzle that he could have done without having to worry about, while he focused his attention on the many problems elsewhere.
Perhaps that's why he continues to defend De Gea.
"I think David made some terrific saves as well today," said Solskjaer after the defeat by City. "He has high standards, he's working really hard to improve. When we are having a time like this, we need to stick together, batten the hatches down and keep working."
But he cannot afford to ignore this issue any longer. It needs to be addressed before it becomes entrenched because the excellence that once stood in such sharp contrast to the overall mood of decline at Old Trafford is nowhere to be seen. Sadly, David de Gea now exemplifies the Manchester United malaise every bit as much as everyone else.
Watch Manchester United vs Chelsea on Sunday from 4.15pm on Sky Sports Premier League. See The Run In on Sky Sports with two football channels for the price of one.