Fergie - We have upper hand
Sir Alex Ferguson insists that Manchester United hold the upper hand in the title race, but admits their margin is small over rivals Manchester City.
Last Updated: 30/03/12 10:24am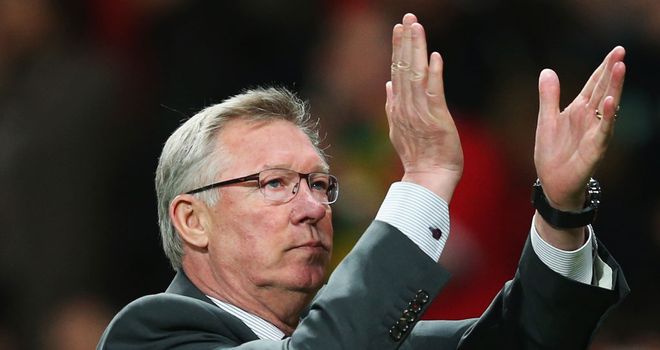 Sir Alex Ferguson insists that Manchester United hold the upper hand in the title race, but admits their margin is small over rivals Manchester City.
Ferguson has seen his side move three points clear at the top of the table with just eight games of the Premier League season to go.
Whilst the United boss is in confident mood, he admits that their advantage is only slight over Roberto Mancini's men.
"We all know that football can turn around and bite you," he said.
"That's why we make the point about experience. We have a small advantage, not a great advantage, and one that can change in a single game."
Ferguson admits one telling factor in the race could be the experience within the Red Devils squad.
"The important thing is that most of our players have had experience of winning the title - Ferdinand, Evra, Giggs, Scholes, Carrick and Rooney. If they hadn't, we might be in trouble but they are well accustomed to it," he said.
"I was nervous when we were giving the ball away towards the end against Fulham on Monday night. We had a 10-minute period when everyone decided to give the ball away. I went to the touchline because my visibility was important at that time. It was just about getting ourselves over the line."
Analyse
Last week, Ferguson responded to a jibe from City's football development executive Patrick Vieira about Paul Scholes' retirement U-turn being an act of desperation by calling Mancini's decision to select Carlos Tevez exactly the same thing.
Then Vieira risked antagonising Ferguson even more with comments which suggested the Red Devils are one of the 'big clubs' who benefit from refereeing decisions, like the one at Old Trafford on Monday when Fulham were denied a last-gasp penalty that could have allowed the Cottagers to grab a shock point.
Although Vieira was clearly unhappy at how his views were reported, the France midfielder still made the remarks, leaving Ferguson slightly perplexed as to City's intentions.
"I'm trying to analyse that," said Ferguson.
"I am not sure. I mean, he's more or less saying all the referees have been wrong this season and, being an official, you are not supposed to discuss referees."
Whilst in jovial mood, Ferguson even joked that United could bring back Roy Keane - Vieira's old on-field rival - to once again go head-to-head with the Frenchman.
"We can bring Keane back if he wants and make it interesting," said Ferguson.
"Apparently he's retracted it a bit but it's interesting."
Great football
Vieira's additional point was that City "deserved" to win the title because they had played the best football.
But Ferguson knows medals are not handed out for style.
"They were playing great football in the first half of the season," said Ferguson.
"Everyone recognised that and we felt the brunt of it too when they beat us 6-1 here. But a season lasts for a bit longer than three months."
Meanwhile, having watched Chelsea, Real Madrid and Bayern Munich claim Champions League wins in midweek and a fascinating duel between Barcelona and AC Milan, Ferguson admits to missing continental competition.
"We have been used to playing midweek games for so long that you do miss it," said the United boss.
"The players miss it too. Yes, we do get freshness but you can't have it all ways. We would rather be in the Champions League."