Premier League: Manchester United make Ryan Giggs and Phil Neville coaches
Manchester United have announced that veteran winger Ryan Giggs is to become a player-coach with immediate effect.
Last Updated: 05/07/13 7:45am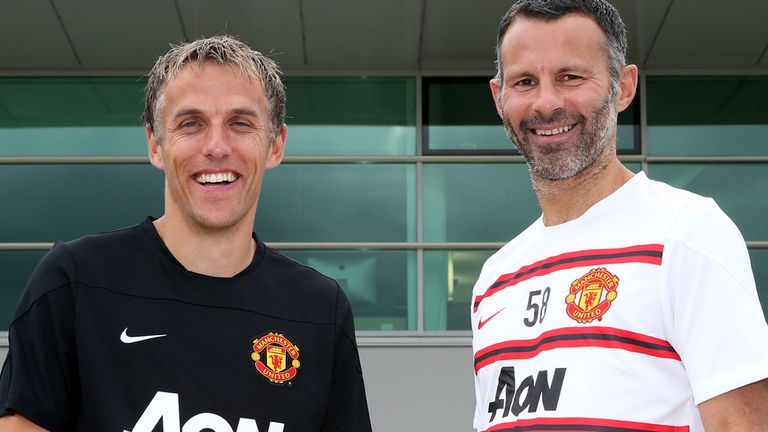 And former United defender Phil Neville is also going to take a coaching position at the club, as new manager David Moyes re-shapes the coaching staff.
The 39-year-old Giggs is a legend at Old Trafford, having made well over 900 appearances for the club since his debut in 1991.
The 13-time Premier League winner signed a one-year extension to his playing contract in March and will now become a part of the coaching team as well.
Often mentioned as a possible future United manager, Giggs has been taking his coaching badges and is due to attain the UEFA Pro Licence next summer.
"It's a great privilege to be appointed a player-coach," he said. "I hope I will be able to bring my experience to bear, having been both a player and part of the Manchester United family for so long.
"It's no secret that I have been taking my qualifications and I see this as the first step in my future career. I'm really looking forward to working alongside David and the team."
An unrivalled perspective
Moyes added: "I'm delighted that Ryan has accepted the chance to become player-coach. His success and ability to adapt his game over a number of years gives him an unrivalled perspective on the modern game.
"His career is an example to any aspiring young player and I'm sure that both he and the players will benefit from his new role."
United have also confirmed the appointment of Neville, who clocked up 385 appearances for the club between 1995 and 2005
The 36-year-old then played for Moyes at Everton, before retiring at the end of last season.
I couldn't resist
"When I retired from football, I knew that I wanted to continue in the game," he said.
"It's something that I have been preparing for over the last few years. So, when David called to give me this opportunity, I couldn't resist. I gave my all for Everton but it is no secret that this club is in my heart.
"I've really enjoyed working with David and his staff as a player and I think that, together with Ryan, we can make a real contribution to Manchester United."
Moyes added: "I have known and worked with Philip for eight years and, in that time, I have come to know his dedication, ability to lead and appetite for hard work.
"In addition, of course, he understands the club very well and I think his addition to the coaching staff will be a valuable one."