Sir Alex Ferguson's 1999 Champions League substitutions voted best-ever decision in sport
Sir Alex Ferguson's use of substitutes in the 1999 Champions League Final has been voted the best decision in sport.
Last Updated: 20/08/13 12:33pm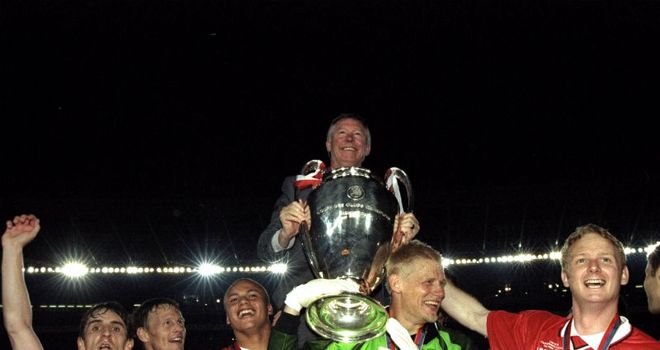 The former United boss sent on strikers Teddy Sheringham and Ole Gunnar Solskjaer with the clock running down against Bayern Munich - and both scored in injury time to win the trophy.
The Champions League-winning decision beat 49 others on a shortlist selected by Sky Sports experts.
United went into the game knowing a win would give them an unprecedented treble with the Premier League and FA Cup already in the bag. When the Germans took an early lead and looked to cling on, it seemed United would fall short. But Ferguson's canny use of substitutes proved decisive, with both scoring historic injury time goals to turn the match on its head. United won the famous trophy for the first time since 1968 and Ferguson's legendary status was sealed.
Former England and United striker Sheringham said: "The instructions from the boss when he sent me on were simple - get us back in the game. One of Sir Alex's biggest strengths as a manager was his decision making during a game. He trusted all of his players and we all knew that even if we didn't start a match, we could be called on to do a job. We may have left it late, but it is a night that I and millions of United fans will never forget."
The search for the best decision in sport was launched by Sky Sports to celebrate its biggest summer of live sport. Sky Sports experts delved into sporting history to pick out the game-changing moments, which have made reputations and changed the direction of sport and the public have voted to select their favourite.
The decisions covered all sports across the last 100 years or so. The top five are all football-related, including Barcelona's decision to take a chance on a young Lionel Messi, Arsenal's decision to appoint Arsene Wenger while Ferguson features again with his signing of Eric Cantona in 1992.
The full top five decisions are:
1. Sir Alex Ferguson's substitutions in the 1999 UEFA Champions League Final.
2. Barcelona deciding to pay the medical fees of an 11-year-old Lionel Messi on the condition that he moved to Spain and signed for the club.
3. Rafa Benitez bringing on midfielder Didi Hamann for defender Steve Finnan in the 2005 Champions League final, helping them fight back to 3-3 before triumphing on penalties.
4. Sir Alex Ferguson deciding to sign Eric Cantona from Leeds United for a bargain £1million.
5. Arsenal appointing Frenchman Arsene Wenger, transforming the team and bringing signings such as Thierry Henry and Patrick Vieira.
You can review the results and relive the top five moments at our microsite.