Crystal Palace made late bid to re-sign Manchester United's Wilfried Zaha, says Ian Holloway
Ian Holloway has revealed that Crystal Palace kept trying to bring Wilfried Zaha back to the club until deadline day.
Last Updated: 14/09/13 11:56am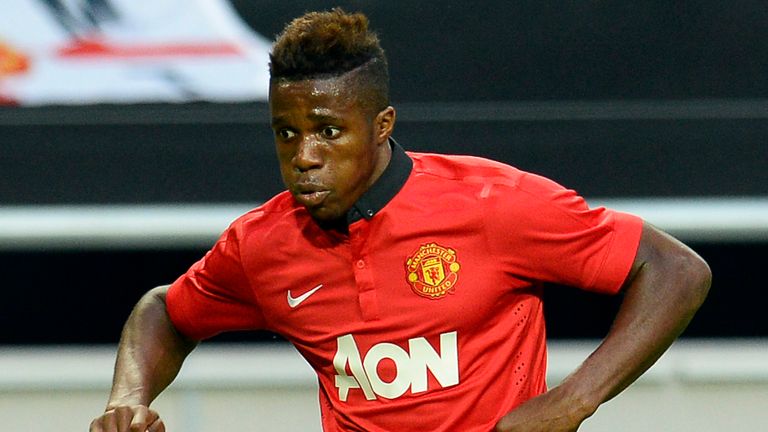 Zaha joined Manchester United in January for a reported £15million before returning to Palace on loan for the remainder of the season and helping propel the club back to the Premier League.
The 20-year-old is now at Old Trafford full-time but has yet to make his Premier League debut for David Moyes' side.
Holloway is not surprised by the fact Sir Alex Ferguson's successor has not yet played him and is part of the reason why he tried to bring him back on loan.
When asked the last time he tried to re-sign Zaha, Holloway said: "The day the window shut. Just in case.
"I think out of respect to them I knew damn well they wouldn't do it. What would that look like? And there will be enough competitions to give him some games.
"I have been continually asking because the person who brought him isn't there anymore.
"I think from Wilf's point of view it would be much easier for Sir Alex to play him.
"David has just gone in and sometimes with Wilf it is a risk as he doesn't always track back.
"But I think his career at Man United will be a success because of the boy that he is. David will select him at the right time, which is completely right.
"All I can talk about is how I felt when certain things were out there - that he didn't care, he wasn't putting it in and his heart wasn't with us when we were having a dodgy spell.
"It just wasn't true. He couldn't help us more if he tried - he was trying too hard. Nothing pleased me more in the final that he won a penalty and we scored.
"Against Brighton away he got two - fantastic. What more would that boy need to do for Crystal Palace if he isn't a legend already?"
Holloway was full of praise for Zaha, whose legacy he believes "will be very, very difficult for anyone to emulate".
The Palace boss also thinks you would be hard pushed to find a better place for the winger to take his talent to the next level.
"They produce and nurture talent," Holloway said.
"I remember Cristiano Ronaldo a few years ago doing 15million step-overs and getting nowhere. And now look what he does.
"Who has helped? I would suggest it is Man United and the attitude of the club. I am delighted for him.
"He will have to learn about being a big club and what that means but I am so proud of that boy, I can't tell you."