David Moyes does not see Wayne Rooney in Manchester United midfield
David Moyes does not see Wayne Rooney as a midfielder as he looks for him to build a partnership with Robin van Persie.
By Graeme Bailey - Tweet me: @graemebailey
Last Updated: 17/09/13 2:54pm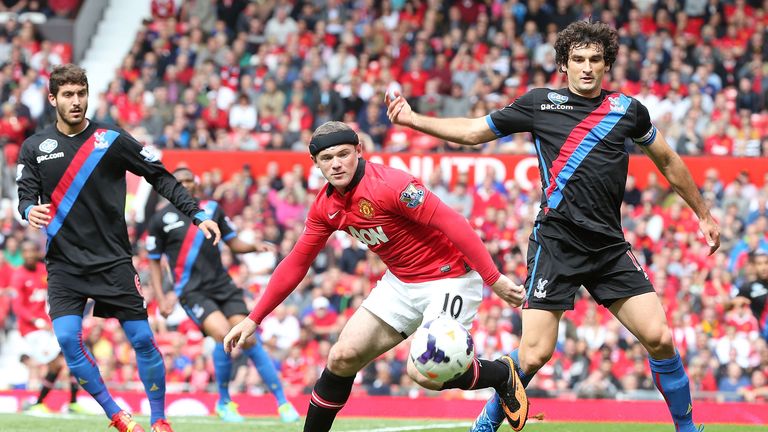 Last season under Sir Alex Ferguson, van Persie was quickly confirmed as United's leading striker with Rooney starting just 22 games - the lowest tally since he moved to Old Trafford - in a plethora of roles.
But Moyes seems intent on seeing Rooney playing just off van Persie as he did in Saturday's win over Crystal Palace, when he returned ahead of schedule after picking up a serious gash to his head which forced him out of England's World Cup double-header with Moldova and Ukraine.
"The hope is that we get a partnership where folk are saying, 'My goodness, we are having to play against Robin van Persie and Wayne Rooney!'" said Moyes.
"To be successful, you need to have people who can score you 20 goals. I am hoping with Robin and Wayne you have two there who you would say they have that in them to do that."
For Rooney to hit his goal target, Moyes confirmed he would not be playing him in midfield. When asked if he would be dropped deeper, the United boss replied: "Not just now.
"I can only see Wayne playing up top and playing as a forward for us. I don't have a goals target for him. But his targets have been big in recent years.
"We will try and get him up there. But Wayne's game is a little bit more.
"He has developed into one of those centre-forwards who drops into spaces to pick the ball up. He plays in a slightly different way so you have to appreciate him for what he does and his style of play. That's what he is."
Head injury
Moyes defended United's decision to play Rooney, given just days earlier he was deemed unfit to play for England.
"We wanted to try to get Wayne through 90 minutes. I wanted to keep him on, get some minutes under his belt and get him ready for the coming weeks and months," he said.
"He has got himself in good physical condition but he lacks match practice because of his injuries. In the first half, he was excellent but tired in the second.
"It was a difficult decision to play him because it was a nasty cut. The headband didn't arrive until Friday - he felt he could wear it so we thought we'd get him out there."
Rooney is now in line to feature in this week's UEFA Champions League opener at home to Bayer Leverkusen and the Manchester derby against City on Sunday.