Gary Neville hails David Moyes after Wayne Rooney commits future to Manchester United
Gary Neville says Manchester United boss David Moyes deserves credit for helping the club secure Wayne Rooney's future.
Last Updated: 22/02/14 8:41am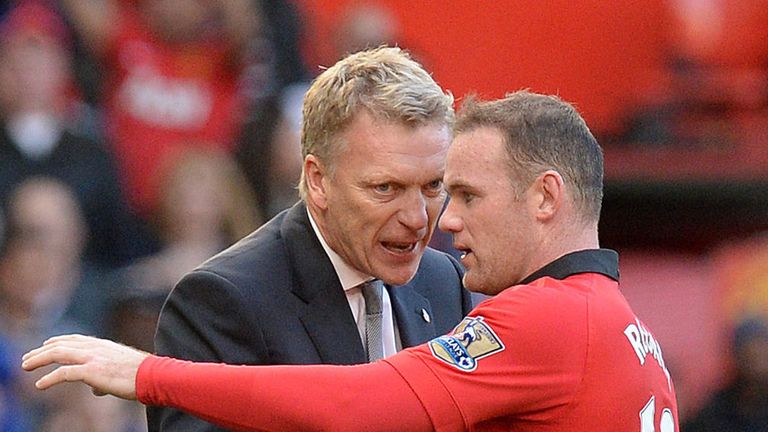 Rooney has signed a lucrative new contract understood to be worth in the region of £300,000 a week, keeping him at Old Trafford until 2019.
Speaking exclusively to Sky Sports News, Neville insisted Rooney's new deal reflects the current market rate for a player of his calibre.
He said: "David Moyes will be delighted. It has been suggested that he can't attract players and that he can't keep people at the club, but that's starting to dwindle away with this signing really.
"He's settled Wayne Rooney down. Credit must go to the manager for getting him into the frame of mind whereby he wants to commit for the rest of his career.
"There's been ups and downs for Wayne Rooney in terms of whether he would stay at United but he has now committed himself for life really by signing this contract.
"The question you've got to ask is how much does it cost to replace him? And the market is demanding, for a player that has scored the goals he has scored in his 10 years at United, you'd be talking £50-£60m.
"They signed Juan Mata for nearly £40m who won't score anywhere near the number of goals Wayne Rooney will score for United.
"I think from that point of view the market forces demand that you have to pay the player what it would cost to replace him."
Rooney is in his 10th season as a Manchester United player but Nevillle believes the biggest challenge of the 28-year-old's club career lies ahead of him.
"Manchester United is the right football club for Wayne Rooney to play his football at," Neville said. "He now just has to go and cement his legend and legacy at the club and the way in which he can do that is by going on and winning further trophies.
"He's put in some great performance for United - 150 goals for the club in nearly 300 matches - but make no mistake about it his biggest challenge is yet to come and that's to put United back up into Champions League football, and obviously back into title winners.
"Wayne Rooney has now got the biggest challenge that he's ever had at Manchester United or in club football.
"For so many years at the club he's been part of championship winning teams and that's under threat like no other time.
"It's been a difficult year for United. Probably the most difficult season for 25 years."
Neville, who is part of Roy Hodgson's England coaching setup, believes the national side also stand to benefit from the timing of Rooney's contract renewal.
"I think from an England perspective it's better that it's been done now," he said. "The idea that he goes into a World Cup summer with a distraction is never good for a player.
"So from an England point of view it's very positive news that this has been put to bed. I think in a World Cup year you want players that are free from injury and aren't distracted."