Champions League: Van Persie frustrated with team-mates after Manchester United defeat
Manchester United striker Robin van Persie accused his team-mates of getting in his way during the defeat to Olympiakos.
Last Updated: 26/02/14 10:17pm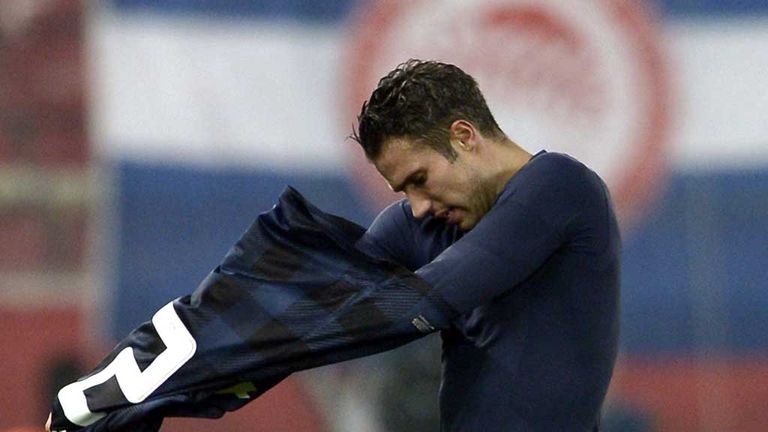 Goals from Alejandro Dominguez and Arsenal loanee Joel Campbell put the Greek side in command after the first leg of the last-16 tie.
The latest setback in a miserable season has piled the pressure on David Moyes, with the Scot now the favourite with Sky Bet to become the next Premier League manager to lose his job.
Moyes was 25/1 to be the next managerial casualty before United's latest loss, but his odds were repeatedly slashed on Wednesday morning, going from 11/1 to 5/6 in just over an hour.
Van Persie wasted a good chance to score a vital away goal when he blazed a shot over the crossbar in the closing stages.
It was a frustrating night for the Dutchman as he struggled to make an impact, but he claimed after the match that his cause was not helped by the positioning of some of his team-mates.
"It was quite difficult because my team-mates are often in the area where I want to play," he said.
"That's why I have to change my tactics. Unfortunately, they are often in my area.
"It was much too slow and we only had one shot on target in the whole match against Olympiakos, which is far too little. Everyone is very disappointed."
United have to win by three clear goals in the second leg at Old Trafford to be sure of their passage to the quarter-finals, but Van Persie is refusing to throw in the towel just yet.
"It is still possible, because with all due respect to Olympiakos, we should be able to win 3-0 at home," he added.
"It is not that they were fantastic, we just mostly failed."
Manager Moyes concedes that the Red Devils failed to produce the required standard and paid the price - but he is refusing to throw in the towel and believes anything is still possible in the return date at Old Trafford.
He said: "It's the worst we've played in Europe, that's for sure. A really poor performance tonight. We never got going from the start and we didn't deserve anything because of the way we played tonight.
"We just never really got to grips with things. To a man, you could hardly pick anyone out, we just didn't perform. We came into the game in good form, a good mind set, but we didn't show that tonight.
"I still didn't think we were necessarily two goals worse off in the game. We had a shot that gets deflected, but we didn't offer enough on the night.
"I take responsibility, it's my team and I'll always front it up. We didn't play well tonight and we have to play better. We can do. The one good thing is that there is the second game to go.
"The players are hurting as well. They know how they performed. But there is a team here, that won't change, and we'll stick together.
"There is the second game to come and Old Trafford has seen some great nights in the past - I'm looking forward to hopefully seeing another one."
Midfielder Michael Carrick added on Sky Sports: "First half we had decent possession and felt in control of the game. They scored a goal from nothing and it's put them in a good position.
"As obvious as it is to say, second half we didn't start very well and the second goal puts them in a terrific position.
"It would have been nice for us to get an away goal near the end but the tie isn't over yet, we thoroughly believe that, but it's not ideal.
"I thought first half, coming away in Europe, we were in control, but goals change games and they've scored the first one. Then we probably didn't react in the second half well enough until it was too late.
"Don't get me wrong, to score three goals in this competition is tough but we've done it before and hopefully we'll do it again."
Can United turn it around against Olympiakos? The second leg will be live on Sky Sports on March 19