David Moyes remains convinced he is the best man to lead Manchester United
David Moyes remains convinced he is the best man to lead Manchester United forward, and has the backing of the fans.
Last Updated: 29/03/14 11:36am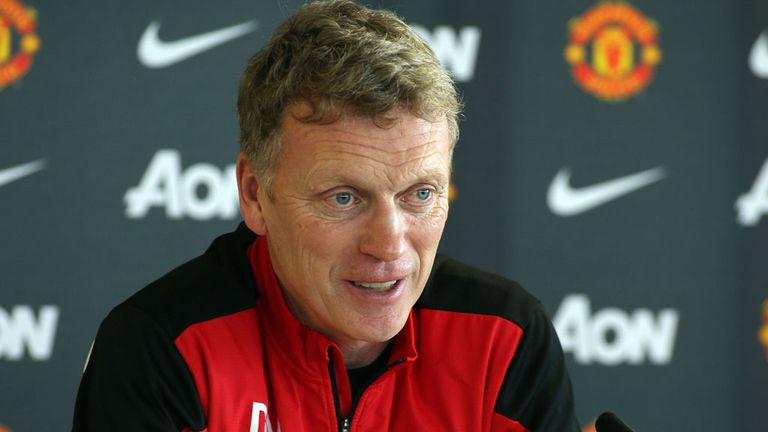 A group of disgruntled United fans have clubbed together £840 to pay for a banner reading 'Wrong One - Moyes Out' to be flown above Old Trafford in the build-up to United's lunch-time kick-off against Aston Villa.
The message mocks a banner in the Stretford End which proclaims Moyes as 'The Chosen One' - a reference to the fact that Sir Alex Ferguson hand-picked Moyes to be his successor last summer.
The saga took another twist on Friday after it emerged that another banner, trailed from a different plane, will be flown over the stadium at the same time.
It is understood that a high-street bookmaker is behind the second banner.
The bookmaker is refusing to reveal the message their plane will drag across the skies, but it is understood to not be favourable towards Moyes.
If those fans who paid for the fly-by thought their stunt would push Moyes towards resignation, they were wrong.
"All it has done is strengthened my resolve to get the job done right," a defiant United manager said.
"I'm more driven to succeed than ever.
"I want to change the position we're in just now. I really do believe we can do that."
However, the United boss said fans were "entitled" to organise such a protest after recent results, but the Scot insisted he was supported by most fans, the club's board and the playing staff.
When asked about the fly-by, Moyes said: "I have heard of it and what they are saying about it, but this is something which is a long journey here, this is only the start of the journey.
"People can do that. They are entitled to do that."
Reports of unrest among the playing staff emerged following Tuesday's 3-0 defeat to Manchester City - the club's sixth home defeat of the campaign.
When asked if he retained the support of the playing staff, Moyes said: "Definitely. I have no reason to suggest anything else.
"Everybody's hurting. The players are, you can tell. They're really good professionals, they work incredibly hard in their job. (And) it's the same for the management staff as well, we're working hard trying to make sure we've got winning teams but the players are working hard as well.
"We have a great relationship as far as I'm concerned but what I really want is a winning team, me and them together.
"I understand that results are what really matter. Results are football, the business is results driven. I'm keen to get those results to move up the table.
"There's a rebuilding plan under way, anyone who understands the game, understands that has to happen.
"The people who put me in place in the job here, are top football people who understand the game, know what's needed at Manchester United and understand the characters we need at Manchester United."
United's squad includes a number of players aged over 30, including centre-backs Nemanja Vidic and Rio Ferdinand, left-back Patrice Evra, midfielders Ryan Giggs and Michael Carrick, and striker Robin van Persie.
"People are aware there is a squad that is a bit more ageing, so I think it would have been a tough season for whoever was in charge of Manchester United this year," Moyes told national newspapers.
"And I actually think if Sir Alex was here this year it would be difficult for Sir Alex as well and I'm sure he would be aware of it.
Another defeat at Old Trafford would give United their worst home record since their last relegation from the top-flight in 1974.
They are already guaranteed to end the campaign with their worst points total in Premier League history.
Sir Bobby Charlton said before the derby defeat that Moyes was "absolutely" the right choice to replace Sir Alex Ferguson even though some have claimed that results have suggested differently.