Premier League: Rio Ferdinand hoping for new Manchester United contract
Rio Ferdinand wants to stay at Manchester United next season - whoever is manager.
Last Updated: 28/04/14 7:34am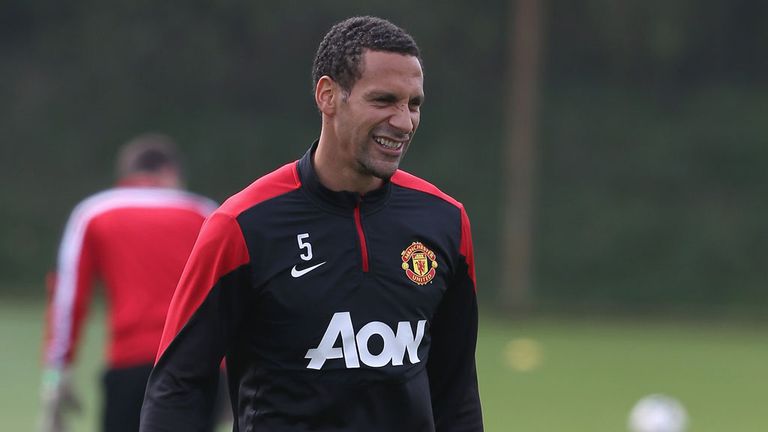 The veteran defender is out of contract at the end of the season but the former England centre-back insists he wants to extend his stay at Old Trafford.
David Moyes was sacked as manager last week, with Ryan Giggs put in charge until the end of the season. Netherlands boss Louis van Gaal is bookies' favourite to be installed as the next manager.
And Ferdinand - who was largely out of favour under Moyes - is hoping to be kept on, whether it is Van Gaal, Giggs or another manager in charge.
"I'm going to continue playing," said Ferdinand, who moved to Old Trafford 12 years ago.
"Whether it's here, I don't know. But I hope so."
Ferdinand admits that the 2013-14 season has been the worst in his Old Trafford career and he says his team-mates have been embarrassed by the club's form this season.
"I've not looked at the league table for ages because you don't want to," the centre-back said.
"It's embarrassing. You don't want to look at the league table and see where we are."
Moyes paid the price for losing 11 games and failing to finish in the top four, but Ferdinand says the players must shoulder some of the blame.
"The players take responsibility as much as anyone else," Ferdinand said. "We are where we are and we have to take some responsibility for that.
"We are not shirkers and we are not people who don't take responsibility. I don't think you get to where we have got to in our careers without taking responsibility and this is no different."
Ferdinand was restored to the starting line-up by interim manager Giggs for Saturday's 4-0 win over Norwich.
Ferdinand refused to be drawn into the debate regarding whether Giggs should remain in charge beyond the end of the season, but he is sure the club will bounce back whoever is in charge.
"When you have been successful, you don't want to look at a negative perspective or viewpoint, you always look around and think 'what can we win, what do we want to win?'," he said.
"That will be no different next season. I am sure that whoever is here, whoever is managing, the aim of this club is win trophies and championships and we have done that for 25 years.
"Long may that continue."
Ferdinand says the 4-0 thumping of Norwich should not be seen as proof Moyes could not motivate the players.
"It is always natural when you change a coaching team, that the intensity goes up because everyone wants to impress and everyone wants to play the first game under the new manager," he said.
"They see it as a new chance, a new opportunity, and that's no different to what I have seen over the years with different teams, including England.
"It is no different this time around."