World Cup news: Adnan Januzaj will be in Belgium's preliminary squad
Belgian coach Marc Wilmots has confirmed that Adnan Januzaj will be in his preliminary squad for the World Cup finals.
By Kristof Terreur & Gerrit van Leeuwen
Last Updated: 29/04/14 12:35pm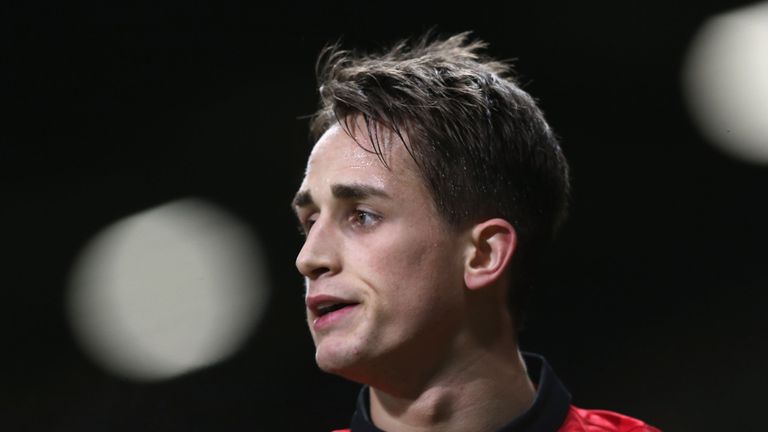 Januzaj finally revealed his international future would lie with Belgium earlier this month, which has put him firmly into contention for a place at the finals in Brazil.
Wilmots admits he is very pleased to have Januzaj available for selection and admits that Christian Benteke's injury could open up a place in the squad to him.
"Adnan has played 27 games for Man United. He has showed his qualities," Wilmots told Het Laatste Nieuws.
"He can play on the wings, he can play as a striker. That's interesting as Christian Benteke will be unavailable due to injury.
"The fact I pick him in my initial 27-man squad for Brazil is normal, given his performances but I first want to see how he behaves on the training pitch.
"I will select a squad of 26-27 players and I shall tell them: "There's only one truth: the pitch. Come on, show me what you got."
Januzaj is now set to feature in Belgium's warm-up games ahead of the finals.
They face Luxembourg at home in Genk on May 26 and Sweden in Stockholm on June 1. The final squad for any country has to be decided by June 2.
Wilmots said that Januzaj revealed he would be playing after he extended his contract with the national side earlier this year.
"On the 22nd of January, when United played against Sunderland, I talked to his dad for the first time. Together with his agent, Dirk De Vriese. We had a good conversation, but I asked them to let me know on the 31st of April if Adnan was eligible for the World Cup," he added.
"I've put no pressure on them, but after my contract extension, a few weeks ago, they've called me to say they'd made up their mind and it is a wonderful thing.
"Adnan chose a country where there's a lot of competition. The more competition, the better. But he has no guarantees - who knows me, knows I never give them."