Robin van Persie expected to be Louis van Gaal's captain at Manchester United
Robin van Persie is expected to be Louis van Gaal's captain when the 62-year-old takes over at Manchester United.
Last Updated: 16/05/14 3:09pm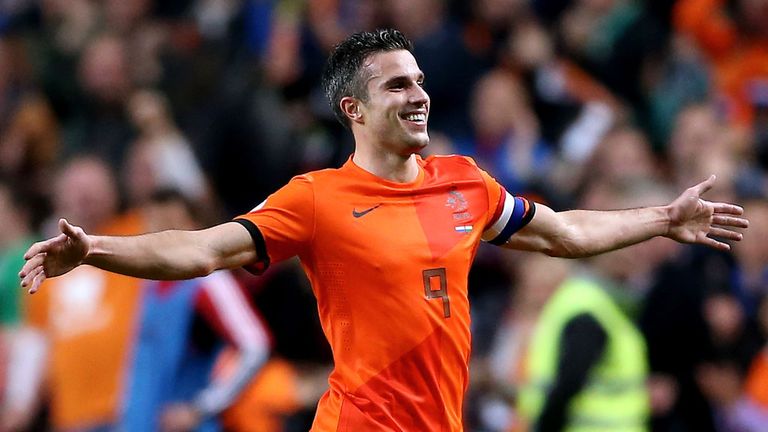 Van Gaal led Netherlands' final training session before their friendly with Ecuador on Saturday, with the timescale on his highly-anticipated move to United no clearer.
The 62-year-old named van Persie as the permanent captain of the Dutch side 11 months ago and Kamperman expects the former Arsenal striker to succeed Inter Milan-bound Nemanja Vidic as United skipper.
"Yeah I think so because they do have a good relationship," Kamperman told Sky Sports News when asked if he thought van Persie would captain United next season.
"At the beginning when van Gaal took over as the head coach of the Dutch national team they had to find their position a little bit. But after that it went really well and van Persie was very positive about him.
"When van Persie was over here (in Holland) last month because of his injury they talked a lot about the World Cup and the way they like to play in Brazil. So yes he does have a very good relationship with him."
The Dutch squad have two days off after the Ecuador game before they fly to Portugal for a week-long training camp as they step up their World Cup preparations.
It is thought that van Gaal could travel to Manchester in that time to finalise his appointment as David Moyes' successor.
Initial reports at the beginning of the week suggested a deal would be done before that but Kamperman insisted nothing should be read into the delay.
"I don't know exactly of course (when a deal will be completed) but I think some details are still being arranged," he said. "I think he has an agreement but (talks are ongoing) about the staff and new players.
"It might take a couple of hours or a couple of days but it will be a done deal."