Premier League: Edwin van der Sar backs Louis van Gaal for Manchester United
Former Man United keeper Edwin van der Sar has backed Louis van Gaal to sign the right players to improve the squad.
Last Updated: 22/05/14 10:27am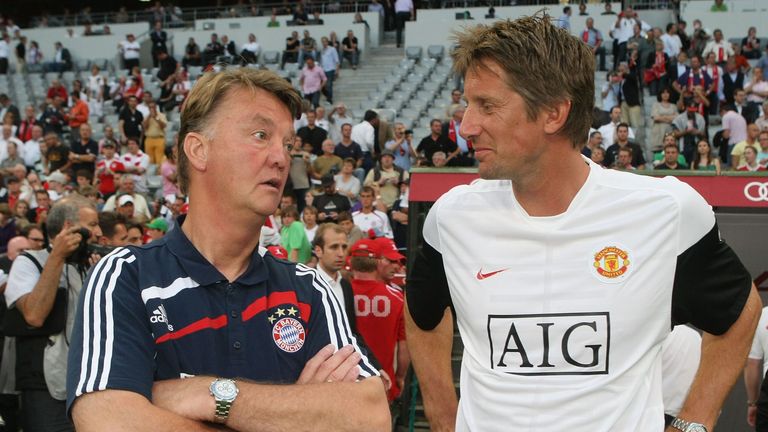 Van der Sar, who spent six years at United, played under van Gaal for Ajax and the Netherlands, and has outlined the qualities his compatriot will bring to Old Trafford.
Reports have claimed that van Gaal will be given a transfer budget of anywhere up to £200million to spend to overhaul a United squad which finished seventh in the Premier League and failed to qualify for Europe.
The likes of Luke Shaw, Mats Hummels and Toni Kroos are among the players to have been linked with a move to United, and van der Sar expects van Gaal to identify the right signings.
"Van Gaal will spend the right money on the right player to ensure that they are right for United," van der Sar told Laureus.
"He will know if they have the United DNA of the club inside of them. If not he will let them go and let them go to other clubs. You have to play and you have to fight for Manchester United. Not only come for the money.
"What's more important? £20k or £30k more a week or the privilege of playing for a coach like van Gaal?
"It's a massive club and if you are able to participate in that and to contribute to winning a title then you are settled for life because you have the adoration of the club.
"Of course it's going to be a tricky period for him with the World Cup deciding on what transfers he will need. But if anyone can cope with a situation like this it is van Gaal.
"His credentials in Spain, in Germany, in Holland with the national team speak for themselves. He has won the title in every country.
"He has a history of winning trophies, of bringing young players through, of working with big players.
"He is a very hard-working coach and he is a guy who makes players better. He also sends out the right signals about the kind of football he wants to play to the players."