Manchester United's Chris Smalling says the squad are determined to return to the Champions League
Last Updated: 07/12/14 2:24pm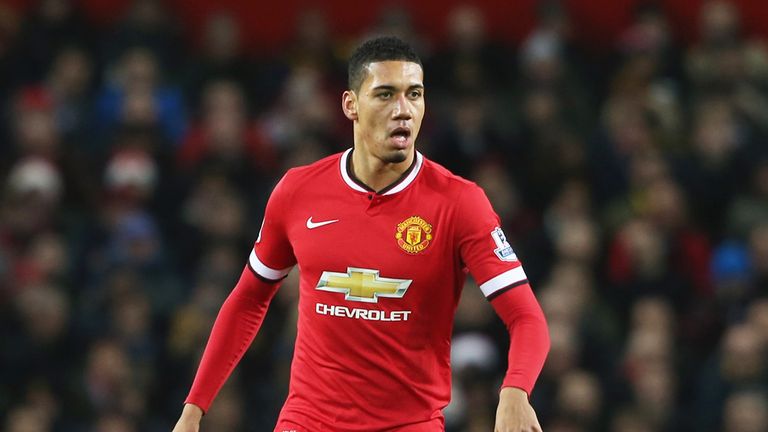 Manchester United defender Chris Smalling says the disappointment of failing to qualify for the Champions League last term is driving the squad on this season.
After years of regular participation in Europe's elite event for clubs, United only finished seventh in the Premier League last season, missing out on European competition entirely.
However, they are enjoying a more successful 2014-15 campaign so far and will go third in the table if they can win Monday night's big game at Southampton.
And Smalling told the club's website that he and his team-mates were determined not to miss out on Champions League football again.
"I was watching it the other week," he said. "Even when we were in it, I would watch it on the other night anyway. Even more so this year.
"It's a bit gutting that we're not involved but you can see the standard of football we need to make sure we rise to.
"You hear the Champions League music when they all line up and it's just a case where we've been in it year after year, so it's a sad time. We'll be making sure we don't miss out again next year."
Smalling has been in impressive form since he was sent off in the derby loss to Manchester City and thinks the recent 2-1 win at Arsenal may prove to be something of a turning point for the United defence.
"It was a game that showed real courage and character," he said. "I think a lot of people learned so much from that.
Ultimately, I must make sure we're preventing goals and stopping strikers and that's something I always enjoy, which is why I play in that position.
Chris Smalling
"Arsenal pressed really high with their three forwards and made it extremely difficult to play out in that game.
"I love that as a centre-back. I always have been a defender growing up and it's just a case, first and foremost, to not let the attacker get a sniff. You must be tight and aggressive, and give them the odd kick if you have to, and it is what I enjoy.
"The other side is getting to play out nice passes from the back and watch the team do well.
"But, ultimately, I must make sure we're preventing goals and stopping strikers and that's something I always enjoy, which is why I play in that position."
Injuries have regularly left United short of numbers at the back this season but Marcos Rojo lined up next to Smalling against Stoke in midweek, having returned from a dislocated shoulder earlier than expected, and Jonny Evans is also expected to be available again soon.
Smalling is pleased Louis Van Gaal will soon have extra options to choose from and also discussed the manager's preference for players who complement each other at the heart of the defence.
"I think he likes to have good balance with left and right-footers on either side of the centre-half partnership," said Smalling.
"Over the years, we've not always had a left-footer and, more often than not, you can get away with it.
"If you have a good touch, you can play with either foot, but I can fully understand his point about the balance. Having one right and one left, I can see that.
"I think Jonny is naturally right-footed but has played a lot on the left and I've played on the left as well.
"It's good to get numbers back as we're very light in defence. It's good to see options coming back."