Wayne Rooney is unfazed by the possibility of making history by overtaking Bobby Charlton's all-time England scoring record.
The England striker needs just four more goals to pass Charlton's record of 49 for his country and has the opportunity to do that in Friday's European Qualifier against Lithuania and against Italy in Tuesday's friendly in Turin.
"Obviously I am close. It will be a fantastic moment for myself, a proud moment if I can do that," he said.
"Hopefully one day it will happen and sooner rather than later, I have to keep concentrating on what has got me to this position and try to do my best for the team and hopefully I can get goals along the way."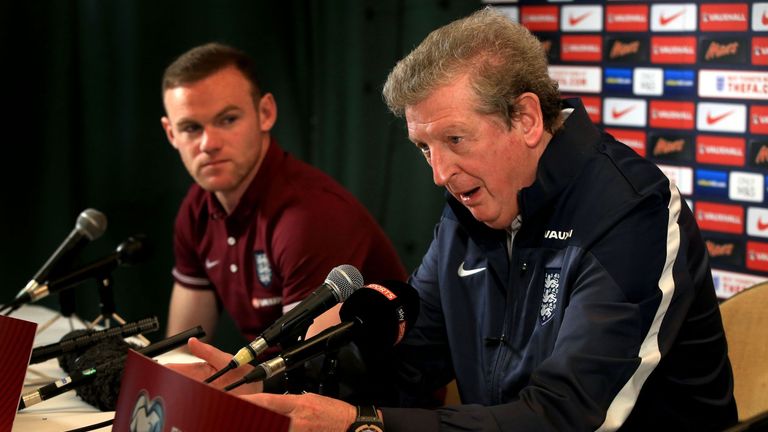 Obviously I am close. It will be a fantastic moment for myself, a proud moment if I can do that
Charlton, a director at Manchester United, speaks often with Rooney, but the striker has not brought the subject up with the 77-year-old.
He said: "I speak to him quite regularly at the club especially after games. But I don't want to bring it up and say 'I'm close to beating it'. He always gives me great advice and I have great chats with him."
Rooney's chances of breaking Charlton's United scoring record were put into question when he was moved into midfield by Van Gaal, but the captain is now back up front, which pleases Roy Hodgson.
"We're delighted to see him playing up front again for Manchester United because we have always used him as a front player," the England manager said.
Rooney is also happy to be leading the United attack again.
"I'm sure in other games (Van Gaal) might put me back in midfield, but I'm delighted to be playing up front and scoring goals. It's helping us win football matches."
Rooney also revealed that his son Kai has been copying his goal celebration in front of his classmates at school.
Not for the first time in his career, Rooney found himself the subject of a number of unwanted headlines last month after a video was published which apparently showed him being knocked out in a playful fight with former Manchester United team-mate Phil Bardsley.
Rooney poked fun at the furore caused by the video when he followed his goal up against Tottenham with a shadow boxing celebration that ended with him falling to the deck.
"It's funny, actually. My wife went to pick up my lad from school and saw him doing that in the classroom," he said.
"For me, it wasn't a big issue," he said. "For (United manager Louis van Gaal) it wasn't a big issue.
"If I'd felt it was that wrong, I'd have apologised to the right people. But for me, that's been and gone and I'm now concentrating on my football.
"I was in a house with some friends. Obviously I was caught on the wrong end of a punch, but I wasn't knocked out like it was reported."
That said, he will not repeat the celebration.
"I'm sure you won't be seeing that again," he added.