Ryan Giggs says working under Louis van Gaal at Manchester United has been an incredible learning experience for him.
The Red Devils hired the vastly-experienced Dutchman last summer to turn around their fortunes after a disastrous 2013/14 campaign under David Moyes, which ended with a seventh-place finish in the Premier League.
Giggs was thrust into the spotlight that season when he has asked to take charge of the club, for which he made 963 appearances as a player, for the final four games of the season.
That experience illustrated to Giggs just how much he had to learn before ever taking over a club of that size on a permanent basis and the Welshman says working under Van Gaal is allowing him to do just that.
"I have learned loads from him," Giggs said. "Just seeing him first hand has been a massive learning experience for me.
"The manager has given me that platform to go out and coach every day. And I am enjoying it thoroughly. He didn't know me before I met him, but we instantly hit it off.
"And he has given me massive responsibility from the start. I have worked hard in coaching just as I did as a player. He recognises that."
Giggs made his debut for United against Everton in March 1991 and - aside from a brief stint under Moyes at the end - he spent the entirety of his trophy-laden career working under Sir Alex Ferguson.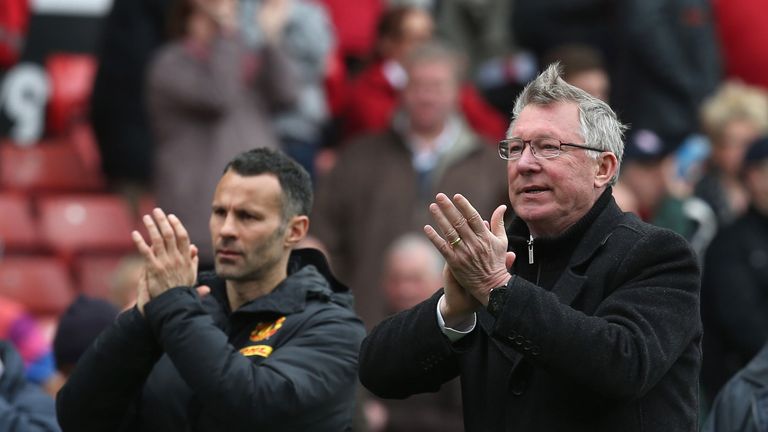 The 41-year-old sees similarities in the way Ferguson and van Gaal conduct themselves and believes their shared principles have been key to the success of both.
"They are different people, but the basics are the same. Their principles are the same - they want to play attacking football, and bring young players through," said Giggs.
"They are leaders and everyone knows that. They both have the calmness they bring with their knowledge and experience."
Entering into his second season as United's assistant manager, Giggs insists he is completely happy in his role and has no plans to move on in the near future.
When asked about his next step in the game, he said: "There are no immediate plans. I am really enjoying what I am doing, working under Louis and trying to get better."
The most pressing matter for United at the moment is their upcoming Champions League play-off.
The draw takes place on Friday morning with Lazio and Monaco among the opponents United may be drawn to face and Giggs knows the importance of getting back into the competition which has brought the club so much success after a season in the wilderness.
"There are no mugs in it at this stage," Giggs said. "It will be difficult for us to qualify, especially with the play-off being early on in the season, but we are ready.
"We are used to being in the Champions League. It wasn't nice last year watching your rivals play in it."
Ryan Giggs is urging grassroots footballers to share their best goal celebrations. For your chance to be a McDonald's Player Escort at UEFA EURO 2016TM send your celebration to @BetterPlayUK using #CelebrateBetter. For more info visit www.mcdonalds.co.uk/celebratebetter