Louis van Gaal claims Real Madrid are refusing to offer a realistic fee for unsettled Manchester United goalkeeper David de Gea.
United begin their Premier League campaign at home to Tottenham on Saturday but De Gea has been left out of the squad because he has been unsettled by talk of a move to Madrid, according to Van Gaal.
When asked if Real Madrid had matched their valuation of De Gea, Van Gaal said: "No, I don't think so.
"We are asking money and they have to pay money. In recent years Manchester United have paid a lot of money on players and not received a lot for our players.
"He's the best goalkeeper we've had for the last three years, I believe.
"The last two years he was nominated by the fans as the best player at the club. Do you think the coach wants him to leave? I don't think so. The player still has to manage this situation."
The United boss claims it would be too much of a risk starting the 24-year-old against Spurs, so he looks set to turn to inexperienced Sam Johnstone or new signing Sergio Romero instead.
"We've observed him in training sessions and matches and he's not the David de Gea of last year," Van Gaal said.
"He tries and does (his) utmost best, but it's a difficult situation. Now we have to play our first match and I want players who can focus only on the match and he is not capable to do that.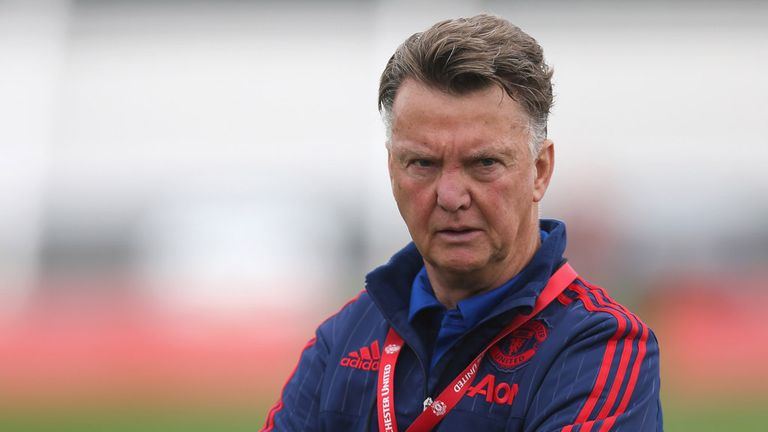 We are asking money and they have to pay money.
"He shall not play."
Van Gaal thinks the situation would not be so messy if the transfer window shut before the start of the season.
He added: "I am the victim, the fellow players are the victims, the club is the victim. That's why the transfer period has to change.
"When we are at September 1 then there is a decision because then the transfer period is over.
"Then we have to manage the new situation. It may be easier but I don't know. We have to see and wait. I have to observe."
Van Gaal also spoke for the first time about Angel Di Maria's exit from Old Trafford.
On Thursday Di Maria joined Paris Saint-Germain for £44.3m, less than 12 months after signing for United for a British-record £59.7m fee.
"For us that's a big loss," Van Gaal admitted.
"I want more attackers with speed and creativity. Di Maria is one of those players so we have to look for that kind of player, but they have to have the talent to cope with the English rhythm and that's difficult to find."
Explaining the events of the last few weeks when Di Maria failed to show up for United's pre-season tour and then signed for PSG, Van Gaal said: "He left us very quickly (at the end of last season) because he had to go to the Copa America so I didn't want to disturb him on his way to the final.
"I text him only messages (about) how it was with him and then PSG... and then we - us and PSG - have to consider if it (a transfer) is possible.
"When you don't come on the tour on the day we agreed then you are showing you want to go to Paris Saint-Germain."